50+ Best Free and Premium Baseball Fonts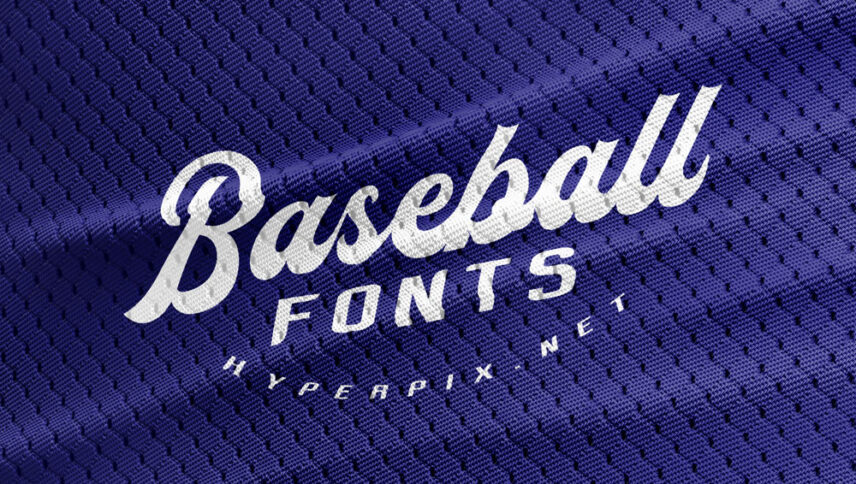 When it comes to baseball fonts, it's all about a bold look communicating sporty vibes, and no other category can pull it off as they do. Most of the time, a distinctly retro flavor tags along to further underline the time-tested impact of this style of lettering.
Aside from the old-school style, there's also a strong competitive flair to be contributed through these joyful fonts, all for the sake of encouraging unstoppable character. Exciting, isn't it? It's like the sharp and heavy characters speak for themselves! Simply throw them on your editorial illustrations, signage, unique logotypes, T-shirts, or else, and feel free to consider yourself hitting a home run already!
Best Baseball Fonts
Combining vintage looks with lively spirits, these quirky baseball fonts are available as a whole collection including free and premium options. How awesome is that? By all means, pick as many as you want and start designing like a champion!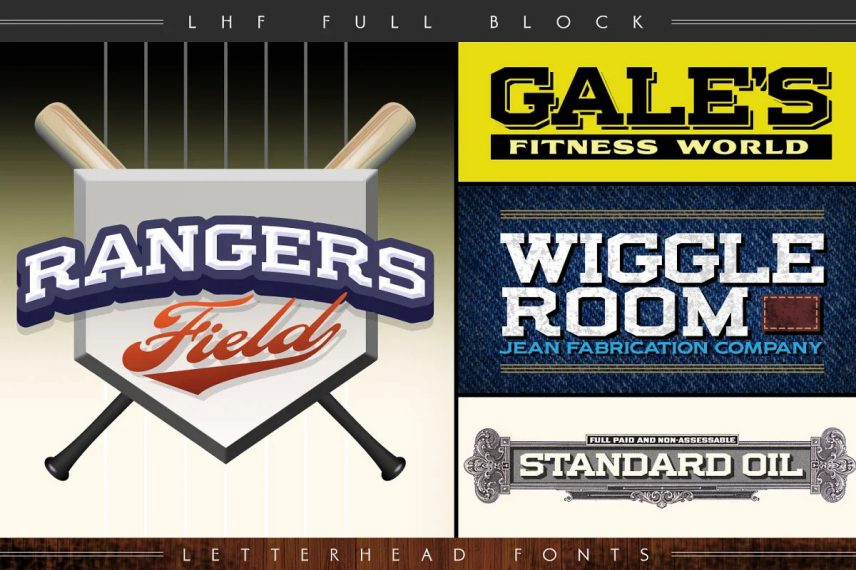 LHF Full Block font is designed as a jersey. If you are opening a new team and gathering different people and do not know what logo to consider for this team, this font can be a good start.
Price: Premium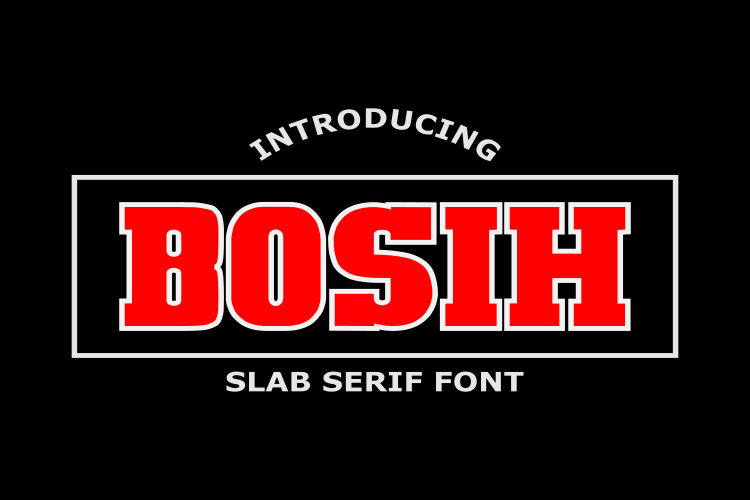 Bosih font has a slab style, and if you pay attention, it has a humorous mode in the fonts, so you can use it for video games that are designed in relation to sports such as football, volleyball, basketball.
Price: Free
American Forkball designed by Opus Nigrum is entirely made by hand. This font is perfectly ideal to be combined with other fonts and that is what makes it unique. You can use American Forkball in logos, flyers, quotes or league or MLB projects. You can create something unique with this baseball font!
Price: Premium
Houston Sports Font Family by Craft Supply Co includes three styles of fonts. American sports graphics could inspire this modern and modular font. Houston Sports is ideal for designing logos, team signs, jersey shirts, quotes, flyers, branding, and package design or even any MLB projects and other design for a major baseball league. If you want a vintage-looking design, retro-looking design or a trendy design Houston Sports Font Family is a good choice.
Price: Premium
Streetball is a Vintage Font made by RedyStudio. This font is inspired by volleyball sports and it can create a modern touch. This handmade baseball font has different layers and includes glyphs, stylistic sets, and alternates. This is an ideal font for many designs such as packaging, logos, banners, banding, and many more.
Price: Premium
Krinkes Font was published in 2015 by Måns Grebäck is an old school typeface including two font files and upper/lower case characters. Numbers are included in the commercial version for which you need to get a license.
Price: Free
GrandGibson Typeface by Thunder Pixels Co is inspired by "Grays" that was in the jersey worn by a baseball team in American Negro League; "Homestead Grays Team". Different vintage elements of baseball are included in this hand-made font and you can get the best use of them as figural cameos.
Price: Premium
Marmalade created by Uniontype is from a modern and multilingual font family and the vintage motion fonts inspired it. Light, regular, bold and printed are the different styles of this font that you can choose among them. Contextual alternates and advanced typographical support and also ligatures and swashes are provided by this typeface. You can use this baseball font for team signs, packaging, logos, jersey shirt, and much more!
Price: Premium
Madison is a perfect display font with free vectors created Fateh.Lab. This is a powerful sporty typeface that is highly detailed and works on many designs such as baseball apparel, flyers, branding, signs, and more. Get the font and create a bold and confident look for your designs!
Price: Premium
FTY OverKill HammeredNC is a bold baseball font by the Fontry. OpenType features and different languages are supported by this typeface which you can have freely for personal projects. It is suitable for logos, signs, titles, major league designs, MLB, team flyers and etc.
Price: Free
Floresh Typeface is a brush baseball font that can help you to create a stunning looking design. Upper and lowercase alphabets, punctuation, numerals, and OpenType features such as Stylistic Alternates and ligatures are all included in Floresh Typeface. This font is a great choice for designing quotes, printed advertisements, logos, shirts, product packaging, etc.
Price: Premium
Cadass is a cursive baseball font that was inspired by vintage labels. Yet you can use this font for modern designs. This typeface is good for label design flyer, display, major league design, shirts and many more. Standard Character such as uppercase, lowercase, numeric, and punctuation are packed with the font.
Price: Premium
This vintage script named Fenway is suitable for all American sports and also retro typography lovers. The old school scripts that were used in vintage jerseys and also baseball team logos inspired this typeface. Regular and Vintage are the two script styles for this baseball font. Fenway is perfect for vintage designs, shirts design, flyers, team logos, etc.
Price: Premium
Company is a bold old school font created by Graphix Line Studio. This fancy font has three font files and includes only uppercase letters. Company is a classic baseball font, Try it!
Price: Free
Infield presented by BoxTube Labs is an edgy athletic font with which you can create a modern look. The font has four creative styles and provides support for western languages. It is a perfect font to be used for logos, baseball designs, print, covers, magazines, and many more.
Price: Premium
Headster Layered Family by Bombastype is a bold old school baseball font which has got inspired by the designs of vintage labels. You are allowed to mix and match to get the best combination for your designs. Headster will work great for poster or logo design, packaging, invitations, and many other designing projects.
Price: Premium
Flanders Script by Letterhend is a bold and modern font that can fulfill all you need for different themed designs. OpenType features such as swashes, ligatures, stylistic and contextual alternates are supported by this baseball font. You can use Flanders for sporty themes, logos, quotes, shirt design, etc.
Price: Premium
Hokjesgeest is a new baseball font presented in 2018 by Tup Wanders. There are four font files available for this square shape all caps font. Hokjesgeest is free for commercial and non-commercial projects.
Price: Free
This font that is presented by ByFortunes Co is suitable for every design that needs a specific characteristic of old times such as old fashioned shops, labels, product packaging, and logotypes. Milestone can help you to create a vintage feel to your designs.
Price: Premium
Empera by BoxTube Labs is packed with six amazing styles to provide the user with more flexibility and variation. This font contains upper and lower case vintage letters and it can create authenticity and natural look for your designs. Use Empera for sports logos and posters, branding, shirts, MLB, and league deigning project and etc. your work will have a bold appearance with this font.
Price: Premium
Godou Grande made by BoxTube Labs is a creative font family with three styles. Most western languages are supported by this font and it is designed in a way to cover many different designs such as baseball designs, apparel, logos, baseball flyers, and many more.
Price: Premium
Baseball font created in 2006 by CFONT is a distinctive looking design. Check it out you will like it!
Price: Free
Herchey is a new high-quality script font that was inspired by baseball logos and vintage designs. This baseball font comes with Stylistic Alternates, Swashes, Ligatures, and supports the OpenType feature. You are allowed to mix and match the letters so that they will be ideal for you. This typeface by ilhamherry is ideal for vintage designs, badges, flyers, shirts, MLB or league designs.
Price: Premium
I want to introduce you a creative and powerful baseball font; Kensmark that is presented by BoxTube Labs. This versatile typeface comes with a wide range if width and weights. Kensmark is a flexible font and it can be used for apparel design, baseball posters, headlines in magazines, sports branding and many many more artworks. Latin characters and most of the western languages are supported by Kensmark.
Price: Premium
Another baseball font that I want to introduce you is Le Bronn that is presented by BoxTube Labs. There are three styles available for this condensed font; Regular, Aged and Rounded. This strong and perfect typeface is ideal for media content, sports branding, headlines, MLB designs, league projects, titles, etc. Le Bronn comes with Latin character set and supports many western languages such as Basque, Catalan, Dutch, English, Finnish, French, Indonesian, Irish, Italian, Norwegian, Portuguese, Swahili and many more.
Price: Premium
OLD SPORT ATHLETIC Font by the Fontry is an old school baseball font that you can use it free of cost for personal projects with the sports theme.
Price: Free
Hudson NY is a Slab Serif baseball font presented by Arkitype. With this display font, you can create bold typography. Regular and press versions are available for this typeface so the user is provided with amazing options. The character set of this font looks modern yet you can create an authentic look for your design with this font.
Price: Premium
Mattoa is a bold script typeface that s published by Bombastype. This baseball font is carefully designed for display purposes and you can use it for both vintage and modern designs. Multilingual Support is provided by this typeface and ligatures, alternates and standard characters are included.
Price: Premium
Hitch Route is a classic baseball font with modern edges and different styles. With this typeface, you can create unique characteristics to your artwork and it is packed with ligatures and stylistic alternates. The versatile Hitch Route is highly suitable for magazine headlines, jersey shirts design, sports logos, and apparel designs.
Price: Premium
Cherry and Kisses Personal Use Font was presented in 2017 by Billy Argel. This baseball font is free for personal use. Small caps and uppercase letters are available for this cursive font.
Price: Free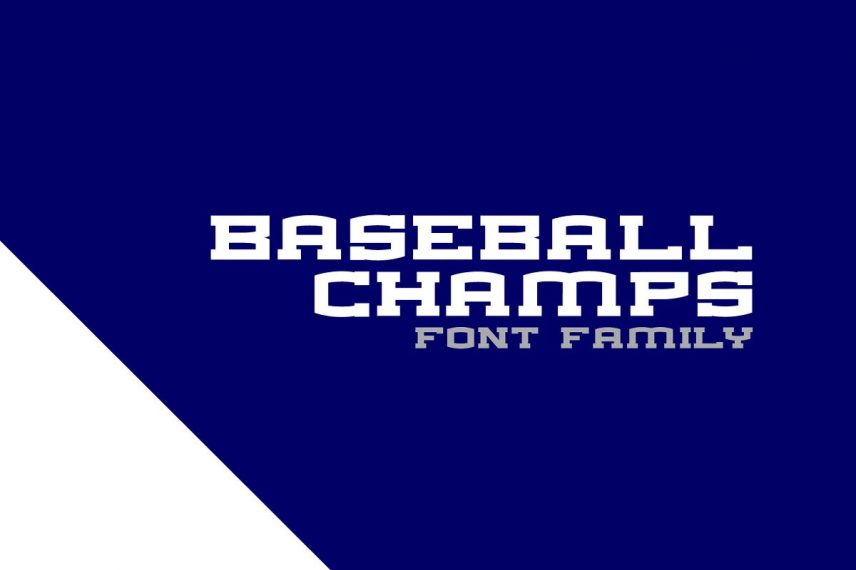 BASEBALL CHAMPS FONT FAMILY designed for those interested in sports styles. Use this font to design logos, T-shirts, and sports equipment for many sports such as football, basketball, hockey, baseball.
Price: Premium
Thistails Font Duo presented by Pana Type & Studio is a modern vintage looking typeface. There are two lovely fonts available for this design; script and Sans Serif typeface. You can use these two individually or combine them for your designs. Thistails is ideal cursive font for shirts design, branding, digital lettering, nature photography, etc. this baseball font is carefully crafted.
Price: Premium
Season Times that is a vintage Font Duo is presented by Vintage Voyage D.S. this Hand drawn font duo comes with two amazing sets of characters and also includes different alternates and ligatures. With this monoline Script, you will also get swashes, uppercase and lower case letters. This Bold Rustic Sans baseball font is ideal for retro signs, branding projects and you can use it to create a vintage style text.
Price: Premium
Overhead Typeface is a geometric display font with 246 glyphs. This design which is inspired by sports branding provides support for foreign languages. Upper and lower case alphabets, numbers and symbols are included in Overhead and you can use this font for the small-sized text, headers, flyers, shirts, etc.
Price: Premium
Fortitude that was created in 2014 by Out Of Step Font Company is a Slab Serif font that has rustic vibes. This useful font is free of cost for personal designs.
Price: Free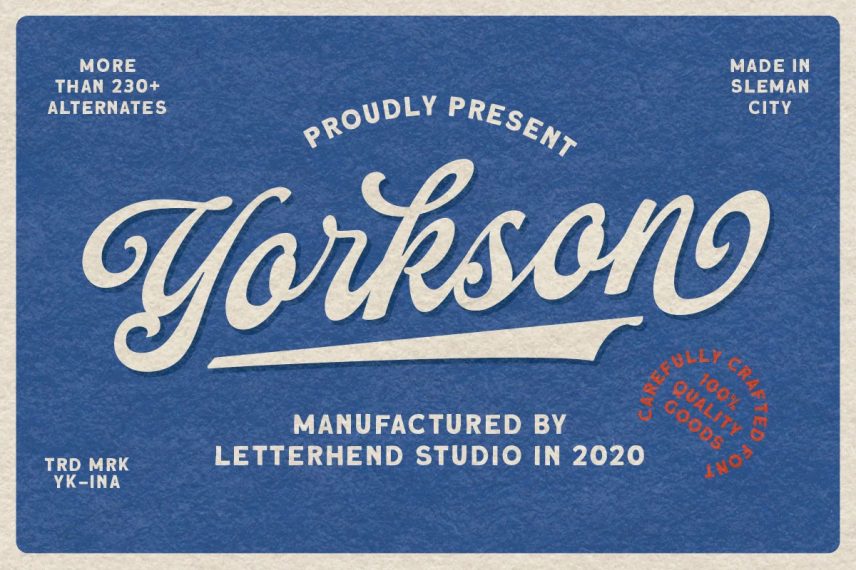 Yorkson Script Logotype font is boldly designed. This font is suitable for sports such as baseball, golf, as well as invitation cards, logos, magazines, and fashion designs.
Price: Premium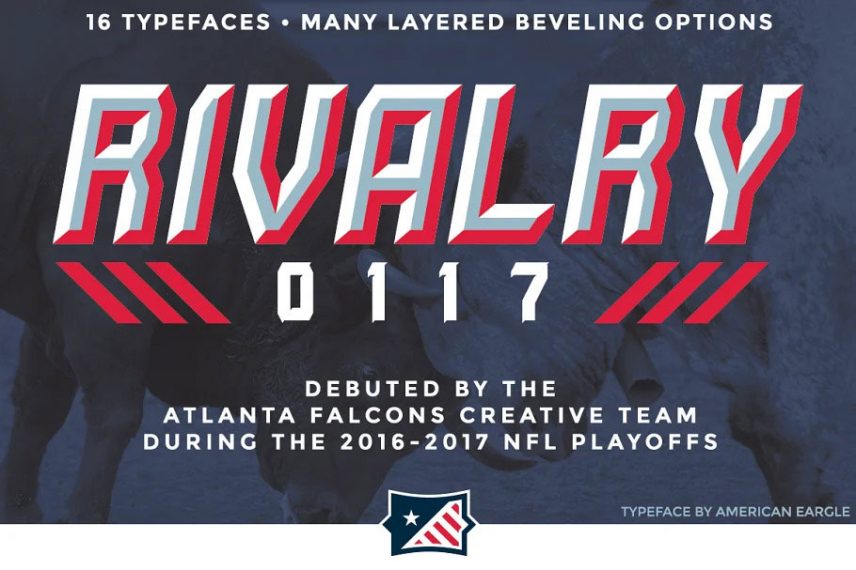 One of the features of this baseball font is that according to sixteen different types, each of them has a different style, one item may have a shadow, one item may be simple, so if you have a poster, catalog, or anything that needs a variety of fonts, this font It gives you the same application.
Price: Premium
Battams No 25 Pro is a versatile font that can fulfill your different design needs. Contextual alternate and stylistic alternates which are both very useful are included in the font. Also uppercase and small caps are both available for this constant weight font.
Price: Premium
Killebrew Typeface by sean.thorenson is the ideal font for baseball fans. With this typeface, you get to create the look and the feel of American baseball clubs. Upper (A-Z) and lower case (a-z) characters, Numbers (0-9), Punctuation, Special characters (including hashtag, at sign, copyright, registered and trademark symbols), Limited ligatures, Limited Latin characters and also Banner underscore graphic are all included in this baseball font. If you are looking to create a vintage and classic baseball feel then this is your font!
Price: Premium
Wild pitch is presented by boldversion includes two amazing variants that hopefully you get to use and enjoy it. One of them is rough and the other is smoother and you can mix them to have more options. This font is perfectly ideal to be used in headlines and titles. Upper case letters are available for this typeface.
Price: Premium
Adidas Half Block 2016 Font by Sports Font Database was published in 2016 and is only free for non-commercial use.
Price: Free
Metroscript™ by MichaelDoret/AlphabetSoup is an indistinguishable font from hand-lettering. This baseball font is a combination of different scripts that has a popular between the '20s and '50s. This virtual sports font is suitable for a wide range of contexts. The font includes ligatures, swashes, different alternates, and also foreign accented characters. Metroscript can be used for sports team posters and logos, jersey shirt design, league designing projects, and other designs.
Price: Premium
Jawbreak published by BoxTube Labs comes with 3 distinct styles. This is an incredibly versatile baseball font that will work flawlessly for sports branding, posters, magazines, labels, MLB designs, etc. the full set of Latin characters and western languages are supported by Jawbreak with which you get to kick-start your projects!
Price: Premium
Groovy which is a retro baseball font is presented by Hendra Pratama. This luxurious handwritten font got inspired by the typography design in the '60s and '70s. Groovy can save a lot of your time as it comes with Extruded font. OpenType features are provided and Glyphs are available for this font. Enjoy!
Price: Premium
Rebute has a sporty and strong look. This vintage design is an all caps typeface that is highly versatile. You can use this font in combination with other fonts and also you can use it individually. Rebute is highly ideal for sport-themed or vintage-themed designs. This standard typeface comes with standard characters, supports different languages and provides OpenType features.
Price: Premium
Out next baseball font is a bold script font that the brush lettering has inspired it; Loguetown Typeface. This typeface is perfect to be used in designing logos, labels, stickers, team posters, league designs, and many more projects with a modern and vintage feel and look. Multilingual Accent Support and Discretionary Ligatures and alternate characters are all provided by this font.
Price: Premium
I want to introduce you a classic Sans Serif font; Coleen. This vintage font comes with sharp and clean shapes and it is highly recommended for headlines. Generally, if you are working on classic and vintage themed designs this font is a good choice.
Price: Premium
Machiarge by Dharma Type is one of the bestselling baseball fonts. This distinctive font is inspired by 20th-century retro movies. There is only one variation for his baseball script which you can have for your different designing projects such as team logos, jersey shirts, packaging, branding, etc.
Price: Premium
Mavericks is an athletic typeface created by BoxTube Labs. This is a condensed Serif font with two styles; Regular and Vintage. This unique font supports the Latin character set and supports western languages. This package has four files and is perfect for baseball logotypes, magazines, covers, and many more.
Price: Premium
Dagger by Studio One Four is an all caps design that comes with 4 styles; Regular, Italic, Light, Light Italic. The name of this font is derived from a sports team. The aggressive characteristics of Dagger make this font perfectly ideal for sports branding, sports flyers, logotypes, shirts or any other design that need a typographic design.
Price: Premium
The next font on our list will be a clean design that was inspired by the old letters that were used in advertisement especially the classic one; Cairlinn. This font provides the user with a variation of letters. If you are working on a project that needs a vintage touch this typeface is a perfect choice and you can have it for labels, jersey t-shirt design, major league designs, typographic quotes, wedding invitations, and many more.
Price: Premium
Conclusion
We tried to include some of the best and premium baseball fonts in our list and we hope you liked it. If you think we missed any good ones that should be added to the list or if you have any questions or pieces of advice for us drop a line in the comment section. It is always perfect to hear from you.