30+ Best Free and Premium Balloon Fonts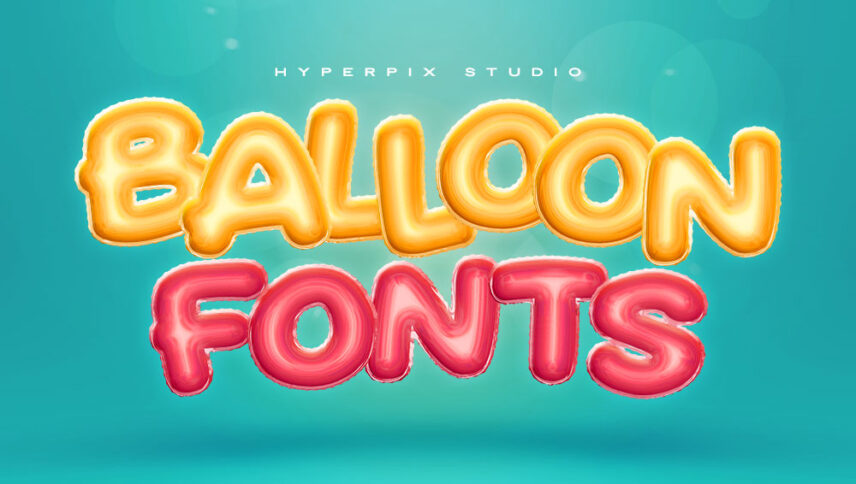 First, you might only think of balloon fonts when designing birthday cards and occasions as such. But once you see the diverse market for it, you can't help but picture them on your every project. Their outline is bold enough to stick out, while their playfulness makes it a couple of times more friendly and adorable. Guess now you can say you've found the perfect font for your next kids-related design, right?
These bulky characters, with their soft edges and curvy outline, land well on your social media material, books, and any sort of headlines intended to sound happy. It's like their colorful style can both cheer you up and engage your attention.
Best Balloon Fonts
Collecting the gorgeous balloon fonts ahead took no less than a good couple of hours of internet surfing. So you can now skip to the part where you choose among the best final free and premium items.
JellyBelly Font is one of the bouncy new Ballon fonts presented by Salt & Pepper Designs. This jiggly, wiggly typeface is rounded with love. You will love this cute font!
Price: Premium
Gold foil balloon font by ink drop is one of the OpenType fonts. The letters of the font are created in 3D and then turned into a font. If you want the design of your invitation cards or posters to be stunning this font is the solution.
Price: Premium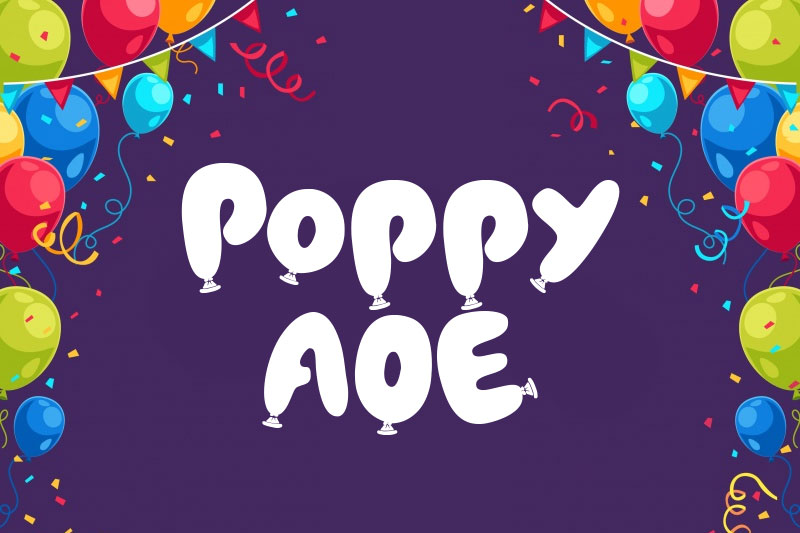 Poppy AOE presented by Astigmatic One Eye Typographic Institute is one of the fancy cartoon balloon fonts that feature uppercase, numerals and basic punctuation.
Price: Free
Yeah foil balloon colour font by Itsmesimon is a big and shiny typeface with its letters being modeled in 3D. Gold, silver and black are the three styles of this font, the font is perfectly ideal for birthday invites, baby shower invitations, posts on Instagram, weddings, messaging, and many other designs.
Price: Premium
This funny cartoon typeface is designed by Andrey Sharonov. Balloon Typeface that is a two-layered font is perfect to be used for designing logos, cartoon titles or other cartoon related designs. Balloon comes with uppercase/ lowercase letters, numbers, punctuations, and it perfectly supports multilingual Western European characters.
Price: Premium
FatFont created in 2006 by Honey & Death is a perfect creative font with different styles. This font is only free for personal use.
Price: Free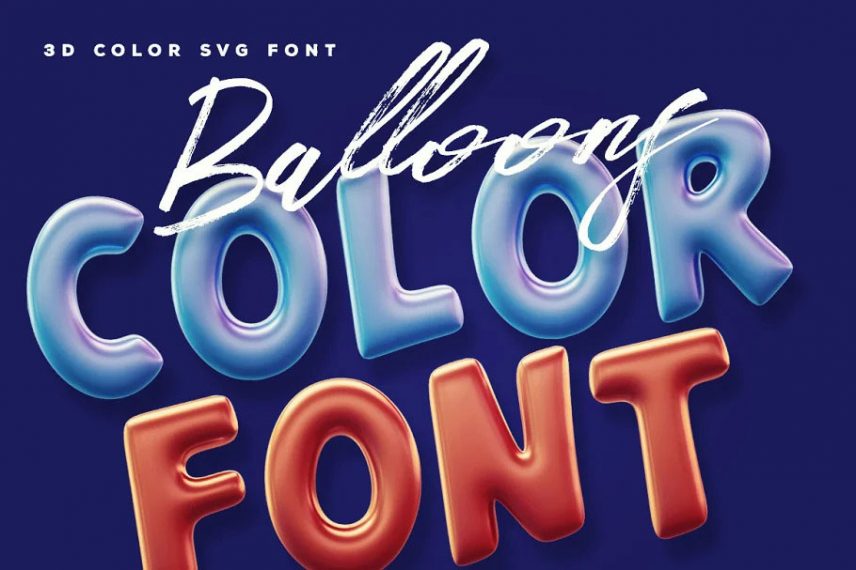 Balloons 3D Color SVG The font has alphabetical letters in the shape of a balloon. Depending on the SVG format, you can make any changes to this font and turn it into your own design. Buy birthday decorations, party decorations, and much more to design your birthday card.
Price: Premium
Foil Balloon Font designed by Jeffry Macpherson Visuals is a cute and colorful design. this typeface is one of the playful fonts with hand-drawn characters.
Price: Premium
FoilBalloon that is a color bitmap font is designed by Evlogiev Creative. Foil Balloon is a complete font that comes with characters. You can preview your text and customize the color of the font to your needs.
Price: Premium
You can use JI Solid Balloon Caps Font free of cost for personal use. This balloon font is presented by Jeri Ingalls.
Price: Free
Helium is a Balloon Letter font designed by Leslie Ray. This is one of the balloon fonts that are just best for weeding/birthday/ baby shower invitations, kid's room's decoration, home decoration, packaging, branding, etc.
Price: Premium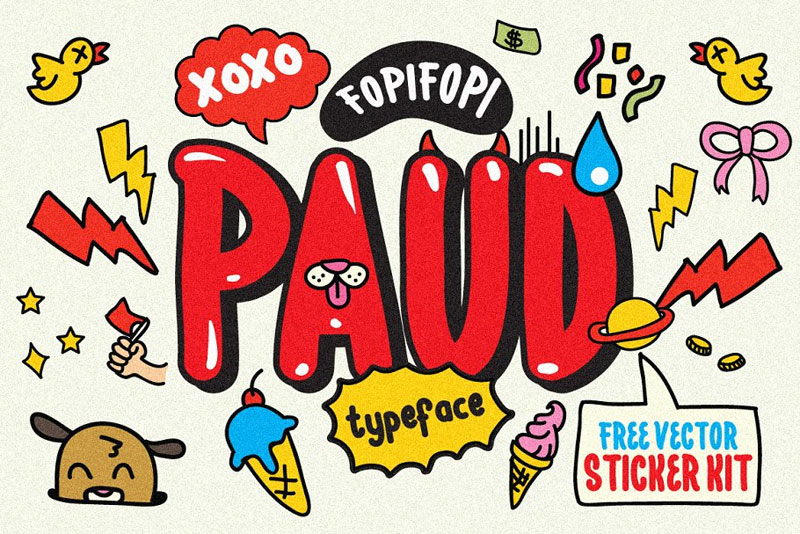 PAUD Typeface & Bonus by fopifopi is one of the happy-looking fonts that can help you to turn your digital looking text into a playful one. This handwritten font is a good choice to use for many different designs with playful themes.
Price: Premium
This cartoon and fancy typeface are one of the balloon fonts that come with two variations. JI Balloon Caps is designed by Jeri Ingalls and as its name says it an all caps font.
Price: Free
This funny label font is presented by Vozzy. Bubble Vintage Label Typeface has a classic look and a vintage style. This typeface works well for designing labels.
Price: Premium
The next one of the balloons font that is going to be on our list is a freeware font; Oh, Ballony. This only one variant font is presented by Buzzbum.
Price: Free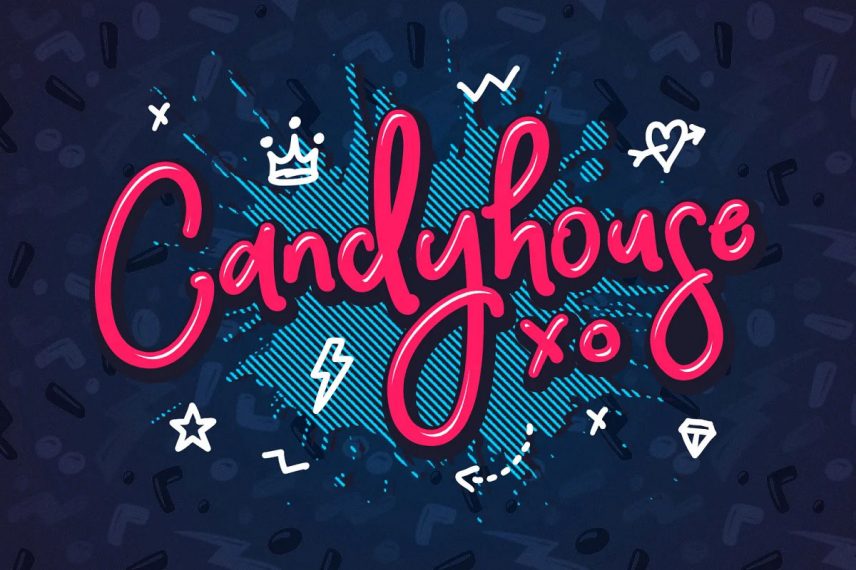 Candyhouse font is one of the signature fonts that is designed similar to fun chocolates. With this font, you can create the packaging of chocolate, coffee, snacks, and many sweet foods.
Price: Premium
Balonku is one of the cartoon fonts that can create a sense of playfulness for your designs. this decorative font has the shape of soap bubbles so it can be a perfect choice for designing birthday cards, or for working on kid-themed projects.
Price: Free
Babycakes Font is one of the bold types looking balloon fonts that are created in 1999 by Babycakez. It can be useful to know that Babycakes is 100% free.
Price: Free
Bulb Layered font is one of the doodle balloon fonts that looks like a delicious sponge cake. You can prepare many logos and catalogs of cupcakes and donuts with this font and many cookies.
Price: Premium
Poison Berries font is free for personal use. This font was presented in 2000 by No Images.
Price: Free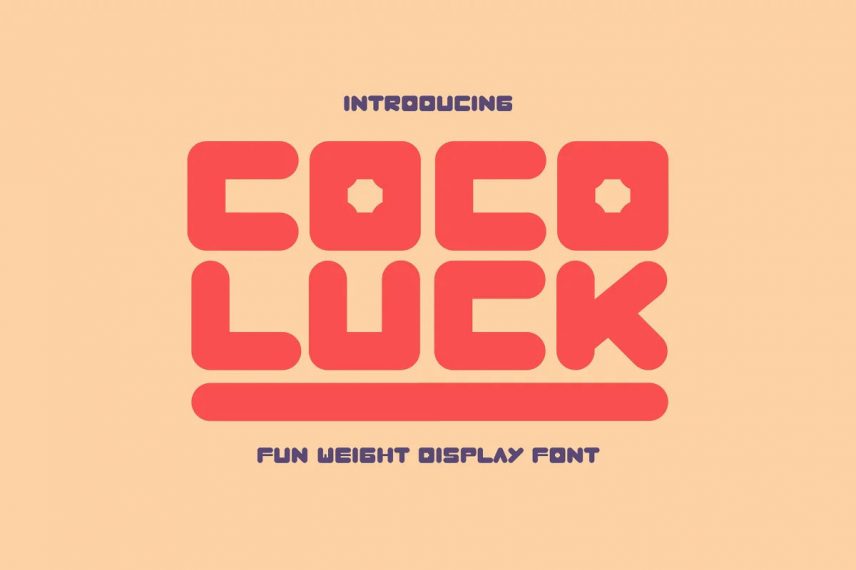 Cocoluck Fun Weight Display is a font in the form of fancy squares. Rounded and bubble lines are some of the best options for baby brands, cosmetics, confectionery logos, and selling great donuts.
Price: Premium
Toon Balloon Font is created in 2019 by Darrell Flood and is one of the free fonts for personal use. The font does worth to get a license and use it for commercial projects.
Price: Free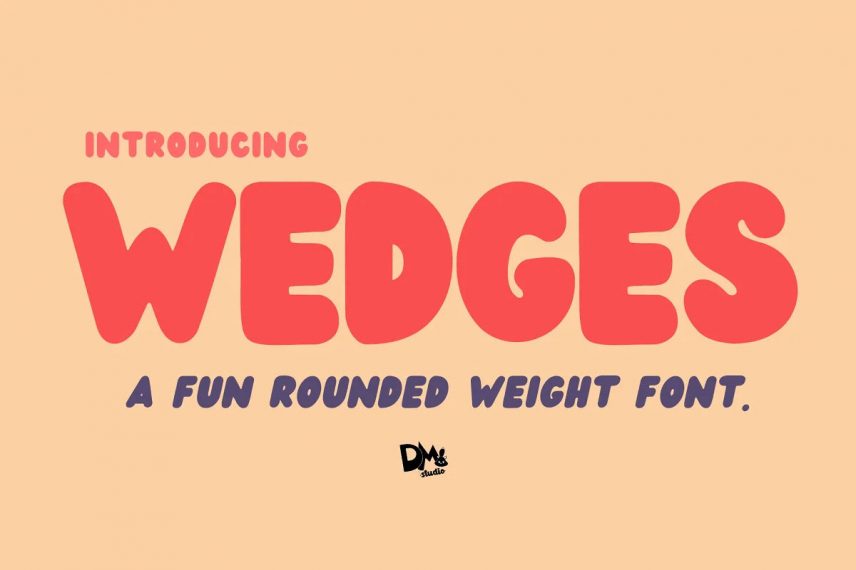 Wedges Rounded Font is one of the fancy and bubble examples used in many baby and birthday themes. Be careful to use it in large sizes because, in a small instrument, the letters' readability decreases.
Price: Premium
Roundish Toons Font designed by Darrell Flood is one of the balloon fonts that you use freely for personal use.
Price: Free
Sniglet Font created in 2008 by Kingdom of Awesome is an awesome bubble font. This font that is free for personal designs may be the one you are looking for your designs; check it out!
Price: Free
SF Balloons Font is published in 2008 by ShyFoundry. This perfect typeface can be used for party themes designs.
Price: Free
Another one of the fancy balloon fonts that you need to check out is Bumbazoid by Boba Fonts. This cartoon font is free of cost for personal and commercial personal use.
Price: Free
Pligo is a personal use an only font that is created in 2016 by Måns Grebäck. Try this balloon font; it's a unique design!
Price: Free
Balloon Floats by Darrell Flood is one of the decorative fonts. This unique fancy font is a free typeface for personal designs.
Price: Free
Balloonish is a decorative font designed by Darrell Flood. this balloon font includes all caps, numbers and basic punctuation.
Price: Free
Conclusion
This was the list of some of the best premium balloon fonts that we created for you. As you have noticed they are mostly funny playful fonts which are ideal for the kid-themed projects or other design that you want to create a sense of playfulness for. So hopefully after you check the list you will find the one appropriate font for your designing project. In the end, if there are any questions or recommendations for us drop a line for us in the comment section.