20+ Best Free and Premium Dripping and Slime Fonts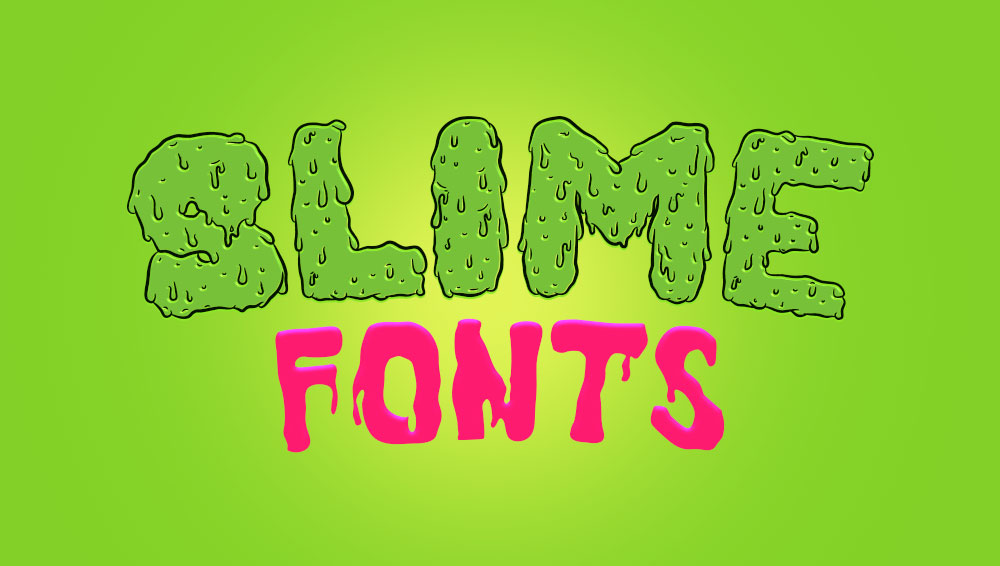 Sometimes you need to be very creative for some of the projects. There various ways that you can use to make your designs stand out and be different from other designs.
One of these ways is using unusual typography and also using Slime Fonts can be a good choice.
One of the features of these fonts is the leaking style they have. When using these fonts you don't need to customize the font anymore.
In case you are looking to have some creativity and fun in designing Halloween posters, advertisement banners, and flyers, Slime Fonts are one of the best options.
Best Slime Fonts
Here is a list of some of the best free and premium Slime fonts. Scroll down to the end of this list. By using these fonts you can make distinctive designs.
Brain Melt Layered Typeface by Drizy is a fancy horror slime cartoon font. This layered typeface comes with different styles ad it is perfectly suitable for fun concept designs. You can also use or for scary, mystical or serious designs. This slime font is good for children's book covers, flyers, albums, logos, etc.
Price: Premium
Zombie Fonts | Melt! Presented by tomatstudio and is a dripping slim font that can create a vintage look for your posters. The font has a wide range of design elements and works for slime designs!
Price: Premium
OZZOMBIE Typeface + Bonus presented by fopifopi is a perfect font for Halloween designs. It is a very cool font that is consists of two mini fonts. You want to complete the horror feel of your designs, get this slime typeface.
Price: Premium
Lethal Slime is a beautiful dripping font presented by imagex. This typeface is one of the fonts only free for personal designs. Check out this horror font, it can cover different purpose designs.
Price: Free
Dead Slime Font + Extras created by 160 Studio is a perfect font to add a touch of horror to your designs. This font comes with 6 font files and can be paired with other fonts to create a slime design. Try it!
Price: Premium
Liquidism presented by Pizzadude is one of the fancy horror slime fonts with two font files. This dripping font is free for personal use and features only capital letters.
Price: Free
SLIME is one if the OpenType color Slime fonts by ink drop that has been created as 3D and then turned into a font so it is only useful in some special apps. This font is a great choice for Halloween invitations.
Price: Premium
Grospter is a perfect font for a wide range of graphic designs. This regular font pairs with other font and includes the full set of uppercase letters, numeral, and punctuation. Try this bold dripping font!
Price: Free
Monstrocity by Macaroni Mayhem is a cartoon font. this decorative typeface includes Character Set A-Z upper and lower case, numbers, and punctuation. This font is ideal for headlines, check it out!
Price: Premium
SCURD is presented by PixelMoshpit and it is one of the horror fonts. this dripping font can create a fun look and it can be used for different concept designs like scary, fun, serious or even mystical.
Price: Premium
Apple & Peach is one of the bold slime fonts presented by Incools. This awesome font has a unique style and is a perfect choice or branding, business cards, logos, and more.
Price: Premium
That's Just Gross by Dismantle Destroy is one of the all caps slime fonts which is perfect for fun only. The font doesn't include numbers or punctuation. In photo editing programs this font is easily editable.
Price: Premium
Meltdown MF by Richard William Mueller is a dripping fancy font. This horror font features only capital letters and of course numbers and punctuation. Try it and make a unique creation.
Price: Free
Mars Attacks is a bold horror font created by Filmfonts. This typeface is one of the fonts that are licensed as freeware which means you can use free of cost only for personal designs. It is a nice font, check it out!
Price: Free
Dripping Cool is an all caps typeface presented by Mm Fbrk. This is one of the slime fonts that can be used free of cost for commercial and non-commercial works. Check out this horror font; it is a good choice for different designs especially with the horror concept.
Price: Free
HoMicIDE EFfeCt is one of the cartoon slime fonts created by Nihilschiz. This bold horror font is for personal use only. I recommend you to check out this dripping font!
Price: Free
Spoooky Drips designed by Daniel Bent is one of the bold and strong fonts that can catch the attention of the viewers. This fancy horror typeface is free for personal use only.
Price: Free
Slimeball is one of the cartoon slime fonts designed by Jonathan S. Harris. This fancy typeface is free of cost for non-profitable work and it includes uppercase letters only.
Price: Free
Slime Bawls is a cartoon font and it is presented by Xerographer Fonts. this fancy cartoon font features only capital alphabets and is free for non-commercial use. Check out this slime font for your next project.
Price: Free
Meltdown MF designed by Rick Mueller is one of the outline fonts that you can have free for personal works. Check out this melting font, it looks great on many designs.
Price: Free
Shlop is one of the totally free fonts and it is published by Typodermic Fonts. this dripping font has a wicked horror style and is ideal for shirt designs, graphics, logos, flyers, signs and many more.
Price: Free
Conclusion
This was our list of slime fonts that we hope you enjoyed. If you think there are any other slime font left that we should to this list let us know in the comment section. Also, sharing the list with others can be a good idea to help them find the unique font they are looking for!