80+ Best Free and Premium Horror and Scary Fonts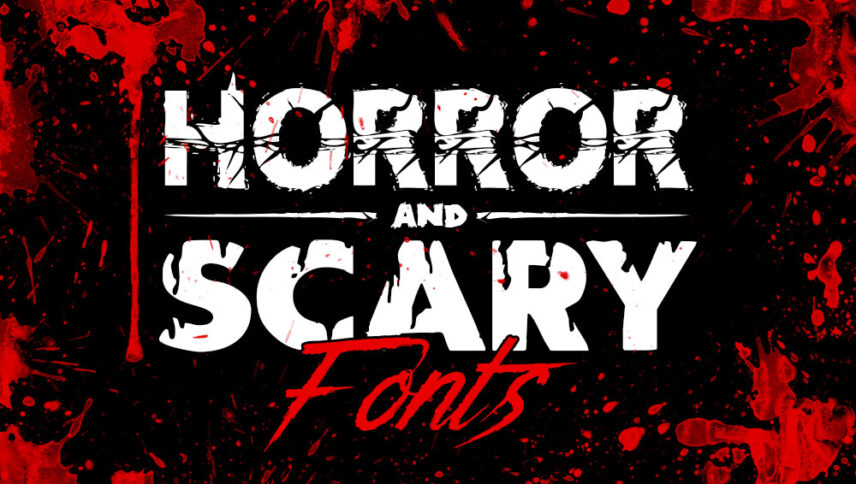 Retaining a grave look that evokes creepiness, our selection of horror and scary fonts works wonderfully for Halloween or other occasions where you need to come off serious, or even somewhat deadly. Accordingly, you can bet it makes an excellent choice for bloody gaming graphics or scary movie posters. Those with a less I'm-gonna-kill-you vibe can also cover other marketing areas more or less!
So, as long as you're fond of the intimidating mood they establish, it's totally up to you where to use them. Although in some cases the cartoonish style balances off some of the roughness. But even if it does, spookiness is still these fonts' middle name!
Best Horror and Scary Fonts
Here lies our recommended bundle of horror and scary fonts, both free and premium versions included. Do you know what would perfectly match them and produce even more striking results? Our collection of skeleton fonts! So let's get creative now!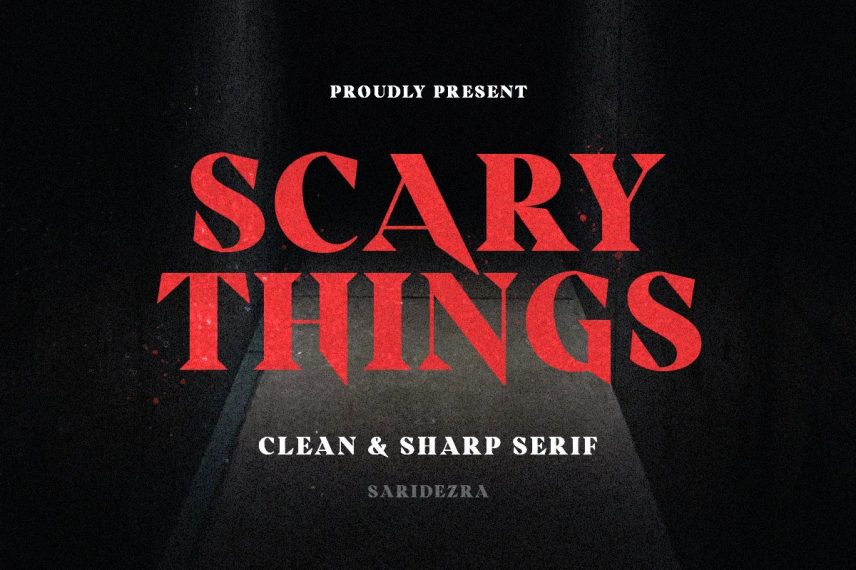 It was introducing the Scary Things Sharp Serif font, considering that it has sharp lines and of course it is a bit classic. These fonts are suitable for designing scary posters for video games, movies, and even T-shirts that have a dark background and are boyish.
Price: Premium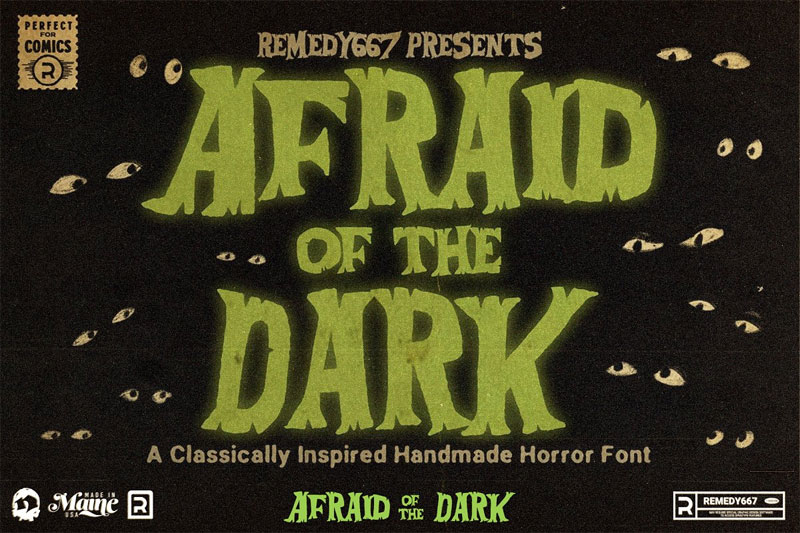 Afraid of the Dark is a font that mysteriously places the dry branches of trees together. This retro font is used in scary animations between forests, ponds, and Halloween games.
Price: Premium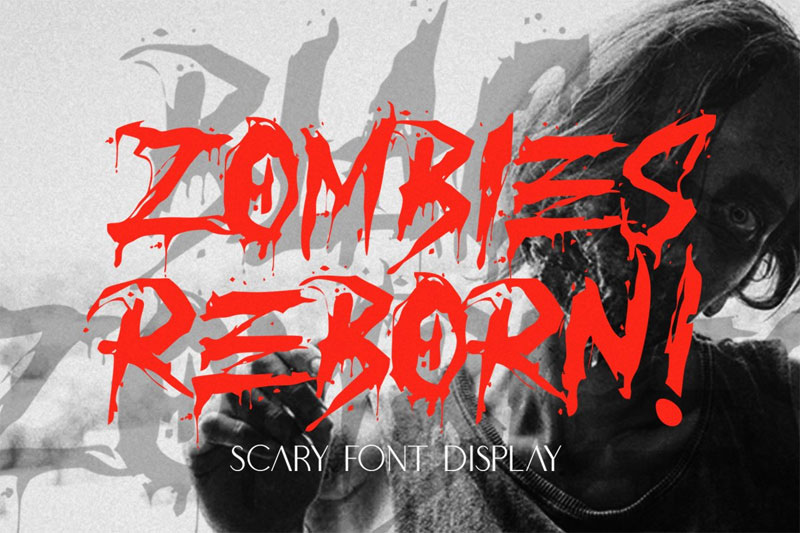 Zombies Reborn font designed by Typeline Studio. This font depicts the blood bath differently and shows a natural and vivid effect. For Halloween themes and movie posters with space creatures and zombies, this font is a good element for its title.
Price: Free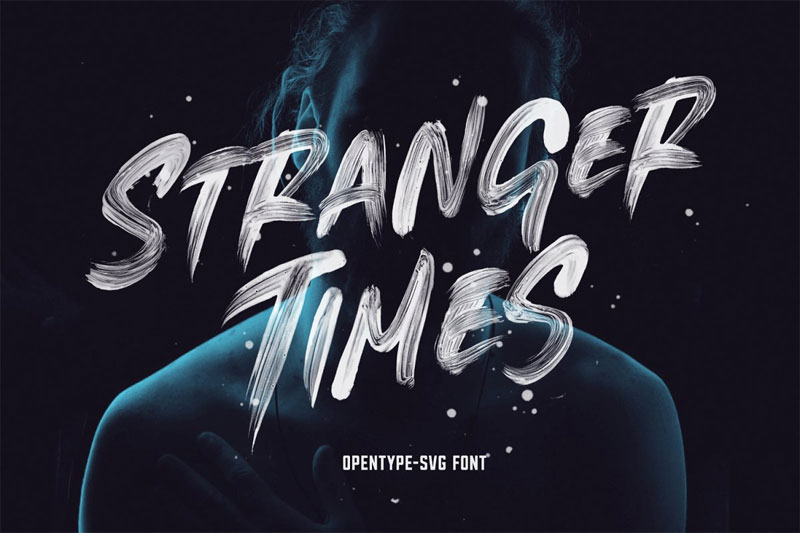 Stranger Times is an OpenType SVG font where each letter is painted separately. Its painting style is suitable for many horror movies of sea creatures, such as shark attacks, or unknown blue creatures.
Price: Premium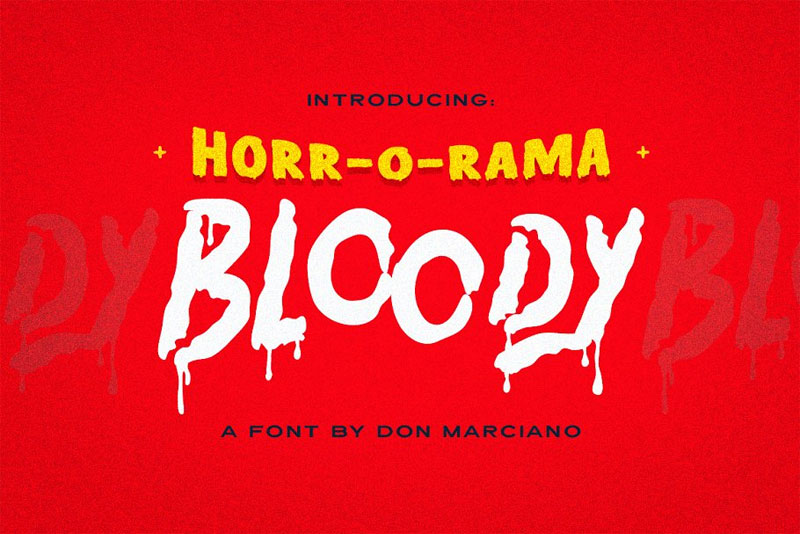 Science fiction stories such as the invasion of space humans into the earth and the release of a viscous substance inspire Bloody Scary font. The feature of this font is running, which can be blood and any other material. Now, to design a movie poster, it is enough to download this font.
Price: Premium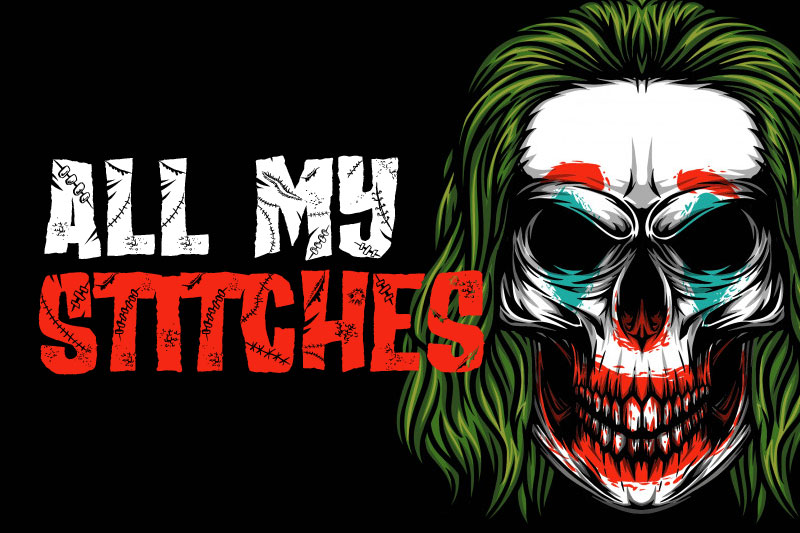 At first glance, All my Stitches font looks like pieces of fabric stitched together, but you can go beyond that and use it in medical and horror movies where some dangerous people have stitches on their faces and other parts of their bodies.
Price: Free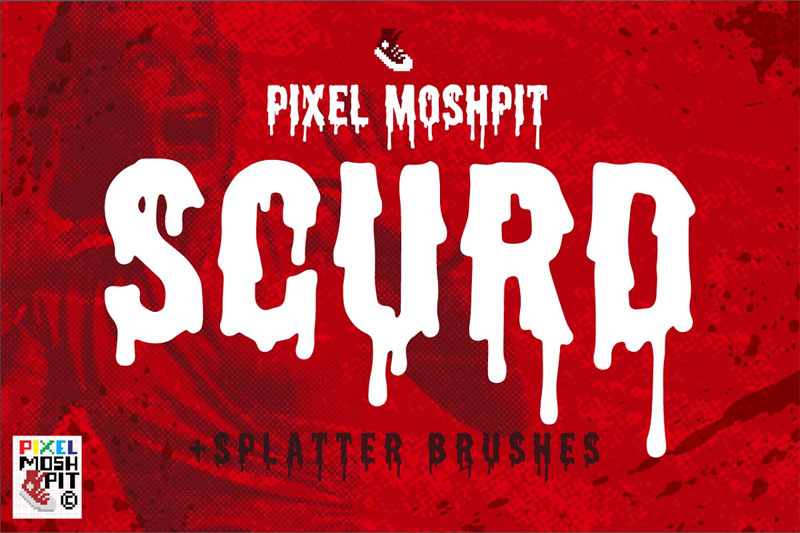 Horror movies are often combined with science fiction stories. When the threat of a monster is related to technology, or when the earth is threatened by space creatures. With SCURD font, display the scary movie poster with more power of horror, for eample.
Price: Premium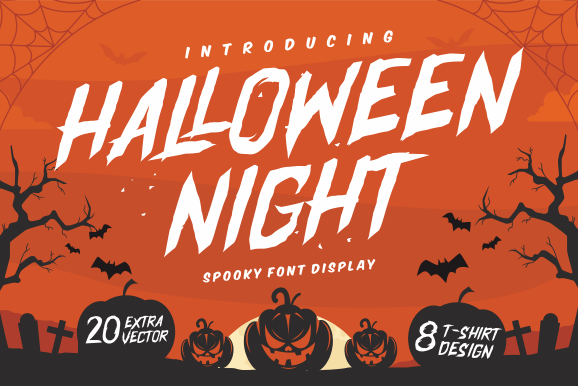 Halloween Night font is one of the scary designs that seem to be designed with ink lines. The sharp edges that the characters have can convey that feeling of fear to the audience and make a great invitation card for Halloween.
Price: Free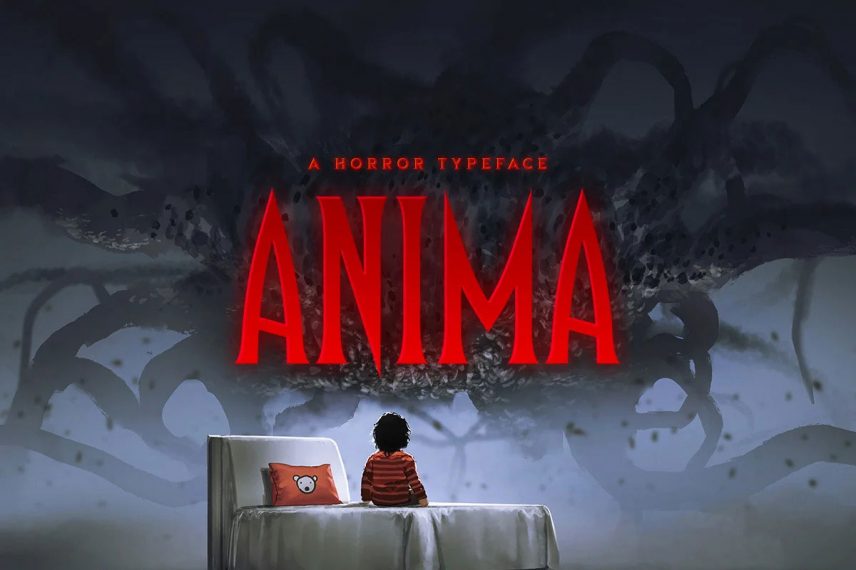 Anima Typeface font is one of the scariest designs used to design video games with a dark background. This font becomes one of the most attractive that the audience welcomes for video games.
Price: Premium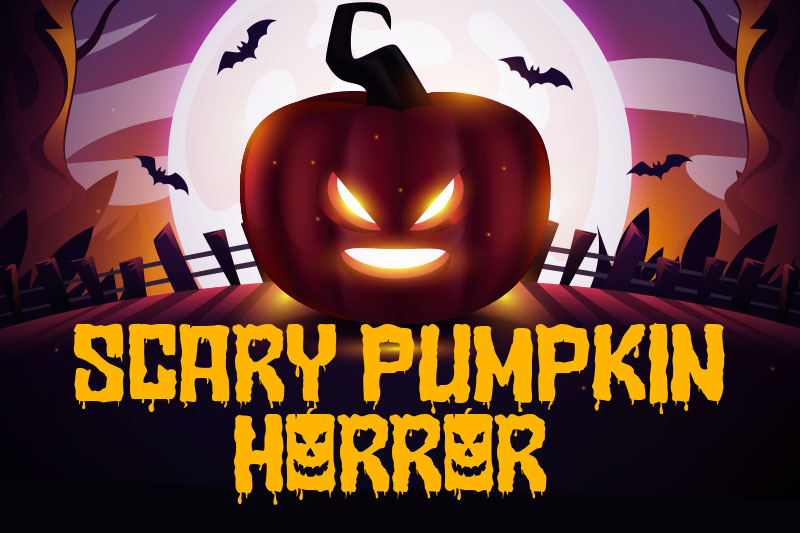 Scary Pumpkin font is like letters made of pumpkin pieces, and the drops that are dripping from it convey a multiplier and, of course scary feeling. This font is suitable for designing video games of zombies, vampires, and many themes that require a drop of blood and rage.
Price: Free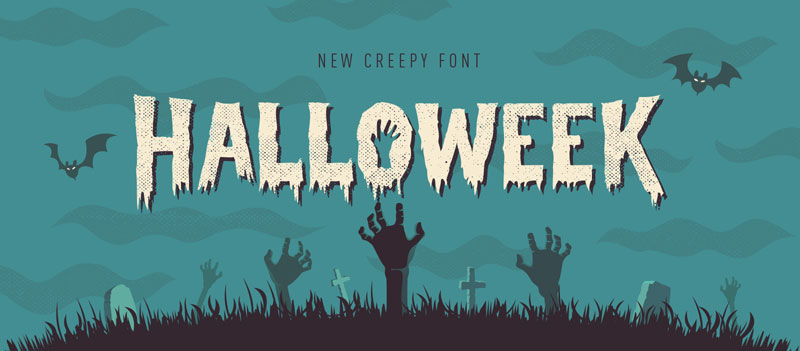 Halloweek font designed by typing studio. The interesting thing about this font is that, for example, the letter A has a scare skeleton that indicates it is in a set of scary and scary fonts. At the bottom of the letters are drops of blood that have a perfect design that can be used on wooden designs or dark backgrounds with elements such as crows and scorpion strings.
Price: Free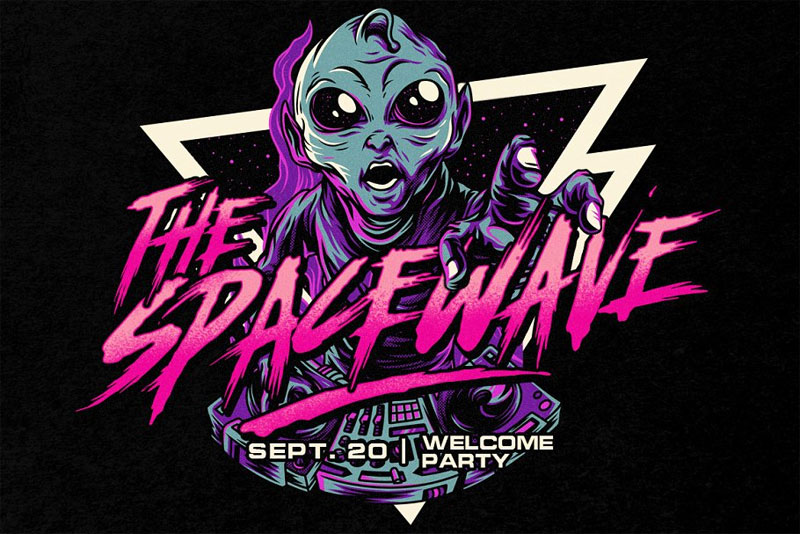 Horror Chapters font designed by The branded Quotes. Sharp's and scary style in Halloween postcards and invitation cards creates fear in many viewers before watching movies and people coming for trick or treat.
Price: Premium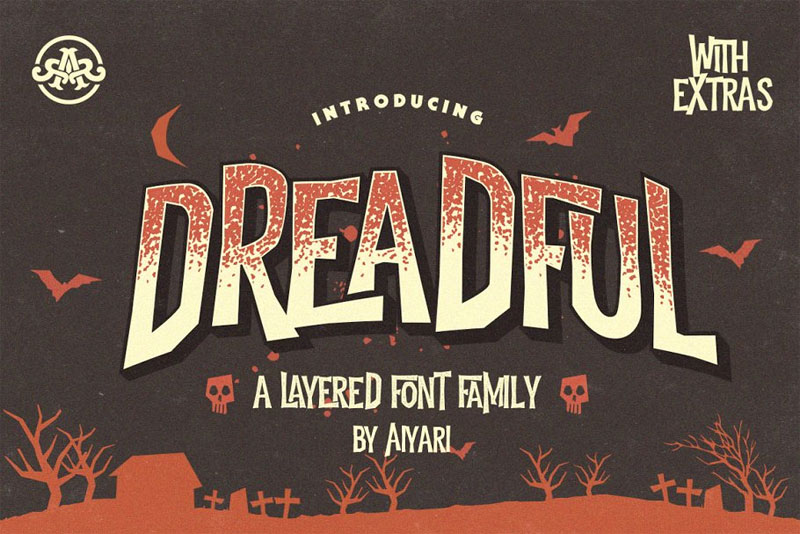 Dreadful Extras font sounds spooky. This font has 4 styles. For those who are interested in Halloween this year with retro themes and creative invitation flyers, comic books, logo design, and scary quotes, we recommend it.
If you are interested in spooky fonts, I suggest you see the list of the best creepy and spooky fonts.
Price: Premium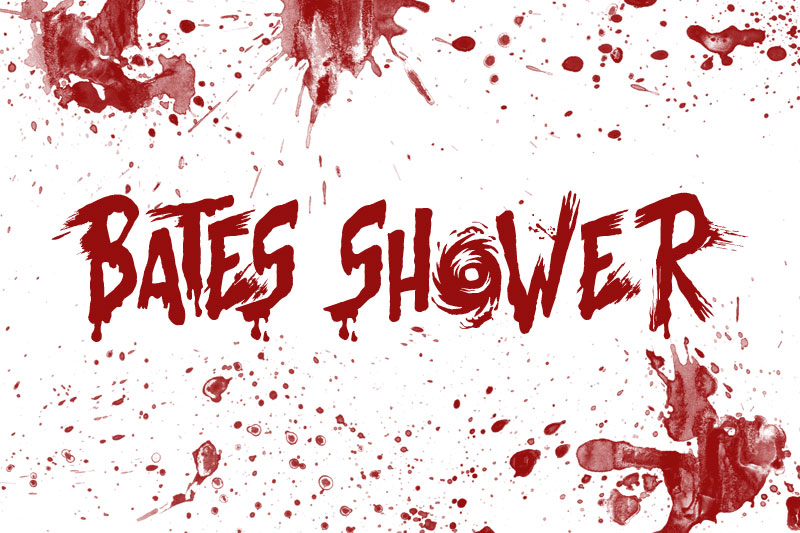 Imagex has designed Bates Shower font in such a way that a terrible tornado is swallowing letters. With these interpretations and vintage styles, supernatural films can be used to design T-shirts.
Price: Free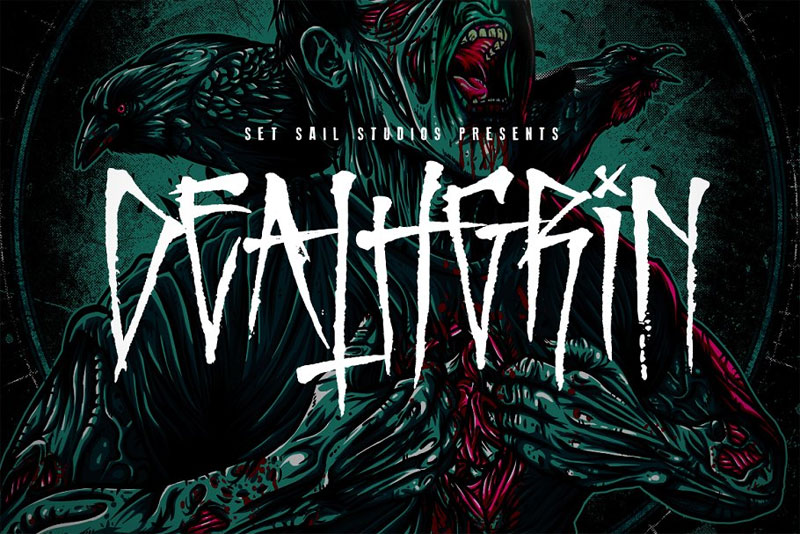 Deathgrin font is very condensed and drawn by SetSailStudios. As the letters are, it looks like a scratch on the wall or a human flash, which makes the font scary and creepy. Consider the font and design horror themes, music brand logos, movie posters.
Price: Premium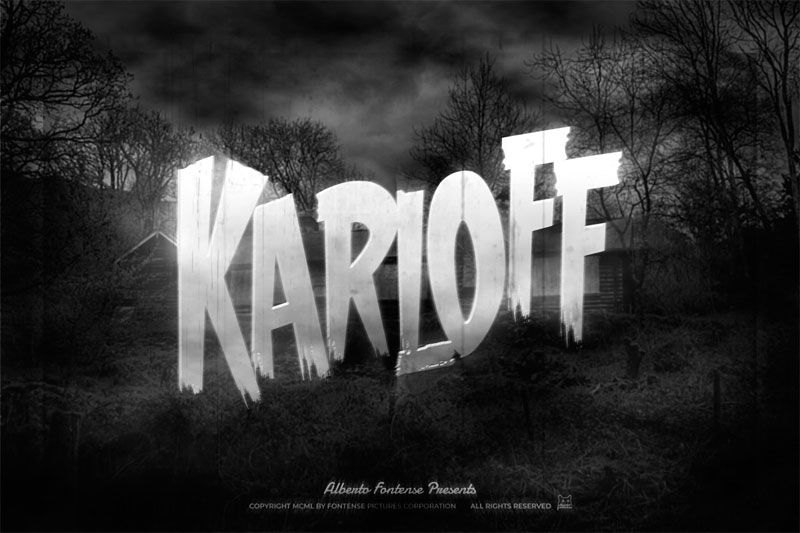 Karloff Halloween Horror font is like pieces of broken wood in a dark forest. Use spooky and ghostly movies, along with other scary elements of this horror font, to design logos, comic book titles, and movies.
Price: Premium
In many horror movies, the night is the best opportunity for strange and different creatures to appear. The Night Creatures font would be a good idea to design a poster for such films.
Price: Free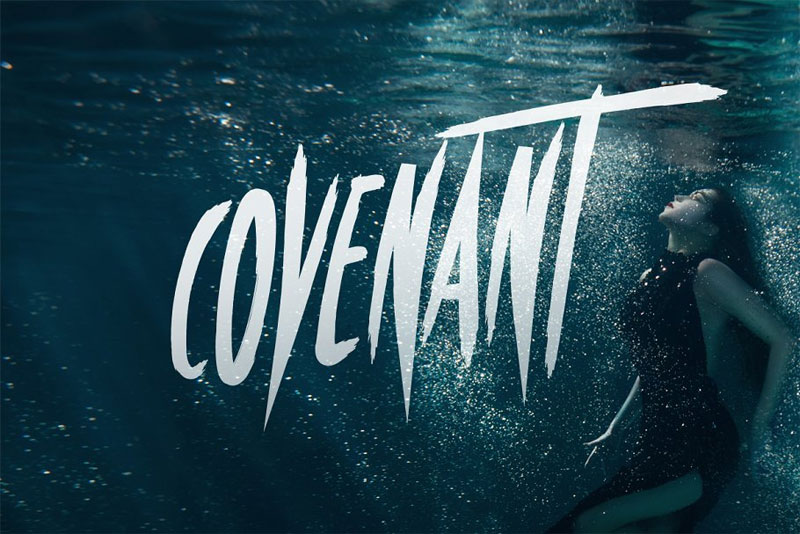 Covenant is a terrifying brash font, designed by Tugcu Design Co. to design scary themes, martial arts, Halloween invitations, and movies with horrific murders.
Price: Premium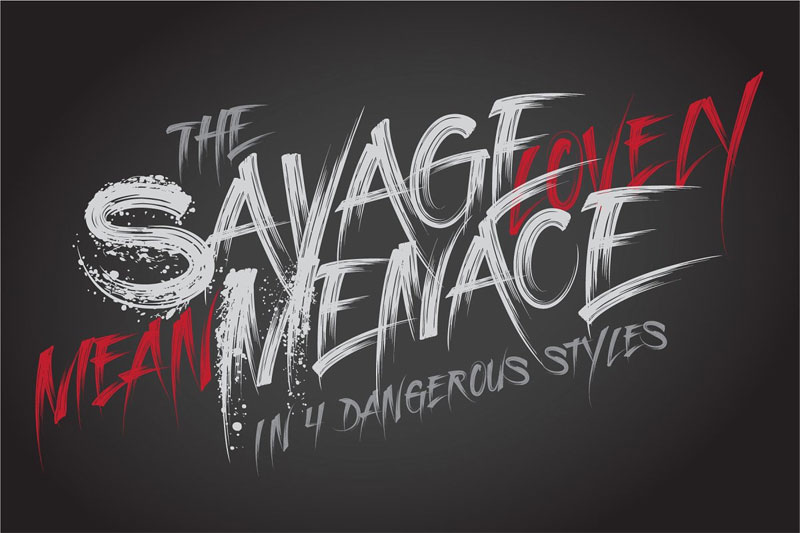 With the harsh and deadly mode that the letters of Strokes Font Family are designed with different sharp, wide, rough, regular rough styles and are placed in different backgrounds, many audiences will be on the edge of their seat. Examples include scary posters in snowy locations, ghost houses, and zombie attacks.
Price: Premium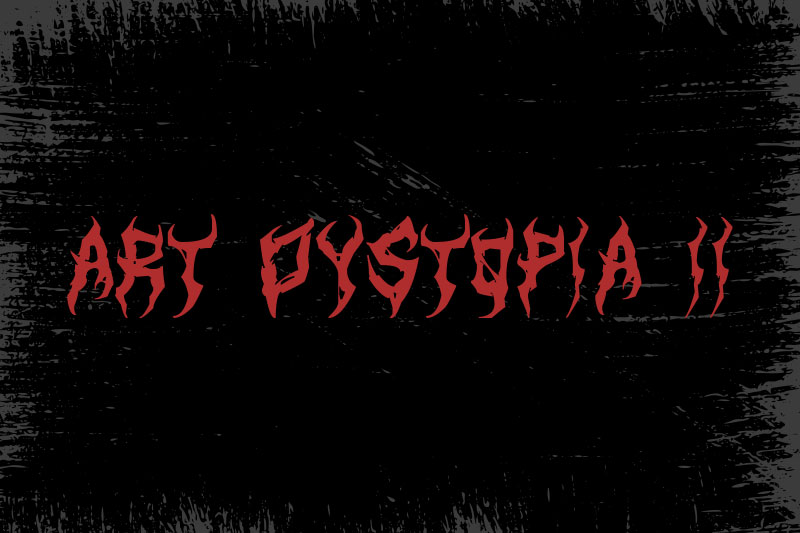 Art Dystopia II is a scary and deadly work that depicts letters like dead branches or dangerous razors. For example, use this horror font for posters of old movies that are vampire humans and scary places in the mountains and forests, or Halloween themes.
Price: Free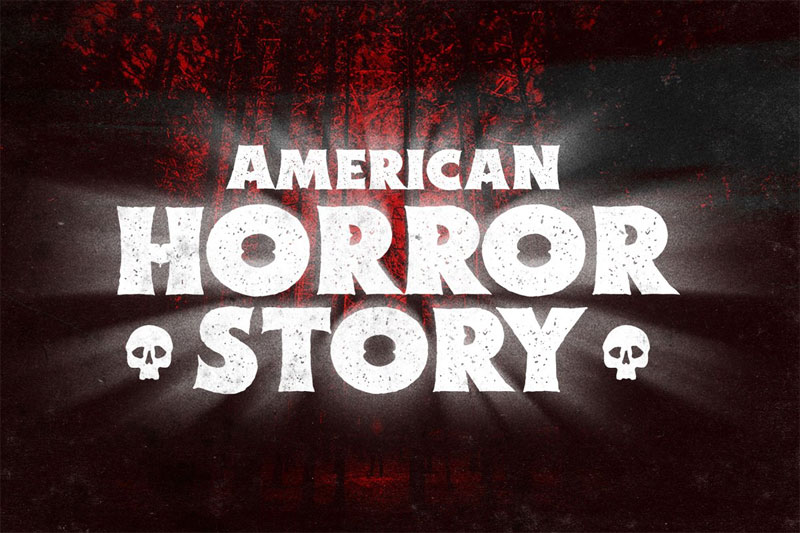 Savath font is not so scary for adults, which is a scary fantasy font for animations, superhero comic books, and with extras characters, you can use them instead of designing the skeleton, gun, crow images for Halloween themes.
Price: Premium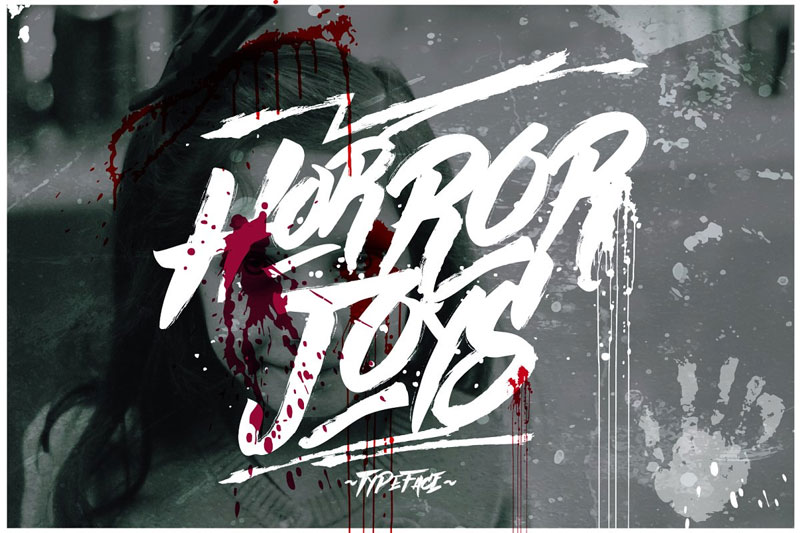 Horror Joys Typeface font has no restrictions for designers, and with this scary font, you can present the most dangerous, mysterious, and bloodiest scenes in the form of posters, flyers, typography, and photography.
Price: Premium
Insomnia font has a vintage and bold style, and despite the tears of blood in the letters, it can evoke a symbol of wildlife attacks or escape from a closed space in action and horror movies, so movie posters and video games are a good option to use.
Price: Free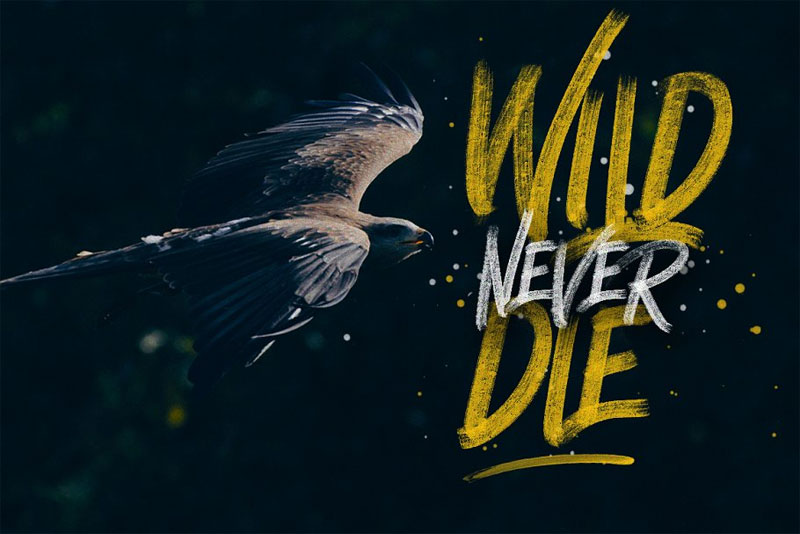 The Heady Rough font is an OpentypeSVG 50, and with its hand-painted style and rough shape, many of the art brand's logo designs feature horror movies with blood and ghost elements.
Price: Premium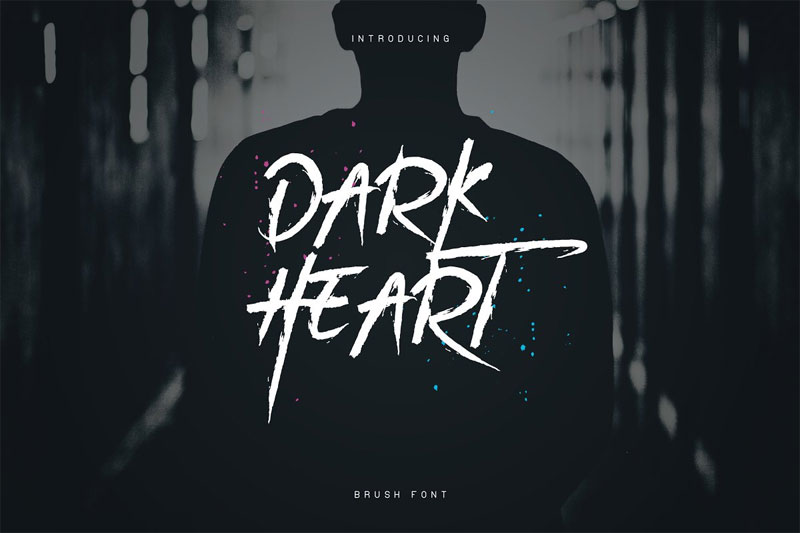 DarkHeart Brush font Extras designed by VPcreativshop. In this horror font, you can see the shape of the hand-painted brushes, which creates a scary atmosphere. Halloween invitation cards, art, and metal brand logos, horror movies need it.
Price: Premium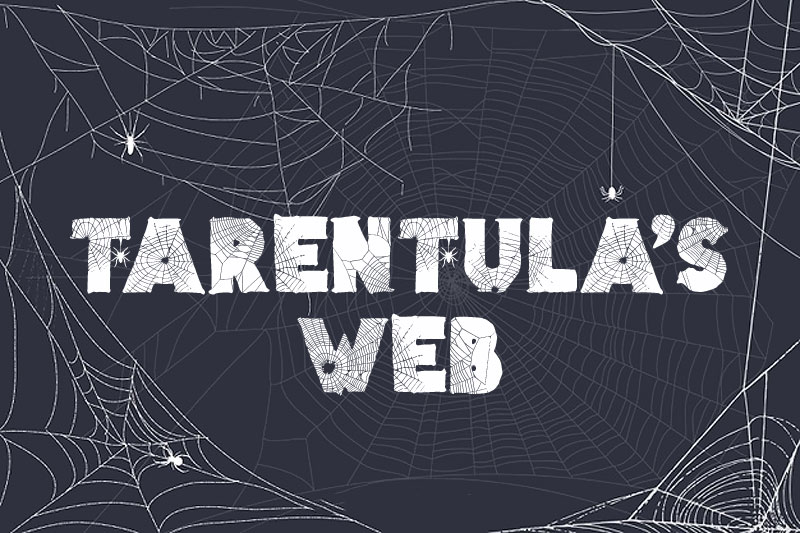 Tarentula's Web is a spooky font, spider webs and spiders hanging from letters like tree branches are the best ideas for a flyer, Halloween invitation cards.
Price: Free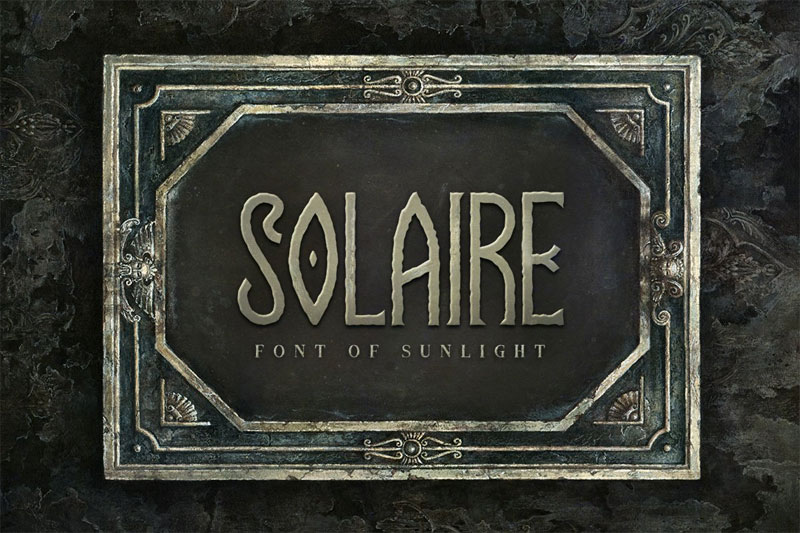 Solaire Typeface font created by Tugcu Design Co and is dangerous with modern style and sharp edges such as metal abrasion. This scary font is used to design logos and music posters, mysterious books, magic movies, and fantasy spooky themes.
Price: Premium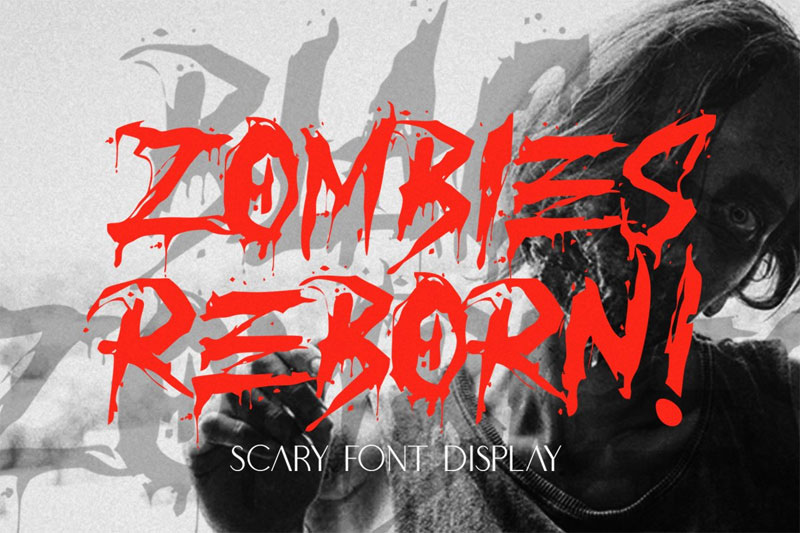 From the earliest days of our lives, we used our imaginary lives to see ghosts in shady shapes to be emotionally connected to the unknown and the impossible. REBORN ZOMBIES font is designed and presented to turn imaginative posters and horrible and deadly flyers.
Price: Premium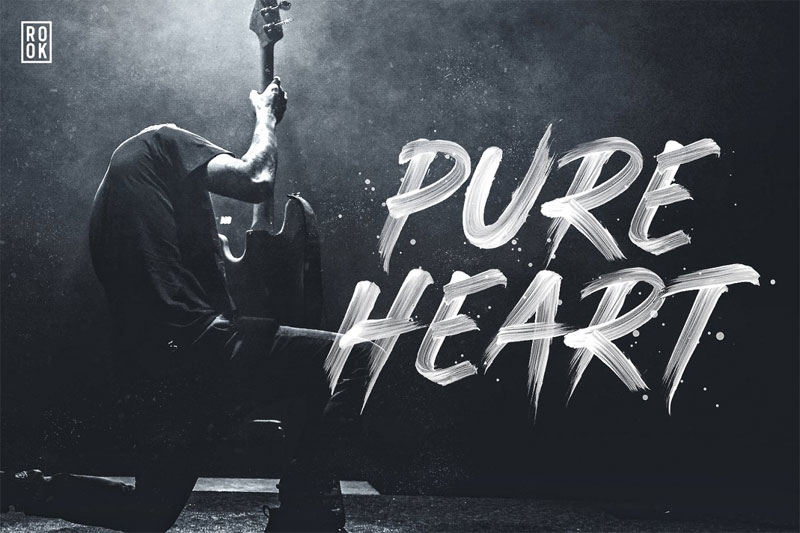 Pure Heart OpenType SVG Brush font is one of Greg Nicholls' most beautiful works. With this font, many horror theme projects, such as the design of posters of bloody movies and murder by crazy people, will be ready.
Price: Premium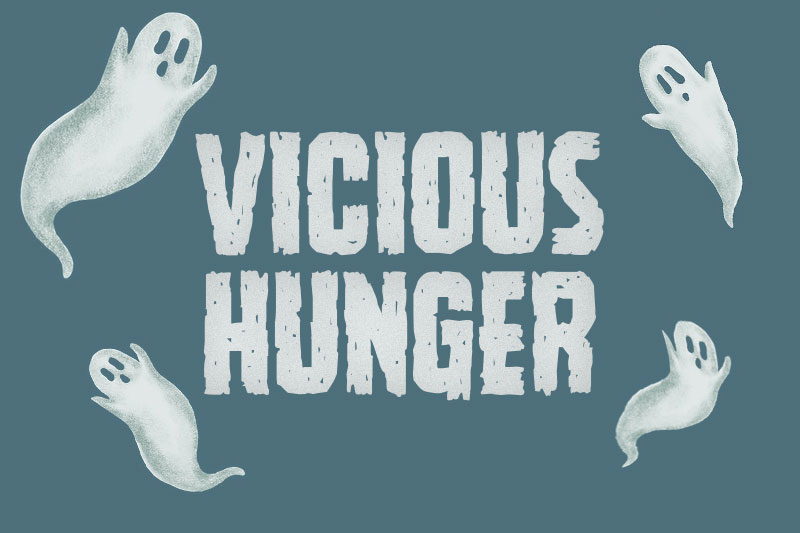 Vicious Hunger Font has different styles, and in all of these styles, the retro and whitewashing of the letters are obvious. This scary font is for posters of movies where giant creatures with furry bodies or zombies are used in video games.
Price: Free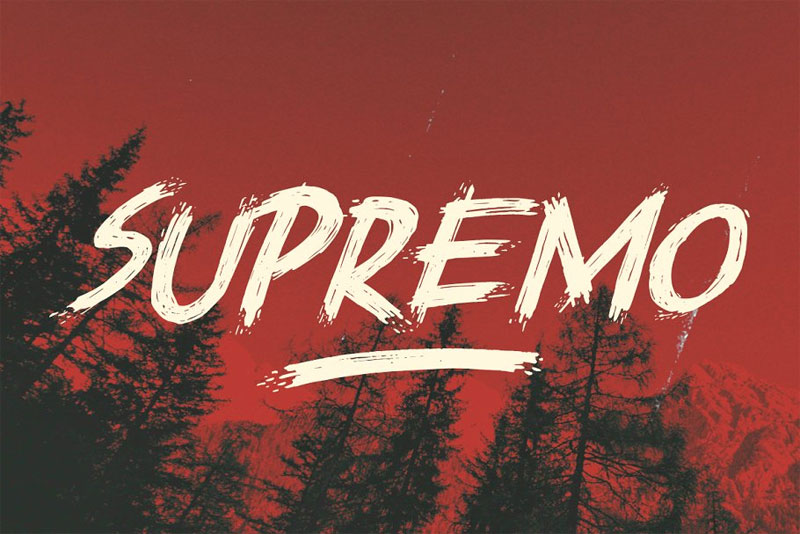 Supremo Horror font has a brush style and is look alike the spraying blood or paint around. This horror font will be great for designing posters for festivals, Halloween celebrations, and horror vampire movies.
Price: Premium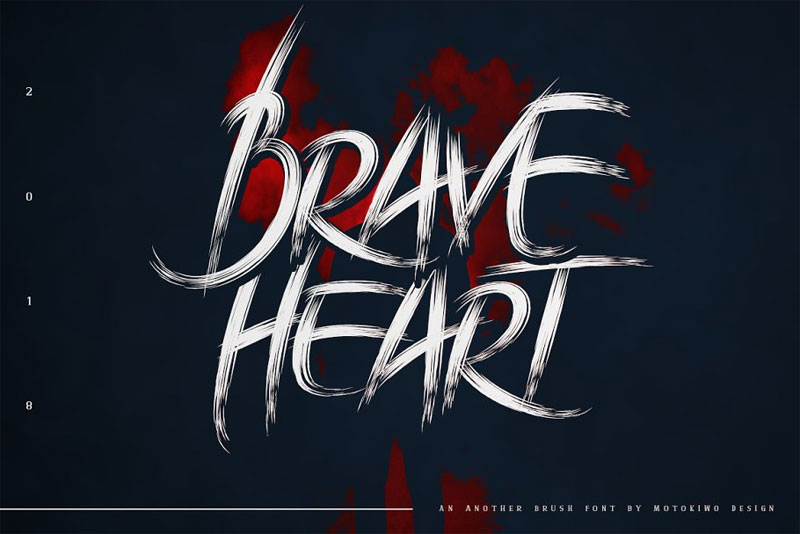 Now it's time to design the flyers, invitation cards, and Halloween themes, really spooky and awesome. The curvilinear shape of the Brave Heart font's letters provides an interesting and slightly scary combination with the sharp edges.
Price: Premium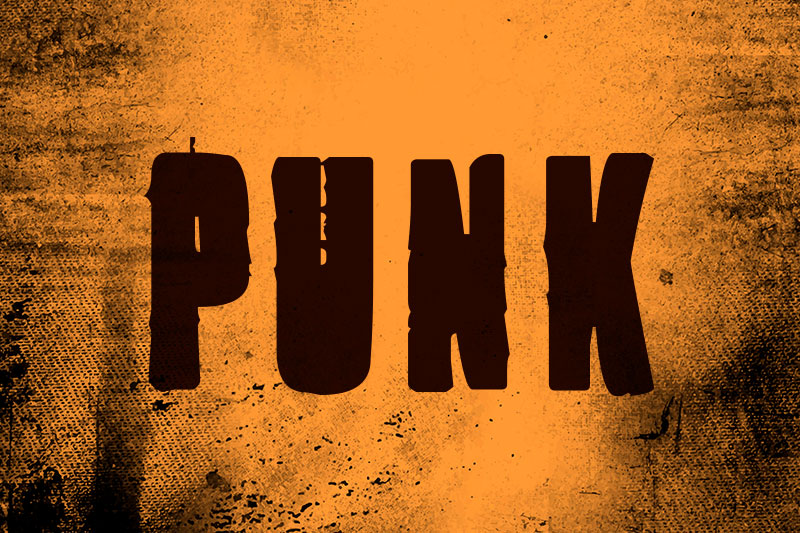 1 Punk font is what every designer needs to be interested in creatures like ghosts and hanging skeletons. The punk style and its vintage eye draw every viewer to your scary posters.
Price: Free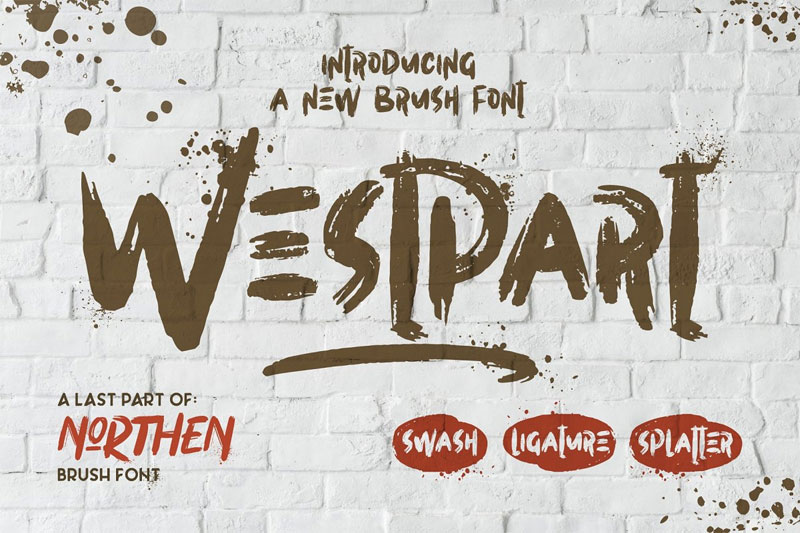 WESTPART a Last face NORTHEN font designed by Garisman Std. If you're looking to design a Gothic-style scary movie poster that is usually shot in large, mysterious mansions, castles, foggy, dark locations, and shadows. Also, this horror font will help you in the main headline.
Price: Premium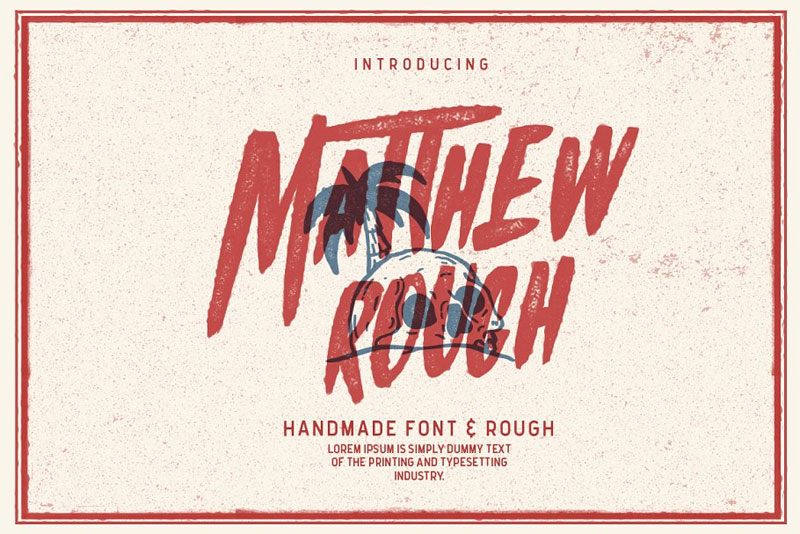 Matthew Rough font has a retro and grunge style and will be notable for posters of films that include characters from unknown creatures, humans, supernatural and strange creatures, a range of vampires, demons, psychics, evil spirits, and monsters.
Price: Premium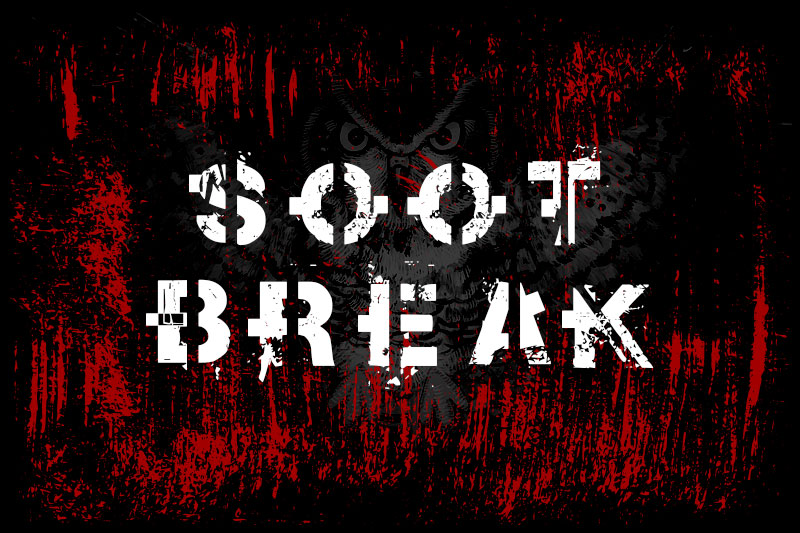 Soot Break font is a varied and engaging work from Gorka Garcia Hernandez. As you know, many horror movies are a mixture of bloody killings with different weapons, and this horror font with a stencil and rough style will be a good choice for the title of gangster movies, military, and war themes.
Price: Free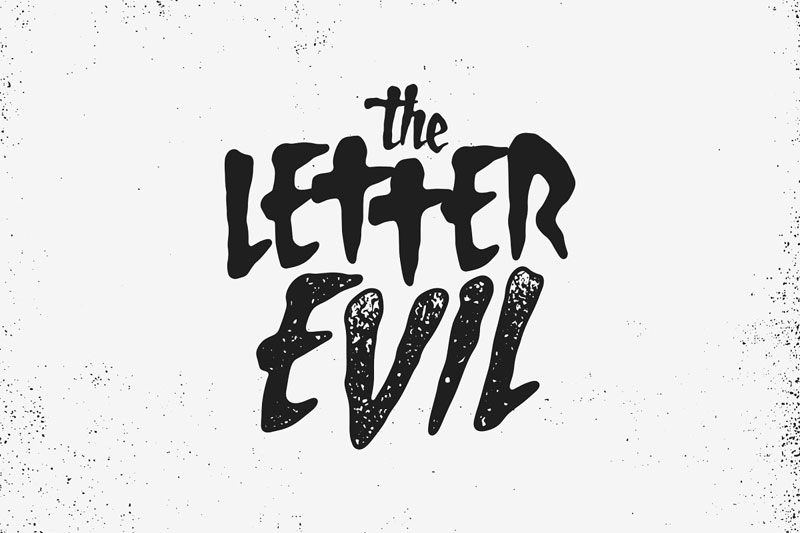 Put self-destructors, demons, zombies, evil spirits, wolves, evil animals, evil clowns, serial killers or natural disasters or man-made in the backgrounds and the main title of the movie or video game with The Letter Evil font, which is grunge and hand-letter style. Therfore, you will have a very scary artwork.
Price: Premium
Blood Bold Fun Halloween has two fonts, both are chubby and funny, but one is melted Pumpkin mode and the other is jelly chocolate. As a result, it is for Halloween fantasy themes, animations.
Price: Premium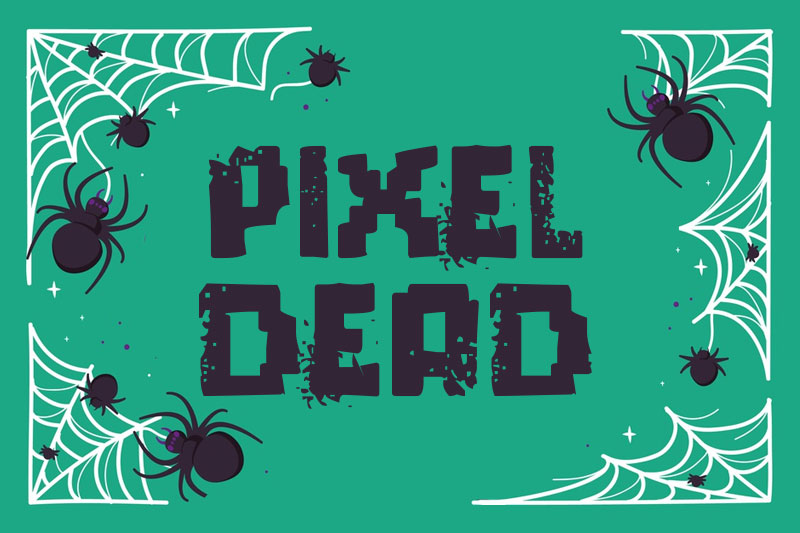 If the dead penetrate the modern world, they will create Pixel Dead font designed by PressGang Studios. The letters are gradually disappearing. This scary font can use for cyber movies, ghosts, and video games.
Price: Free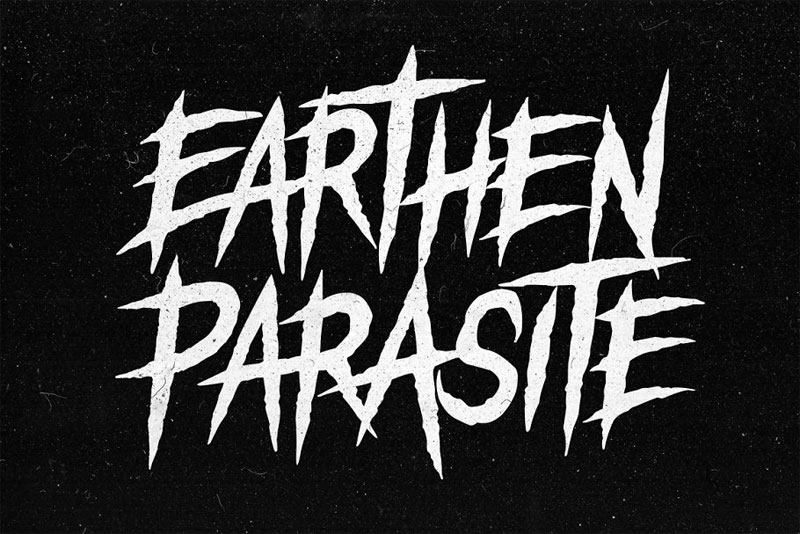 You can make the zombie story poster, ethnic legends with evil characters, witchcraft, ghost stories, Grand Guignol melodramas, Gothic, and Victorian European novels look real with Earthen Horror Parasites font designed by The Branded Quotes.
Price: Premium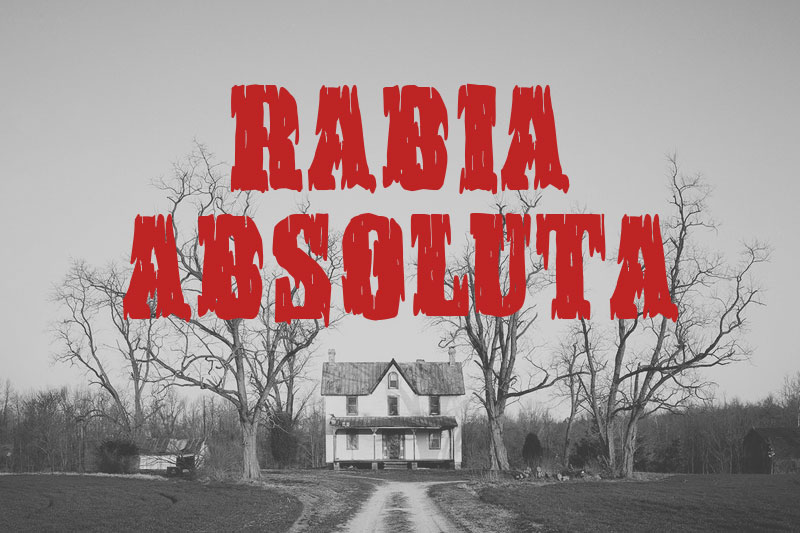 Rabia Absolute font has a runny and creepy style and is mostly seen in movies where there are laboratory creatures. You can use this scary font as a title for movies, video games in science fiction, and horror genres.
Price: Free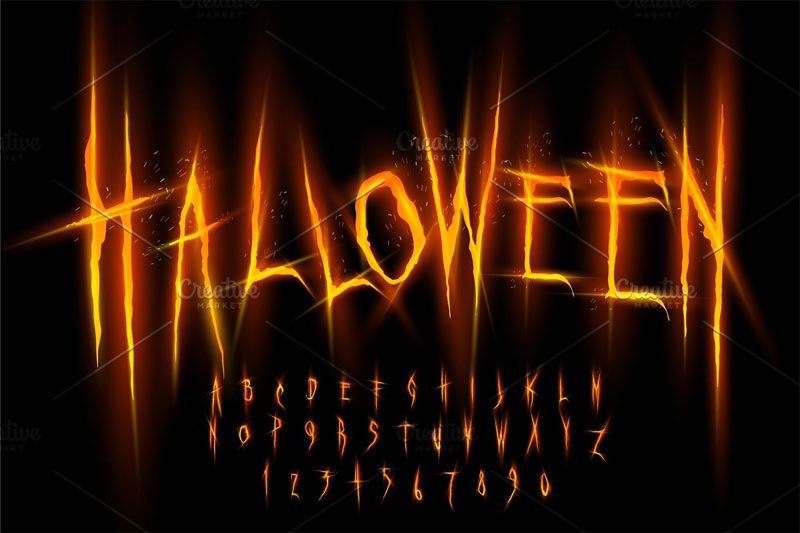 Halloween font letters and numbers are a very bright and mysterious style that is best used for posters and Halloween invitation cards with a dark background.
Price: Premium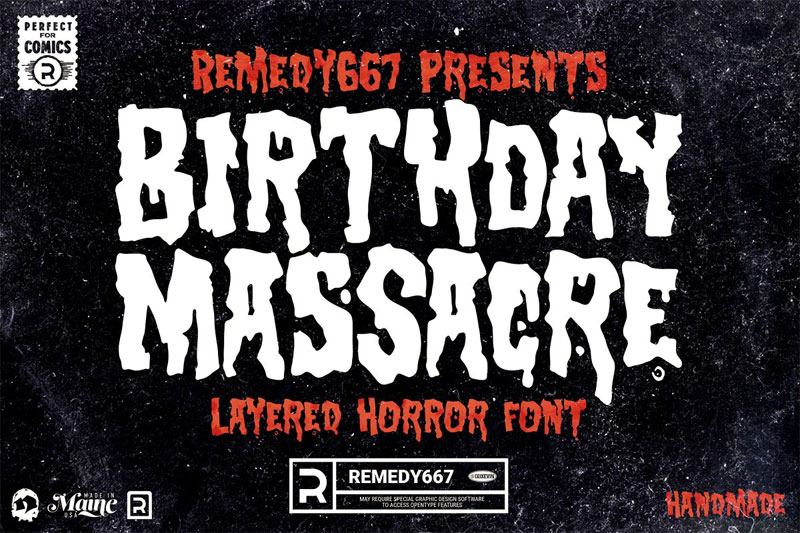 Massacre Birthday font is extraordinary and spooky, which is suitable for Halloween animations, space creatures, and adventure video games such as zombie run.
Price: Premium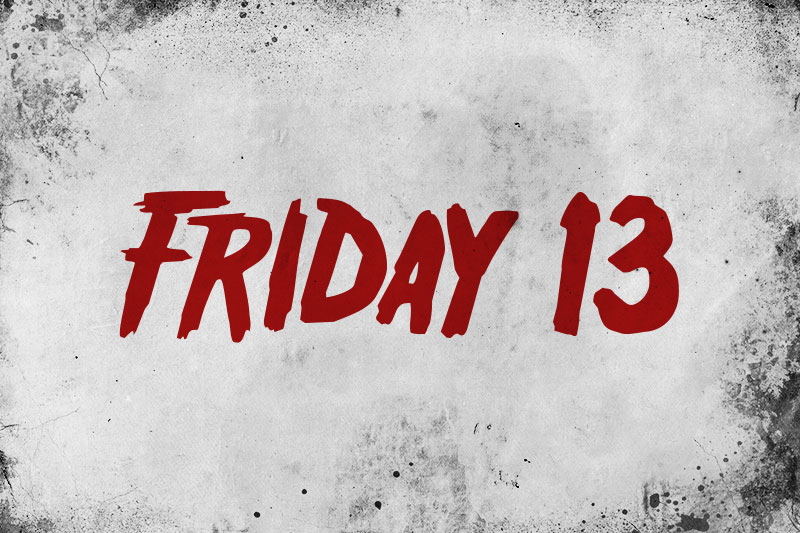 Friday 13 font draw by Norfok Incredible Font Design and has three different styles: regular, outline, and 3d inline. We recommend downloading this font for scary themes and texts, Halloween invitation cards, and animation posters.
Price: Free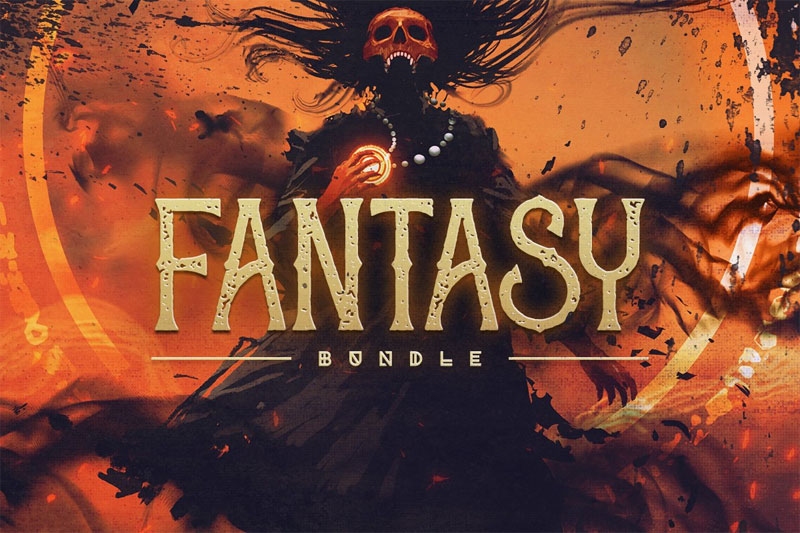 Fantasy Bundle font is like death metal, which gradually accelerates, which means it has to deal with a scary, transcendental style. Mysterious movies have tasted good in the 1970s and 1980s, especially when the narratives have reached homes and children that have been conquered by the devil, and Similarity by designing posters for such films, anyone can still enter that mysterious world.
Price: Premium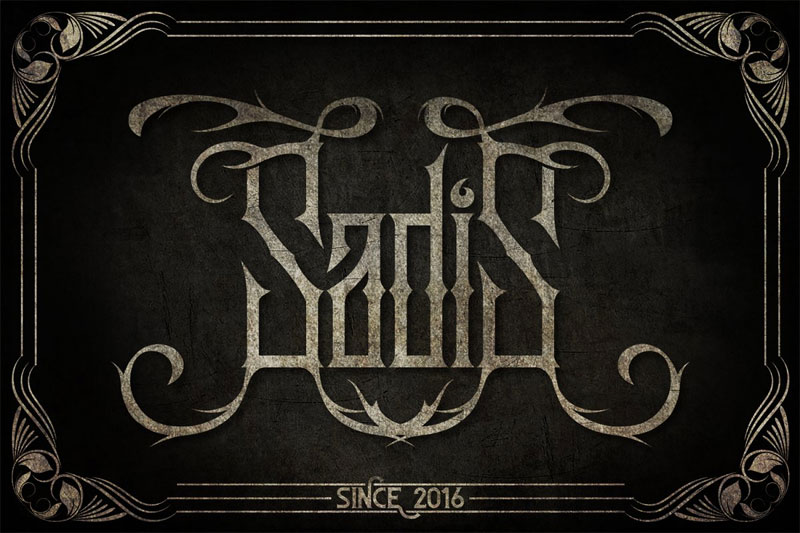 Sadis TypefaceExtras font leaves no uterus and has metal and deadly style to post scary movie posters such as cutting off body parts, escaping deadly traps.
Price: Premium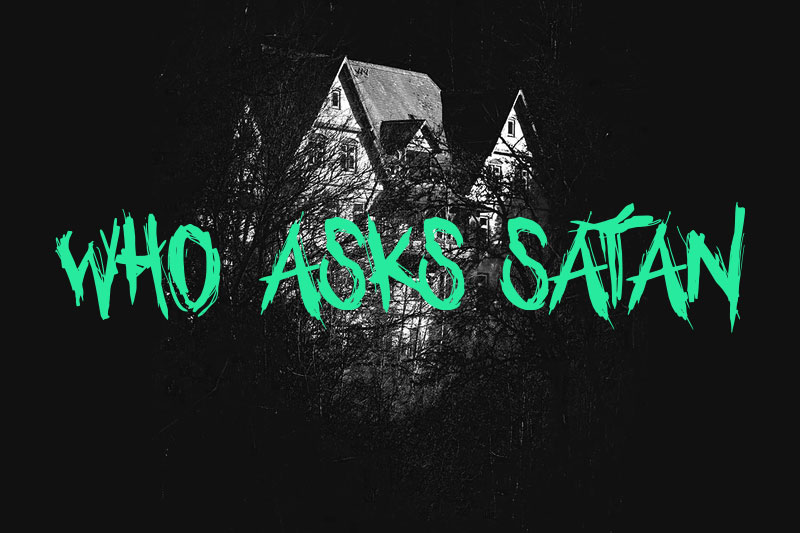 Who asks Satan is a different horror work of Font Monger. The font is like drawing bloodstains with your fingers on concrete and wooden walls in scary scenes from scary zombie and vampire movies. Design and publish new Halloween flyers this year with this horror font.
Price: Free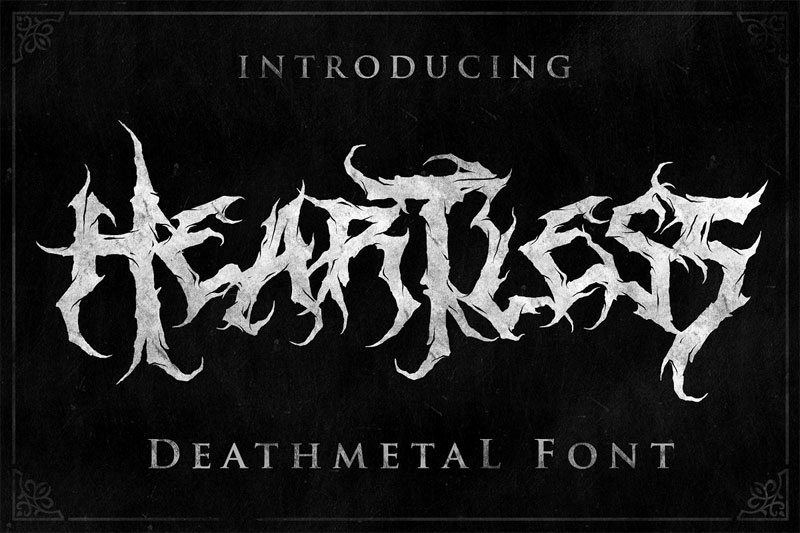 If there is only one symbol that can show the 1980s well, it is the Slasher format. A ruthless anti-hero is hunted down and a group of children is killed by innovative and innovative methods, and now Heartless Great Deathmetal font plays the role of that anti-hero, which is placed in the movie poster with sharp razors.
Price: Premium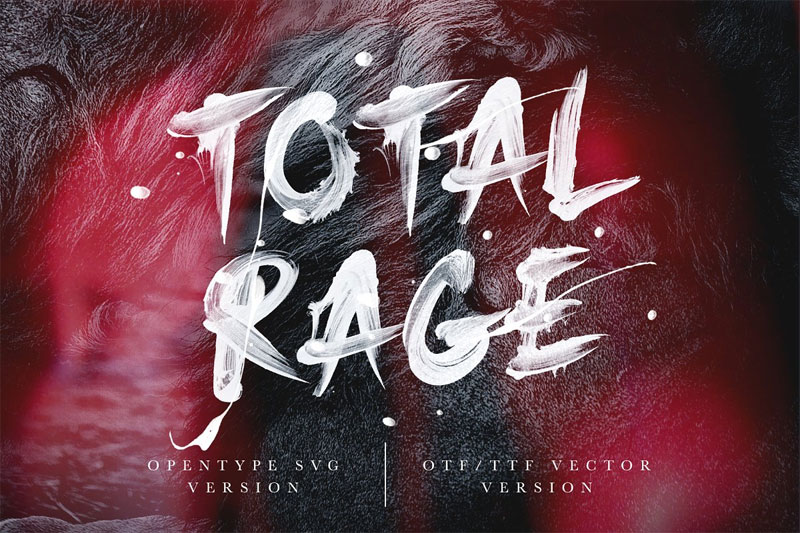 Total Rage is a font with the SVG format. The style of this font is very creative from brush painting. So, It is suitable for logo design, Halloween themes, and brutal genre movies.
Price: Premium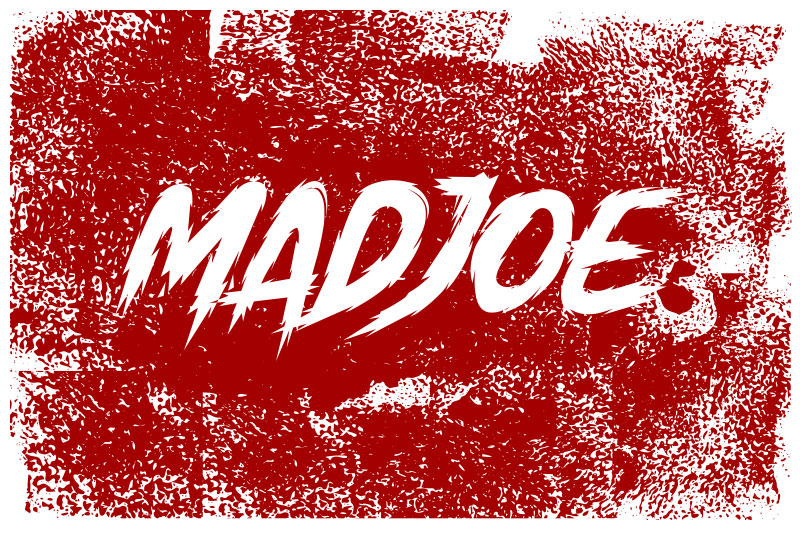 Madjoe font is another 160 Studio font. By downloading and installing this scary font, you can give many designs, such as the logo of martial arts brands, Korean-made movies a sense of struggle.
Price: Free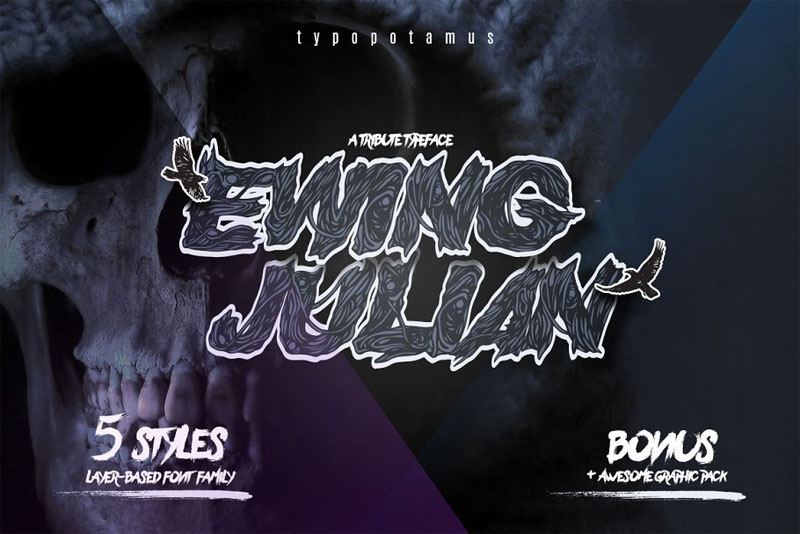 Ewing Julian Layered Typeface designed by typopotamus. With a layered feature and 5 different styles, you can have a complete package for many Halloween posters, video games, and animations.
Price: Premium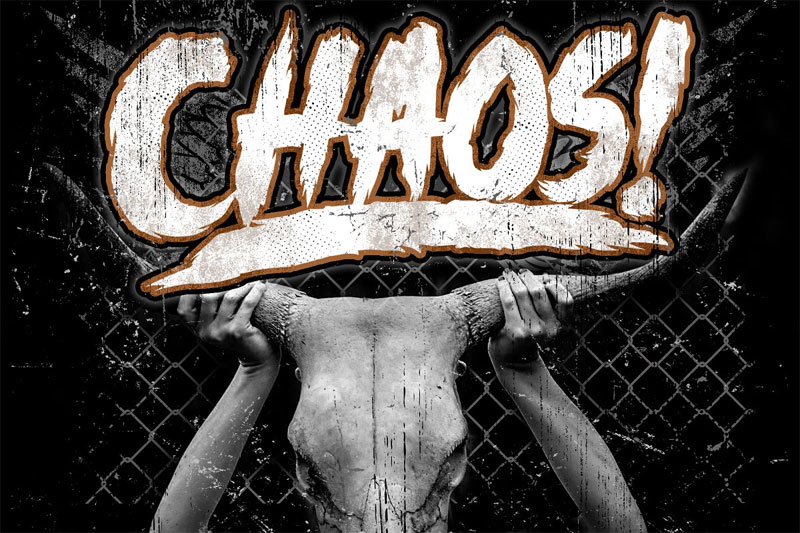 CHAOS! font has a heavy metal style and is suitable for outline shapes and sharp edges such as shredded pieces of wood for posters of movies that have imaginary creatures and ghosts or a spirit that has been hunted.
Price: Premium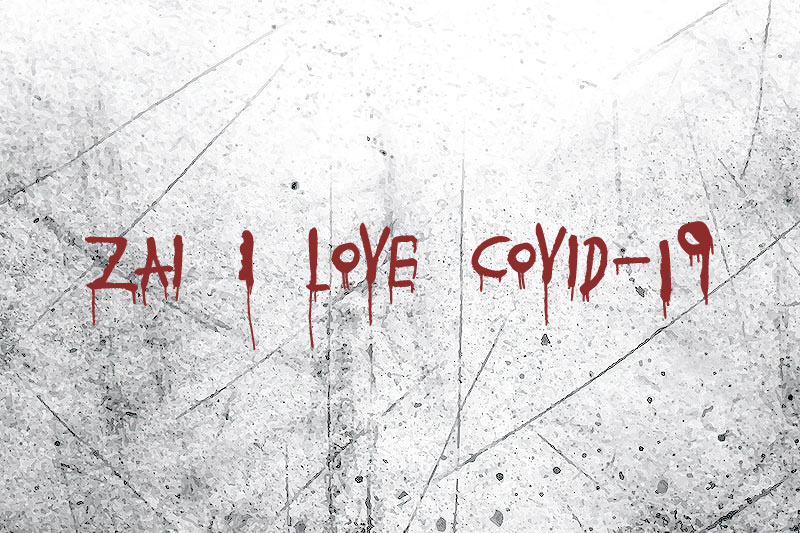 Sometimes it is necessary to learn about bacteria and viruses in a humorous way. Zai I love Covid-19 font shows the feeling of death in thin letters and its meaning is that it is easily penetrated. This font can use to design posters, scary themes, and informative infographics.
Price: Free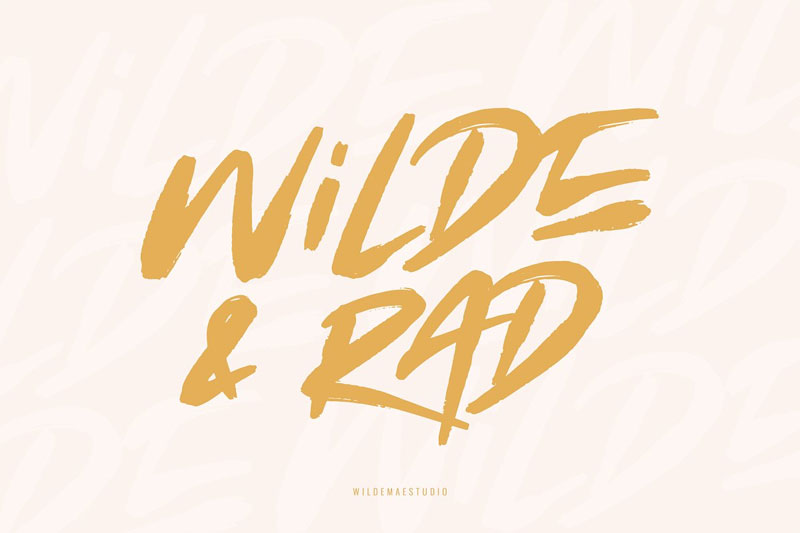 Wilde Rad Brush font designed by Wild Mae Studio to give the strange world of Halloween movies and posters, magazine covers a modern look.
Price: Premium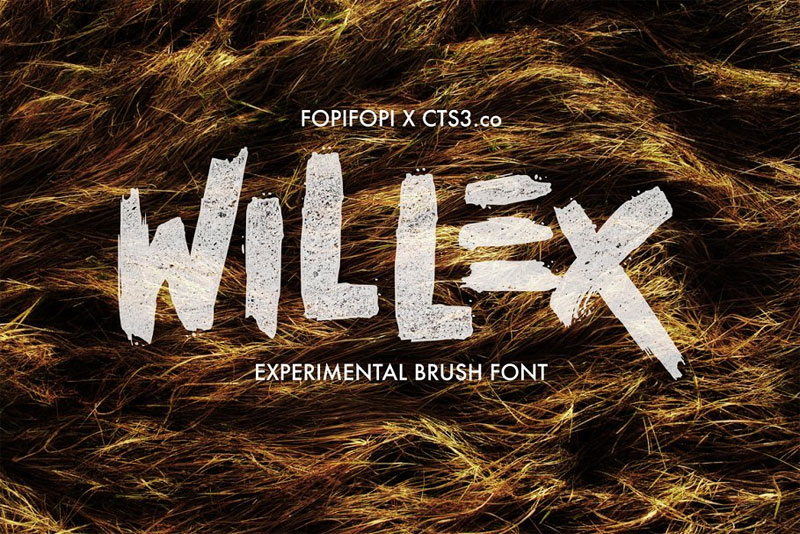 I like the layout of Willex Brush font, the handwritten and brush style that is less designed in this simplicity and casual is suitable for many logo design of street, urban fashion brands, posters of violent sports movies.
Price: Premium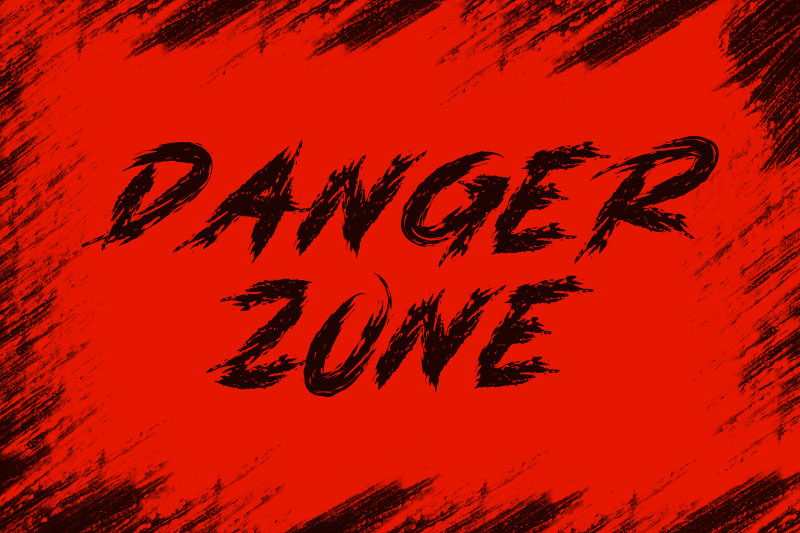 Danger Zone font is really like a warning to be in or near a forbidden area, and it can be used for signs in deadly areas such as swamps and electric shocks.
Price: Free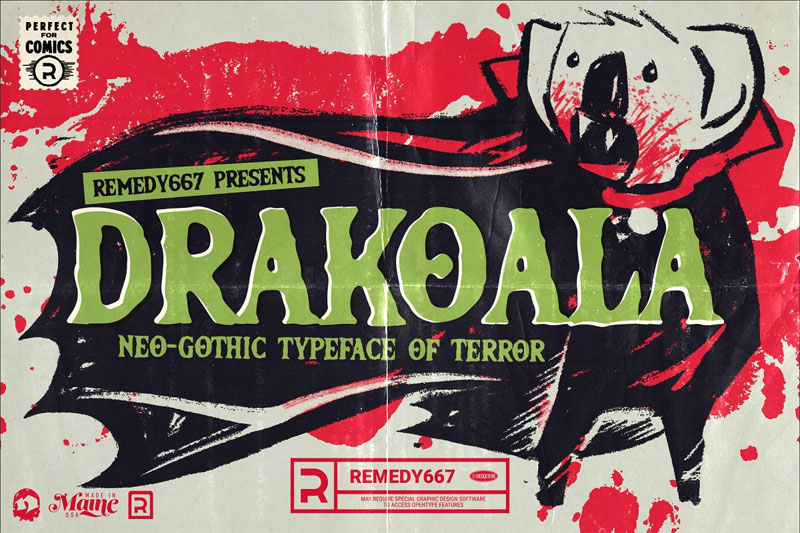 Drakoala is a Neo-Gothic Horror style. Although horror is only one genre of film, its impact on the international community is huge, and the font widely used in the 1980s and 1990s and will continue to be fun to use.
Price: Premium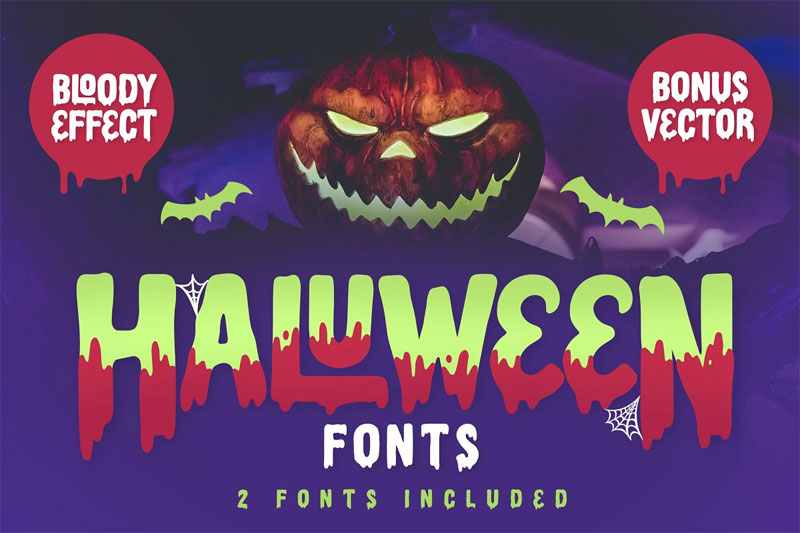 For this year's Halloween or Horror Movie Poster, Haluween Fonts Bloody Effect font shows the feeling of being in a scary event that attracts any viewer and audience that have a good feeling about the fear genre.
If you like this font, I suggest you see the list of slime fonts as well. I think you will love them too.
Price: Premium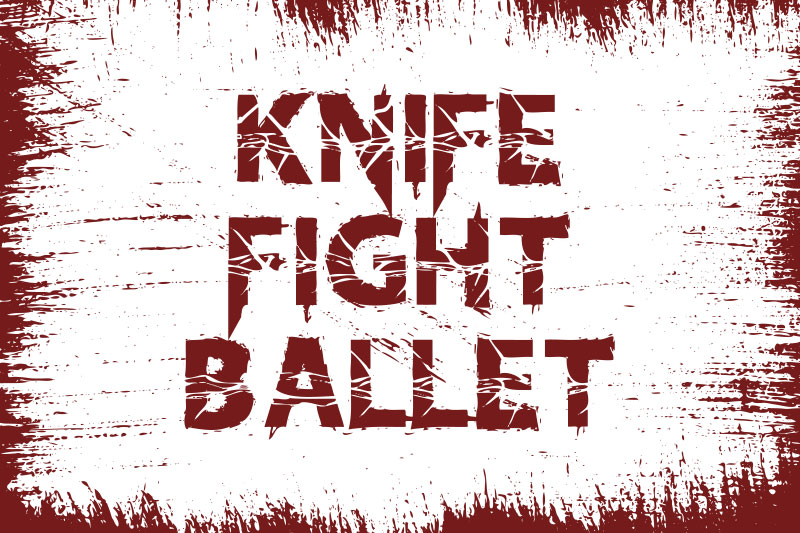 Knife Fight Ballet font designed by Font Monger, and its deadly style makes few people dare to approach it, but it's very easy for designers because they have different ideas that can appeal to audiences of scary movies and video games.
Price: Free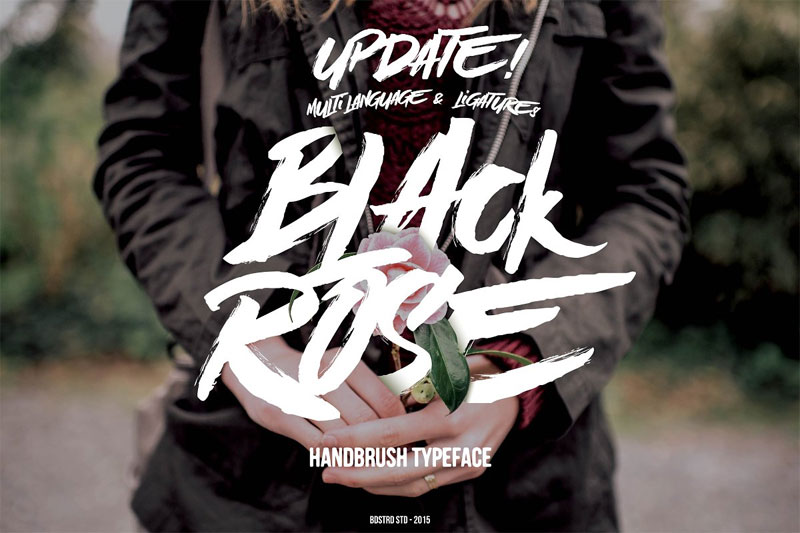 Black Rose Handbrush font designed by Bdstrd Std, and the brush and sharp style are applied for many design purposes, such as movie posters, photography, text, and fashion brands.
Price: Premium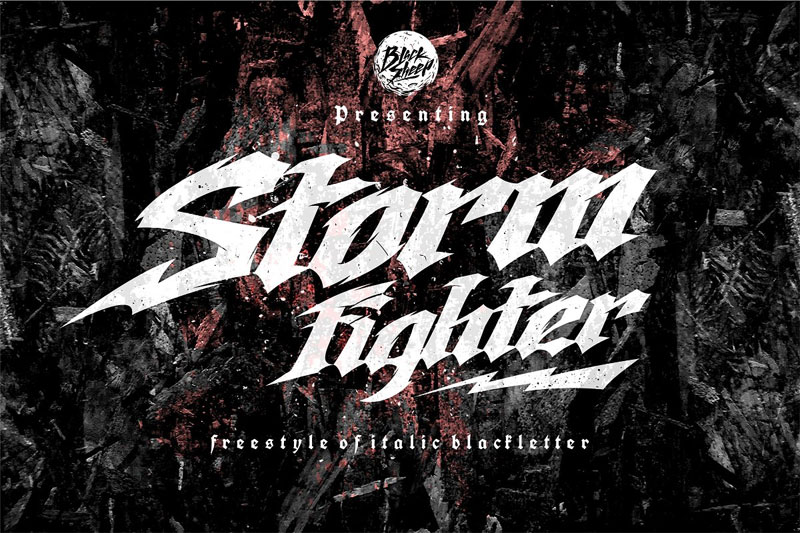 Blacksheep Studio created byStorm Fighter font with Gothic style and classic typeface. Violence and fear are the main features of this horror font used in military brands, movie posters and action, and horror video games.
Price: Premium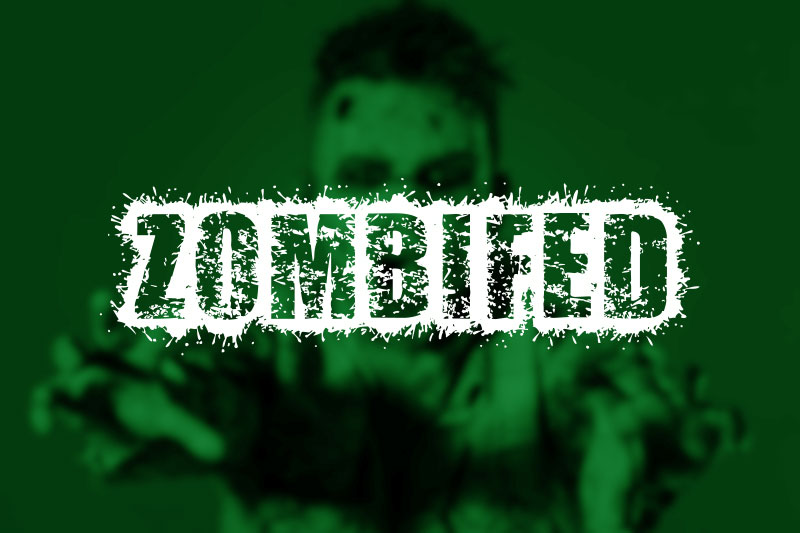 Zombified font is like the onslaught of countless zombies approaching a certain range at any given moment. So, by using this font to design the logo of music brands, scary themes, and super scary movie posters.
Price: Free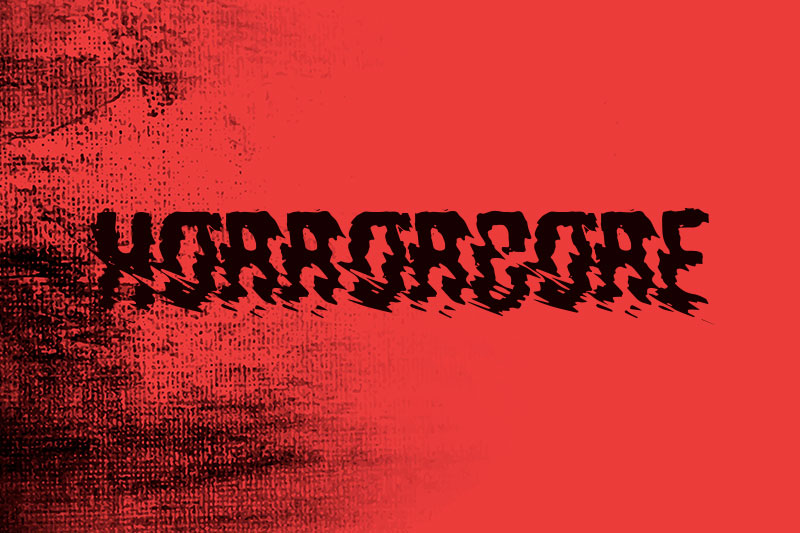 Horrorcore font designed by Théo d'Aigremont. Just with a dark background, it shows the concept of being in a dangerous situation. This situation can be the conquest by ghosts or being in a forbidden area that is made in many horror movies.
Price: Free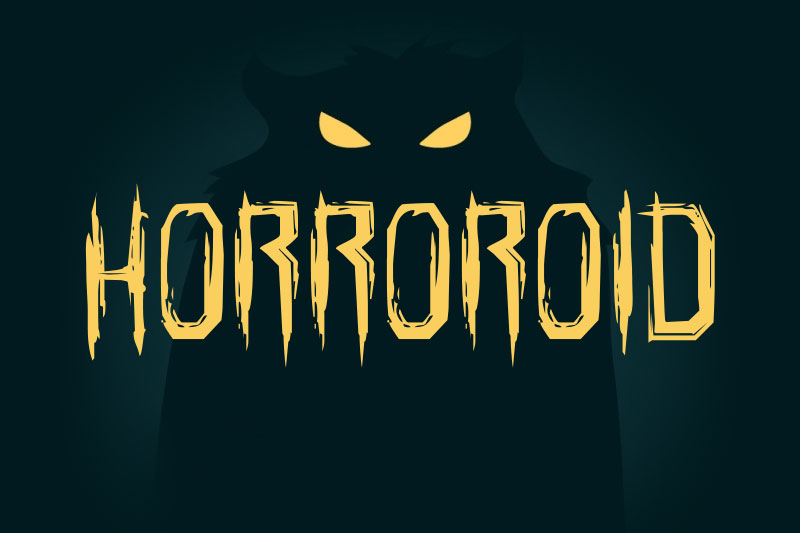 The fear that Horroroid font creates is like drawing a saw on a human flash or metal objects. That's why designers use it for scary and sometimes real themes.
Price: Free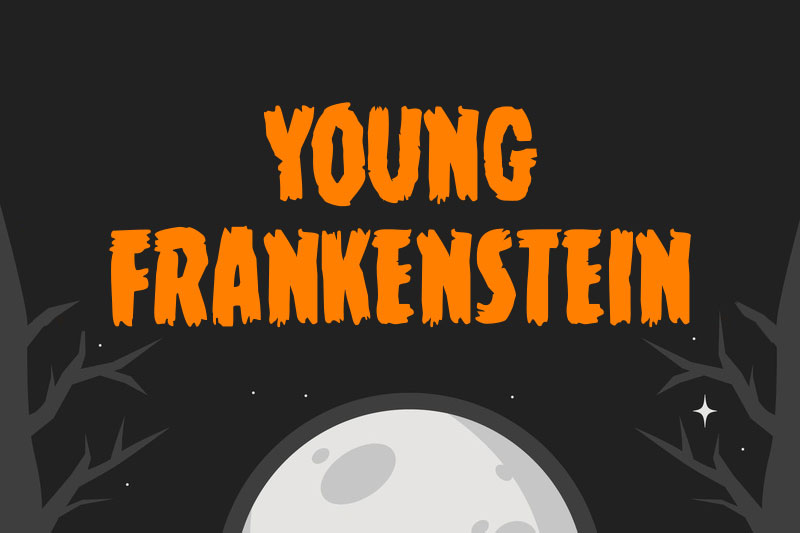 Young Frankenstein font style is scary but fancy, and many animation posters and video games need it.
Price: Free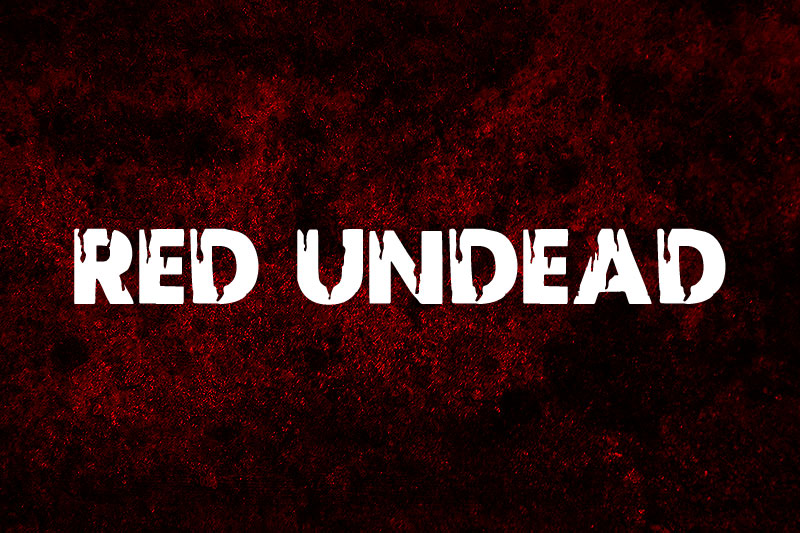 In most horror fonts, blood droplets are falling from the letters, but in Red Undead font, they are trapped inside the letters, increasing the feeling of fear. With 18 styles, this font is the best fit your scary designs.
Price: Free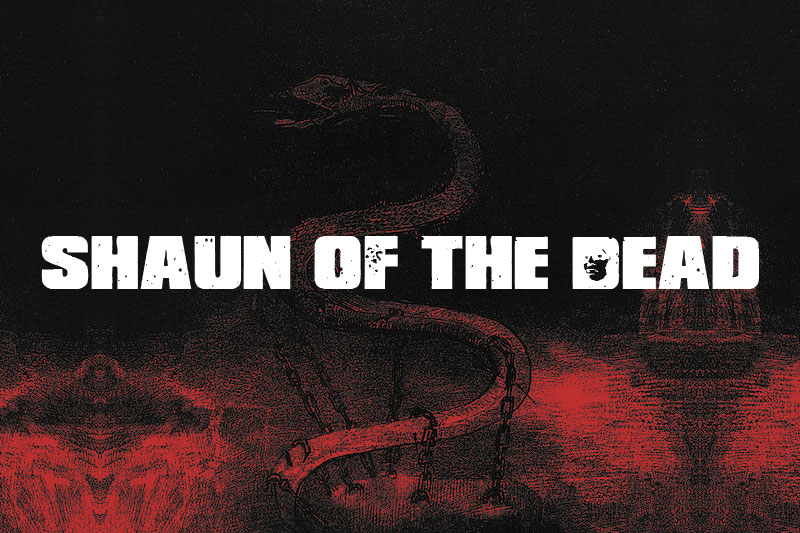 Shaun of the Dead font in the capital letters has deadly hands that are naturally taking something. And most interesting of all is the letter 'I', which depicts the claws of one hand being folded. This scary font is suitable for poster photos of hospital and cemetery scenes.
Price: Free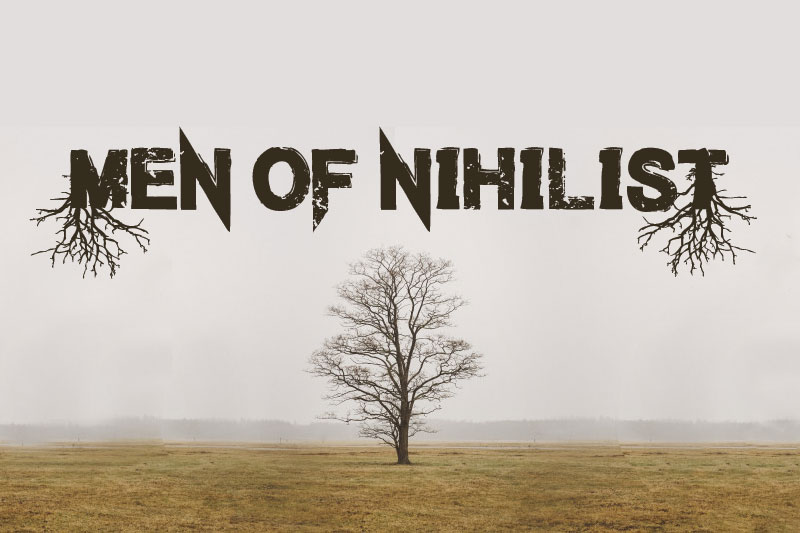 Men of Nihilist font is a strange type of font that displays the feel of large, well-rooted trees and sharp objects such as knives and broken glass. In this font, the letters 'M' and 'T' have roots, which is better if you use for the main title of the poster and the logo.
Price: Free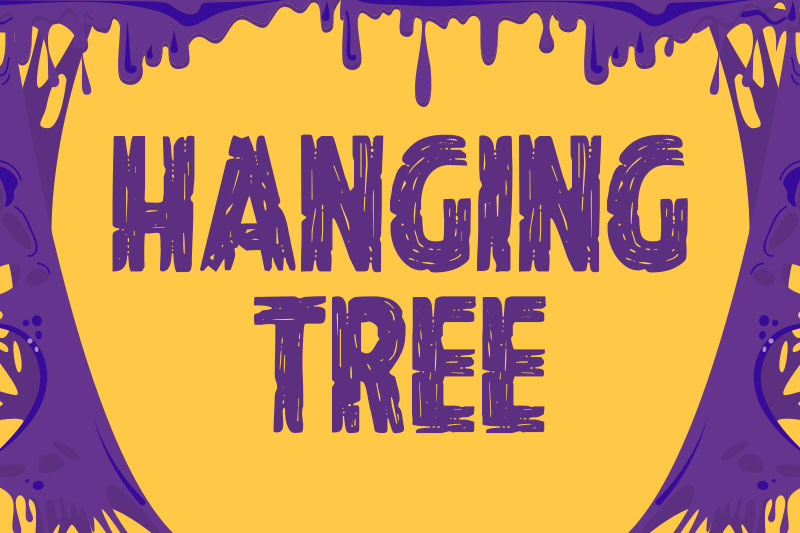 Hanging Tree font could only have one style, but thanks to Iconian Fonts, different styles of 3d, stagrotal, stagrotate, condensed, expand designed to make it easier for designers to work on Halloween themes and invitation cards, logos of carpentry and decoration brands.
Price: Free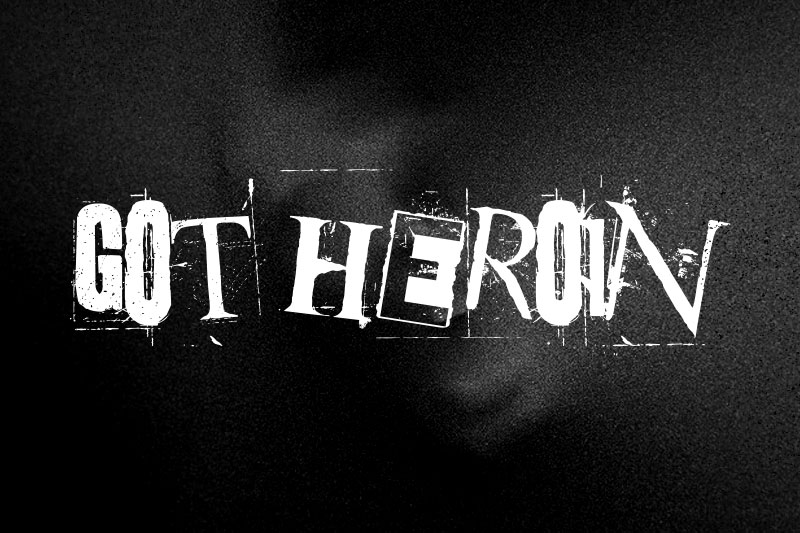 Got heroin? font has a vague and fragmentary style, and like consuming heroin, you will walk in a complex and irregular space. You can apply it for personal use, designing artistic and conceptual posters such as quitting addiction and drug harms, as well as movies.
Price: Free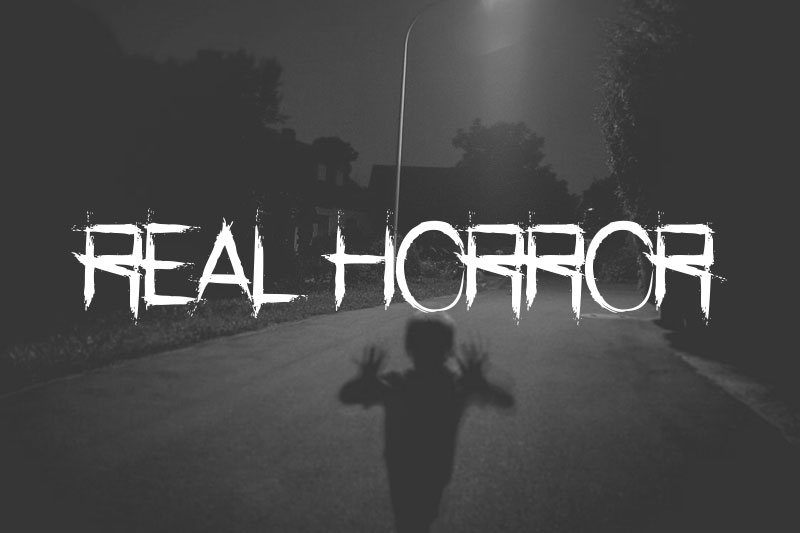 Real Horror font is inherently serious and has nothing to do with humor, so it's best to use it in scary themes, danger signs, and fireworks.
Price: Free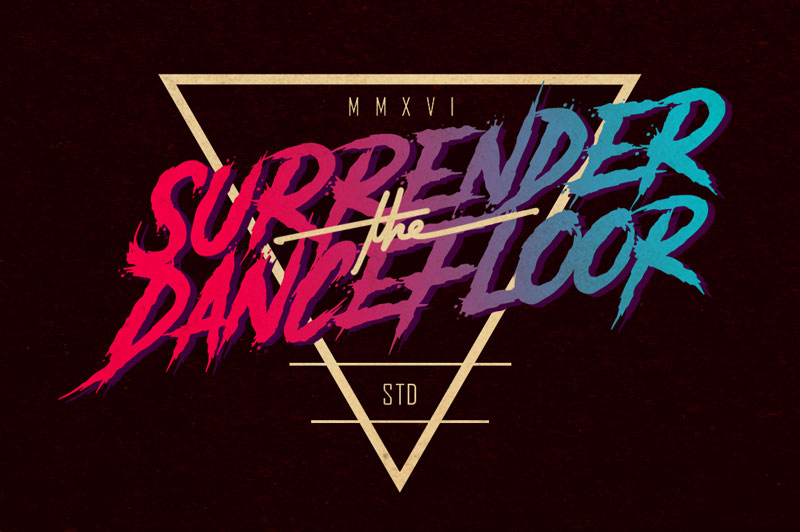 Another Danger is artwork of The Branded Quotes mixed with a violent and dangerous style. This font is a good example of a title for designing movie posters for creatures such as zombies and vampires.
Price: Free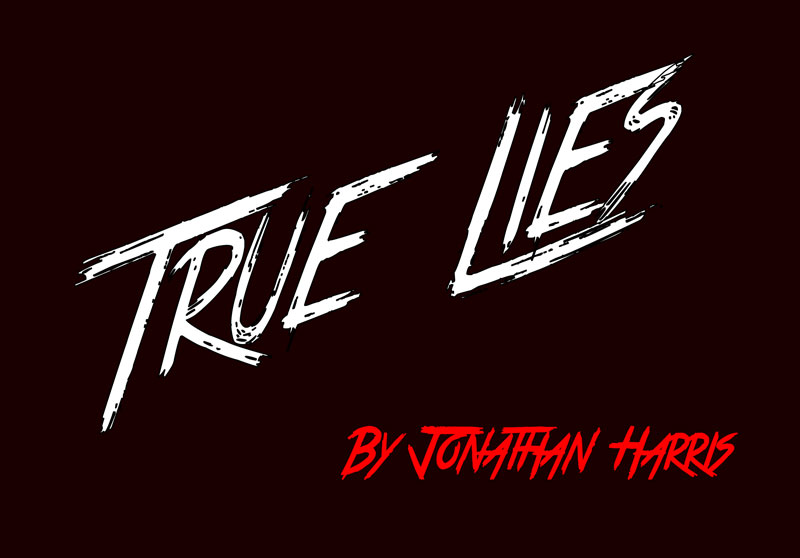 True Lies font created by Jonathan S. Harris and uses handwritten style and lines that are designed to be crazy for posters of horror movies, music brands, covers, and logo of painting brands.
Price: Free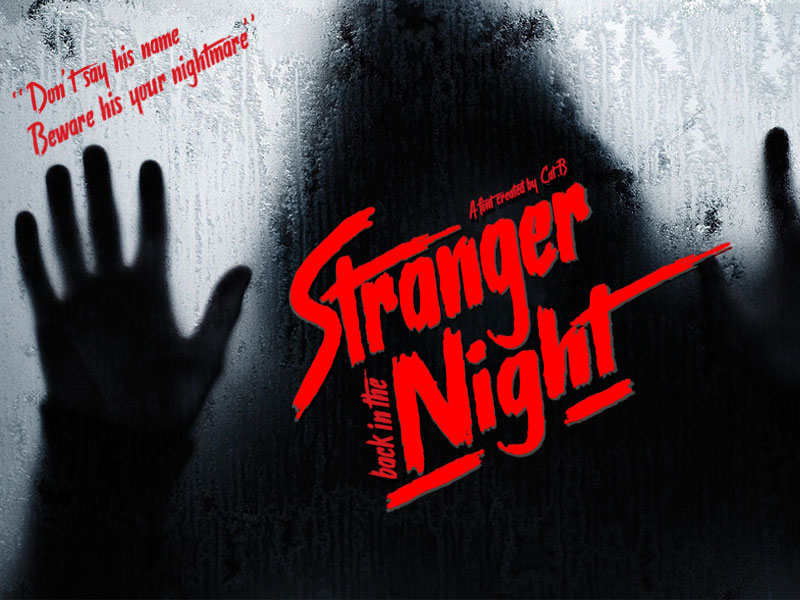 Many successful movie posters in the horror genre were initially fonts that were unknown and became popular after being used in posters. By downloading Stranger back in the Night font, you can also follow the path of the scariest theme and poster.
Price: Free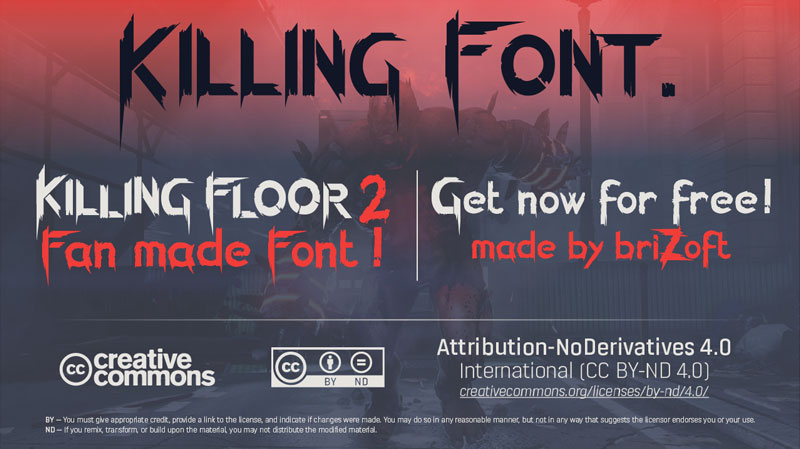 Killing font is deadly and can hardly be approached with very sharp edges. This is a start background for you to use for posters and deadly signs.
Price: Free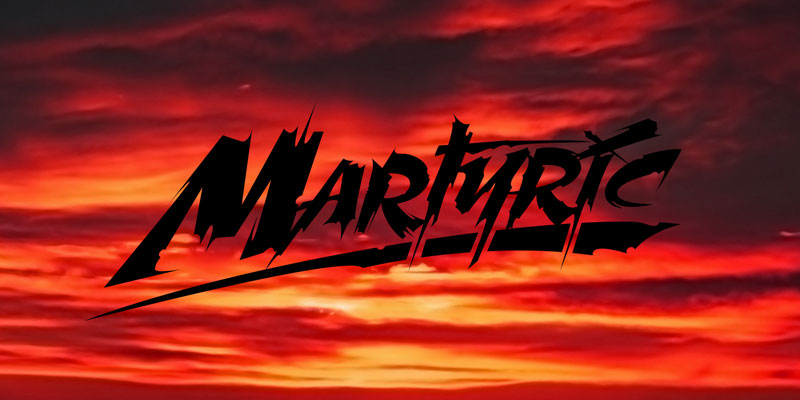 For Martyric font, it is clear that non-random and professional design techniques have been applied. Despite these very sharp letters, they are drawn like swords and deadly knives. This horror font can use for martial arts, movie posters, video games made in Japan, Korea, and China, for instance.
Price: Free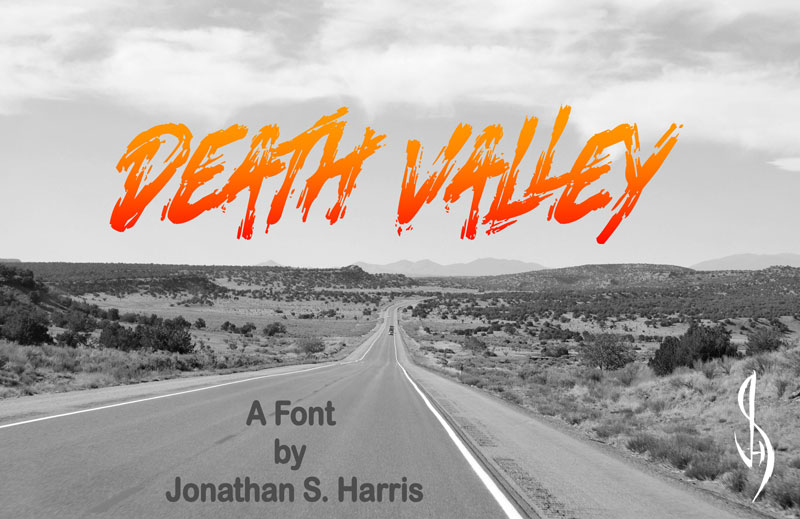 Death Valley font is a production of Jonathan S. Harris. It is impossible to see such a font and you do not want to use it in posters and designs on T-shirts.
Price: Free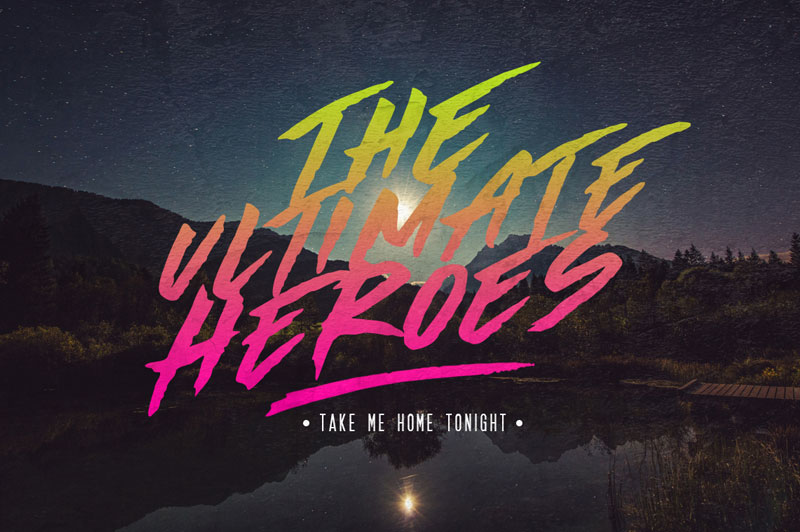 The Branded Quotes always surprises us with their designs, and this time Made By Bears font presented the style of Retro and Sharp. This style is used to design street fashion logos, T-shirts, movie posters, and video games.
Price: Free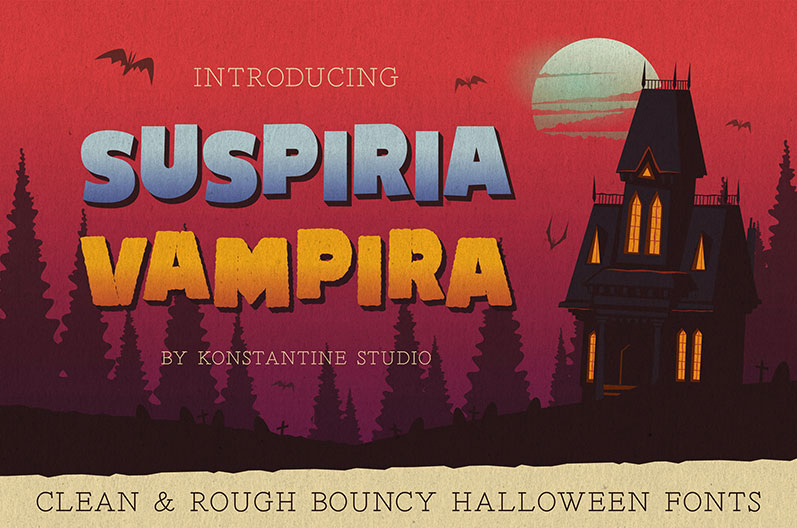 Suspiria Vampira font is designed in a rough style by Konstantine Studio. To be attractive in movie posters, the logo of the Street fashion, and industrial brands, you can add various effects such as bloodstains, dust particles.
Price: Free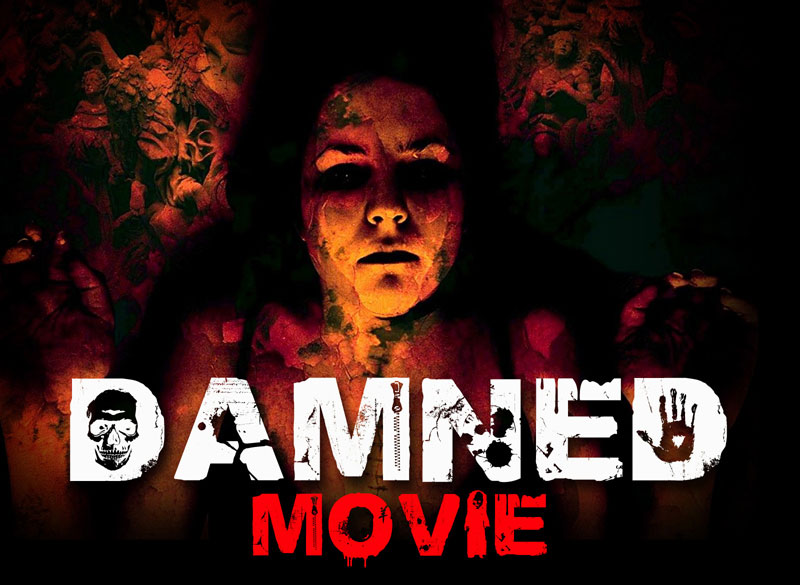 Damned Deluxe is different from Cloutierfontes. The hollow parts of the letters have been replaced strangely with skeletons and Halloween elements, and this initiative is for many posters and street themes, ghost movies, and the resurrection of the dead.
Price: Free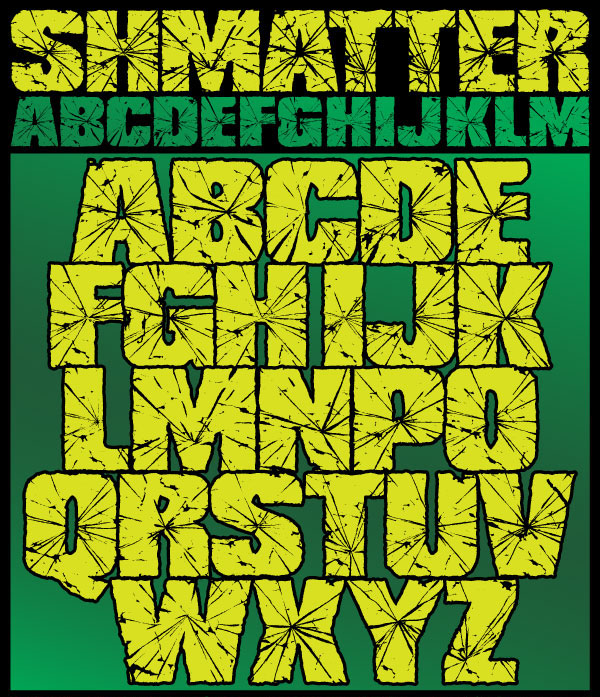 The compressed and bold style of RH Shmatter font, along with the broken glass background, makes it suitable for scary themes, movie posters such as foggy creatures, fictional characters such as Spider-Man, Ant-Man, and street brand logo design.
Price: Free
Conclusion
From funeral ceremonies to Lovecraft's monsters; From serial killers to the nostalgic Slashers of the 1980s; What were the leaders of the horror genre in the last decade? With horror and scary font collection, you can design both poster films and themes of nostalgic and science-fiction styles.