20+ Best Free and Premium Money Fonts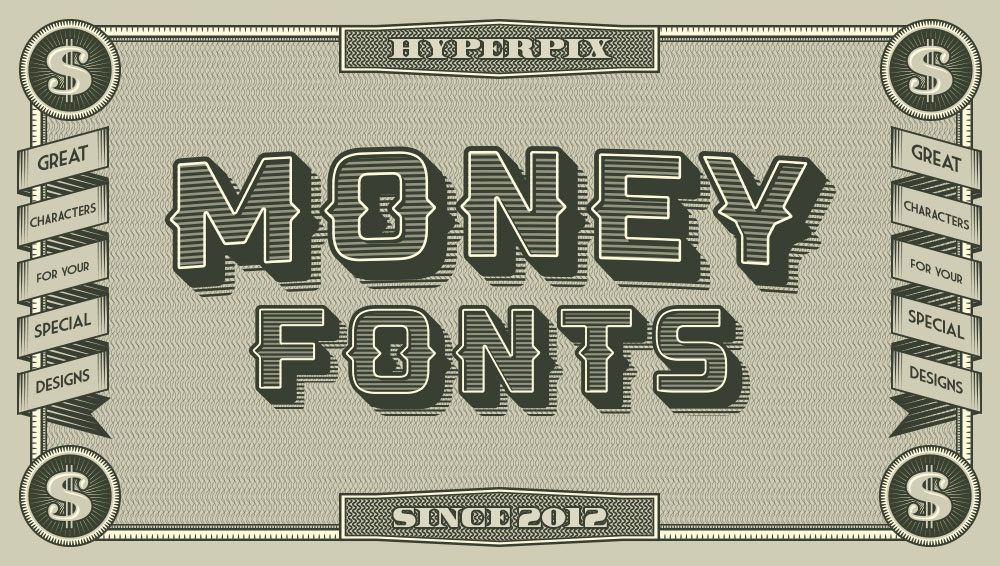 Finding the right typeface that suits your design can be a major problem and sinks a lot of time on your projects.
Every industry has its preferred font, size, color, and other settings, for example, banking, insurance, and asset management, they all have a trendy font, and The obvious factor with finance typefaces is to work well with numbers.
Best Money Fonts
Here we gathered some lovely Money fonts, both free and premium that you can use in your Finance projects the bring the feeling of Wall Street to your design.
S&S National Currency Font Bundle by Spencer & Sons Co. is designed and inspired by the lettering on the U.S currency the symbols of this font can mostly create a decorative vintage feel which makes this font perfectly ideal for the artwork that you are working on.
Price: Premium
Dollar Bill 2 by Twicolabs Fontdation is inspired by the letter used in American money. Supporting OpenType features this typeface can fulfill most of your design needs such as classic or vintage themed projects, designing titles or logos, tattoo design, etc.
Price: Premium
Dollar Bill Font is one of the all caps fonts published by Twicolabs. This font that is inspired by the letters on the dollar bills is free for personal usages.
Price: Free
Vector Money Logo Bundle made by Snap Vectors is a perfect design element to create financial logos. This vector includes many realistic elements and also can be used for badges.
Price: Premium
Basingstoke is one of the old fashioned money fonts. This typeface is packed with beautiful glyphs and presented by Spencer & Sons Co.
Price: Premium
Guilloches TrueType Font presented by alphadesign is one of the beautiful money fonts that can be used in a wide range of designs. check out this font; you will love it!
Price: Premium
United States by Typearound is 100 free. This fancy various font is an all caps design. you need to check it out!
Price: Free
NS MUDOLF Font Family is presented by Novisouldado. The font comes with stylistic alternate sets and standard ligatures. It also includes the full set of characters, numbers, and punctuation. This font comes with five font collections and it is an ideal font for many designs such as posters, money design, labels, headers, signs, and many more.
Price: Premium
LHF Old Stock by Letterhead Fonts is another one of the money fonts that are designed based on the letters that are used on the old certificates. This font comes with different weights so it is a good choice for your creative projects like tattoo designs, shirt design, etc.
Price: Premium
POMPADOUR is designed by Andy Mangold. You can use this money number font for many different designs such as tattoo designs, mugs, shirts, vintage-themed or classic themed designs and etc. This font only includes numbers and does not support other characters.
Price: Free
Moister Font Collections made by Ilham Herry is crafted with love. Four styles are available for this font family and it can be used for money designs, labels, headers, signs, signage, cards, covers, and many more.
Price: Premium
Cash Currency by Jayde Garrow is one of the retro fancy fonts. This all caps font needs a license for commercial use.
Price: Free
Quay Font Bundle & Bonus Logos made by Design 265 is inspired by the sea. Five font files are included in this font and it is perfect for your creative designs such as money designs, apparel, photography, labels, packaging, titles, branding, and many more.
Price: Premium
Waste Money is one of the free of cost money typefaces for personal use. This typeface is presented by Woodcutter. you can use this font for vintage or classic designs.
Price: Free
One Dance by Magique Fonts is one of the money fonts that you can have free of cost for both commercial and non-commercial designs. this is an all caps design with numbers and basic punctuation.
Price: Free
The next one of the money fonts that you need to check out is 10 Bucks. This font is designed by Jayde Garrow.
Price: Free
RadiantAntique Font is one of the freeware fonts. This typeface was created in 2001 by Douglas Day.
Price: Free
Conclusion
This was our list of money font that you hopefully checked out and liked. We did our part in collecting these fonts and making the list for you. Now it's your turn to share your ideas and recommendations with us. Looking forward to hearing from you.