45+ Best Free and Premium African Fonts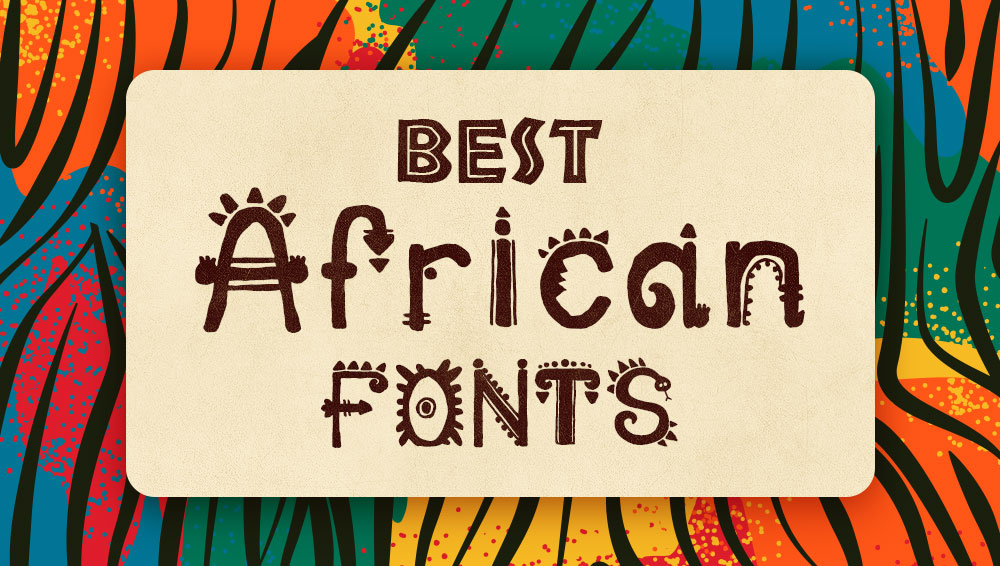 Tribal images, rough letters, and geometrical objects. This is what African typography reminds us. Designers who want to make their design feel African by the typography are often left with unimaginative choices. Even searching by Keyword "African" on typography websites, doesn't show you any good results.
Best African Fonts
So, what should you do if you want to feed your designs the Vibrant culture of Africa? Don't worry, here we gathered the best African fonts, both free and premium for you. Use them professionally to showcase the cultural heritage of Africa continent to the digital era.
Alongside this list, I suggest you take a look at the best Tribal fonts. These fonts can be a great complement to your African designs
African Font by Wittmann is an ancient tribal African typeface that can represent African culture. This font can be used in different textile and print designs.
Price: Premium
Rabsy is a cool African pattern font and is published by D&K project. This cartoon font that is very unique has an African concept so you can use it for fun African patterns. With Rabsy you are allowed to make a lot of combinations. Both uppercase and lowercase are featured by this font and you can make perfect designs such as kid signs, zoo or jungle signs, and African logotypes. Different languages are also supported as this font comes with extended Latin characters.
Price: Premium
African Font created in 2006 by Allen R. Walden is a fancy various freeware design featuring all caps letters and numeral and punctuation.
Price: Free
Tabu comes from a tribal Font Family and is published by Struvictory.art. Tribal patterns are used to decorate this display typeface. There are different versions available for Tabu such as decorative, black and symbol so you can use this African font for different designs. This tribal design is suitable to be used in cards, posters, titles of articles, book covers and also monograms and logos.
Price: Premium
OUDERS – Stencil & Regular Font is made by Garisman Std. this rough vintage font has a hand-drawn style and creates a handmade look. The font supports 23 different languages and is ideal for African graphic designs such as cards, logos, covers, and many more.
Price: Premium
Jelani Display Font by chekart is a unique authentic typeface that comes with a full set of lower and uppercase letters, a wide range of punctuation and numerals. Cyrillic characters and different languages are also supported by this font. Jelani is ideal for greeting card design, book covers, graphic design, sign design for jungle or for a zoo, packaging, flyer, African logo, etc.
Price: Premium
South Afirkas 2100 is a freeware font designed by zanatlija. This bold all caps typeface comes with numerals ad limited punctuation marks.
Price: Free
VVDS Halau Serif by Vintage Voyage D.S is from a mid-century family font and has a cartoon look and is an ideal font for summer-themed projects. This retro-modern font has a cool lettering style.
Price: Premium
Afolkalips presented by Arterfak Project which is inspired by shapes of wood and ornaments of tribes. This tribal display is an all caps font which has strong strokes. We highly recommend you to use this African font for headlines or for designs with traditional themes. The ornament swashes of this typeface can help you to create a more tribal ancient look. These swashes can also be the decoration of frame for your African flyer, logo, designing signs for zoo and jungle or t-shirt designs.
Price: Premium
Snake Venom Font is only free of cost for your personal projects. This font is presented by No Images in 2000 and with it, you can design a distinctive looking project.
Price: Free
Gulf. HandLettered Font and seamless is designed by Aleksandra Slowik. The font comes with the full set of characters, general punctuation, numeral, symbols, and glyphs.
Price: Premium
Halau is a cool African typeface that belongs to a Fancy Font Family and is presented by Vintage Voyage D.S. this fancy and elegant typeface can bring fun and playfulness for your designs. HALAU Has a retro cartoon style and you can combine its different styles for your different typography designs.
Price: Premium
Tropiline Font Family published by Studio Sun in 2019 comes with bold and elegant styles. This font is designed by Cahya Sofyan in 2016. The eighteenth-century typeface could influence the letter shapes of this font. This font is great for packaging, print advertisement, logotype, title. Etc. Uppercase and Lowercase, Numerals and Punctuation, Supports for Latin based languages are provided by Tropiline.
Price: Premium
Afrika Images G Sangoma Font manufactured in 1998 by Fonts of Afrika. You can use this weird typeface free of cost for your personal and commercial designs. This unique African font is free of cost for commercial and non-commercial use. This headline typeface was designed by Made by Peter Slingsby, Sandvlei, South Africa.
Price: Free
Maroque Stencil Font by Hello Mart is a geometric font which is inspired by pattern motifs that were used in Moroccan architecture. This typeface is perfect to be used for making decorative artwork and also for decorative stencils to be used for walls or fabric. This African font includes numerals and international characters.
Price: Premium
Maroque Font by Hello Mart is a geometric typeface inspired by Moroccan artwork. The pattern motifs of this font are mostly related to the textiles of North African people. Punctuation, numbers and International characters are fully supported by Maroque.
Price: Premium
Sapiens Font Family created by HemphillType.Co is a prehistoric family. This font family has a rough edge style and includes five styles and is suitable for African typography designs.
Price: Premium
Afrika T Ubuntu Font created in 1999 by Fonts of Afrika is a freeware outline typeface. This African typeface comes with a full character set including upper and lower case characters.
Price: Free
Austral Slab Rough by antipixel has gorgeous textures and styles that you can combine and create a distinctive impression for your design. This hand-drawn font has three weights; Regular, Light and Thin. This font comes with uneven strokes which makes it exclusive and makes it ideal for a different range of projects such as book covers, magazine design, packaging, stationery, signs for jungle or zoo and more. Austral Slab is a font with a natural handwritten feel. The font covers a large range of glyphs so you can use the Slab Serif in a wide range of languages.
Price: Premium
Our next African font is a modern and elegant design named Grayson Boutique that comes with two amazing styles. You can use this perfect Sans Serif font for your different designs such as business cards, print, nature photography, quotes, etc.
Price: Premium
African Culture Font was presented by 538Fonts in 2012. This ancient tribal style font is for your personal and commercial projects.
Price: Free
African Elegance Ethnic Lettering is a tribal style font by JoZOO which is a caps only font.
Price: Premium
Bjola Sans Serif designed by Andrey Sharonov is a bold friendly typeface and can bring playfulness to your design. The chubby letters of this typeface have a modern and simple look. Bjola comes packed with Upper case and lower case characters, it supports OpenType features and many languages. This font is highly recommended for funny cards, kid's books, logotypes, etc.
Price: Premium
Shipmates Font was published in 2016 by Out Of Step Font Company and is the ultimate tattoo script. The font comes with uneven edges and you can have it free of cost for any personal scanned painting projects. The included full sets of characters provide you flexibility. This African font can make your design come alive.
Price: Free
Mr. Poster that is an SVG Brush Font is presented by Evening Office. This hand-painted font has a unique characteristic and acrylic paint on transparency was used to make this font. If you want to create a realistic look for your designs then Mr. Poster is a good choice for you.
Price: Premium
OTF color font is a Funny style African font by Fractal for which there are two different variations.
Price: Premium
Tropical Asian by Konstantine Studio is a brush African typeface that has only one cool variation. All caps letters are provided for you with this bold typeface.
Price: Free
Las Valles Ultra Condensed Typeface is presented by NEWFLIX.Bro. This Sans Serif font that comes in 4 styles is packed with strong letters and unique ligatures. This elegant typeface allows you to mix and match two regular and rounded styles together and make a modern and fresh design. Vintage style is also available in this collection. Las Valles is suitable for using in logo designs, magazine covers, web, editorial design and much more. This is an all caps font that features numerals and punctuation.
Price: Premium
African Elephant Trunk is published by Dharma Type the retro mini record in the early 20th century could inspire this African font. You will have advanced typography with this font as it comes with small caps.
Price: Premium
Oakwood Press Font is designed by Cameron Humphries. This is an all caps font that is hand-crafted and creates a vintage aesthetic look. Numbers and punctuation are also supported by the font. Enjoy designing!
Price: Premium
Muhaqu Font by SOF Design was published in 2018. This African font is perfect and free for different personal projects like logos, invitations, stationery, social media posts, tattoo scripts, etc. this typeface can create a handwriting taste.
Price: Free
Vector Ethnic Font is another tribal and ancient-looking African typeface that is published by GingerArt. If you are working on a distinctive designing project and looking for a unique font this typeface is yours.
Price: Premium
Molanga is a unique brush Font published by Type Task Force. This typeface that comes with extended Latin characters and also Supports Cyrillic is perfect to be used in an aggressive environment and also in calm and cozy ones use this African font to create corporate styles.
Price: Premium
Wild Africa is a fancy various font presented by Dirt2.com – SickCapital. This outline style typeface is free for personal use.
Price: Free
Egyptian Nights Font was designed by Jonathan S. Harris in 2003. This decorative African font is free for personal use.
Price: Free
Tajamuka Script Font by bayhaus is a handwritten African font that you can use for your personal and commercial projects. This font comes with a hasty form.
Price: Free
Neuerland by Wordshape is the updated version of a traditional typeface named Rudolf Koch. This African font comes with amazing ligatures and unique alternate characters.
Price: Premium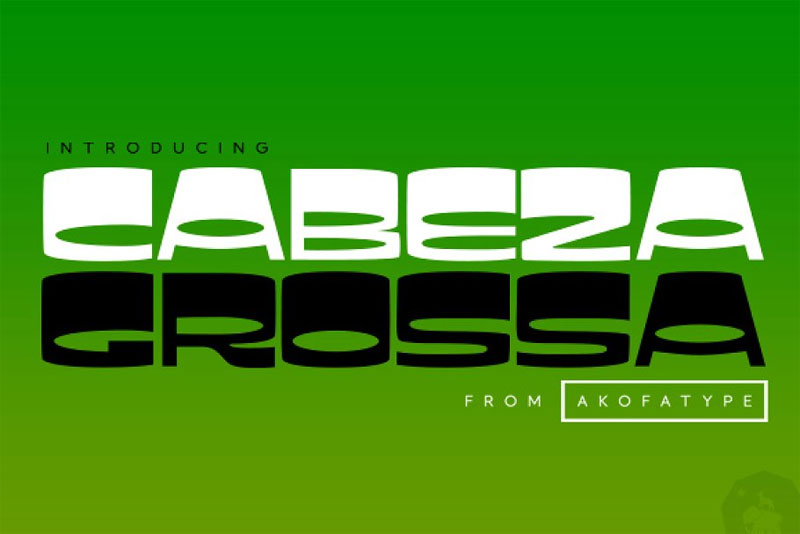 AKOFAType Cabeza Grossa presented by AKOFA Creative has some design benefits that can make this typeface as at home on the billboards of West Africa as Cabeza Grossa would be on a logo of a jazz café in Munich. With this African font, you will be provided with unique characters and certain glyphs so you will have more options for your designs such as book cover, invitation cards, or even storefront signage.
Price: Premium
Bete Noir NF Font made by Nick Curtis has a bold geometric look and some extra elements that can add an exotic flavor to your design. This foreign-looking font has three font files and is 100% free.
Price: Free
South African presented by Mans Greback is free for personal use. This typography font includes all caps and small caps, symbols and punctuation and numbers. It is a great choice for a wide range of projects such as tattoo designs, flyers, wedding cards, etc.
Price: Free
Conclusion
We are looking forward to hearing from you after you checked our list of African fonts. Hopefully, you will like it and share it with your friends.