45+ Best Free and Premium Soccer Fonts
Arsenal, Real Madrid, Barcelona are among the top soccer teams in the world. The skill of the team players draws many spectators to the stadiums to see the moment when many professional players such as Piqué shooting to the goal. But first of all, posters should be advertised on the street, in sports magazines, and on social media sites and posts.
Soccer fonts have bold looks and vibrant colors to spontaneously draw the viewer's attention. Given the style that these fonts have, they evoke the excitement and joy every visitor should have with seeing them.
Best Soccer Fonts
Football fonts are a different choice for teams and soccer clubs than any other sport, and this different choice will give you the insight that any football match in the World Cup may not.
In addition to viewing this list, I suggest you also look at the list of the best sports fonts that are very similar to marquee fonts.
Sports Font Bundle BTL.1 has a distinctive vintage style font that is neither too much nor too little, which can be a good choice for posters with simple and sporty elements such as basketball, football, competition posts between the two football teams.
Price: Premium
Navada font is designed by Sabrcreative. One of the advantages of this soccer font is that you can choose the borderless and marginal mode, and each of them is Italic and regular. So with that, you can add an interesting and different design to other elements of the poster, strap, or sports flyer.
Price: Free
Specific Typeface font is designed by Fatih Gunes. In sports, time is of the essence and depending on the digital style of the font, it can be used in the stadium billboard, sports watches, and beautiful designs on sports or personal T-shirts.
Price: Premium
Barbara soccer font has a bold and geometric style, and by being bold, it makes the anger and excitement and the sense of struggle hotter. For this reason, in sports banner ads, magazines and newspapers can be the main headline
Price: Free
Campione Neue Varsity Font is used in many sports brands that attract a lot of activity and viewers. The bold and block style of this soccer font prepares it for any brand logo, interior banners, and stadiums.
Price: Premium
FTY STRATEGYCIDE NCV font is popular in every country, especially in Italian and Greece countries, and in fact, its Latin style can be used in sports such as football, volleyball, boxing, and fans can use it for personal purposes, such as the label and poster of their favorite team.
Price: Free
Le Bronn font is a good choice for sports slogans on football, basketball, volleyball, and sports brand logos.
Price: Premium
Hokjesgeest font is designed by Tup Wanders. The letters can be interestingly reminiscent of sports fields, from ice in hockey to margins and grass for sports like football. Having the internal and external margins of this soccer font is a good point to be comfortable in the effect.
Price: Free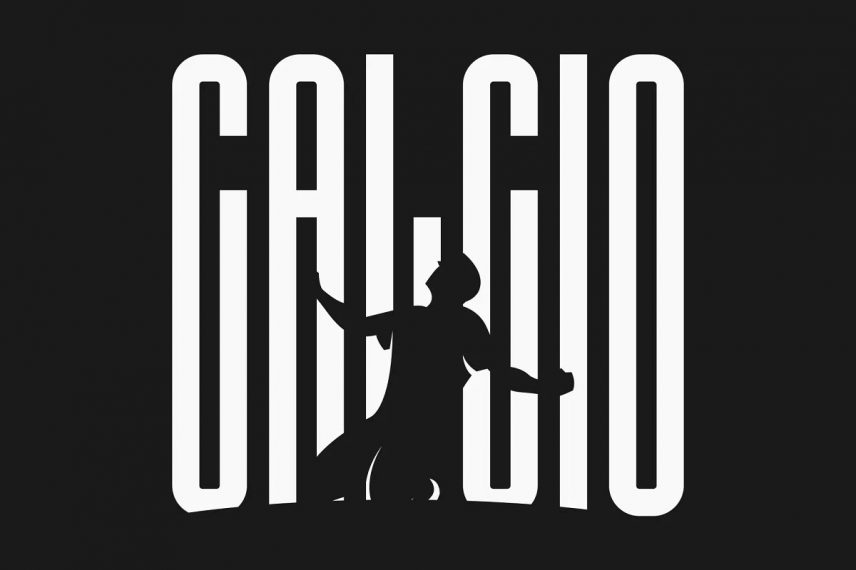 Calcio – Ultra Condensation Font is so high that it may be difficult to distinguish the letters, but this is a positive point that can be interesting for the curiosity of the audience and can be used to design billboards, advertising slogans of spectators in the studio and many others.
Price: Premium
Yinfeld baseball font is in two types, bold and strips, both of which are used together or separately in many sports such as football, baseball, hockey, as well as stripes in the cover of classical music.
Price: Premium
Sportypo Font with a square-like design has become popular and has been included in the list of football fonts. This font is used for many sports brands such as boxing, football, and in the field of cinema, we can mention such genres as sports and action genres.
Price: Free
Pirates of Cydonia font is created in sports and geometric style. By paying attention to the letters, you can see the triangular gaps in some letters, which makes them unique. Sports brands such as football, volleyball, basketball, and baseball can become particularly popular with this soccer font.
Price: Free
Sports Font Bundle BTL.2 fonts may not make much of a difference to many newcomers, but professional designers are well aware of the small triangle on the inside edge of the font, which has a sporty style. This sports font can be used for Instagram posts, notifications of football matches in stadiums, and flyers.
Price: Premium
Premier 2019 font with the classic sporty style is suitable for many animations and special pixel games for children of all ages.
Price: Free
Chosla | sports style font Family to design a t-shirt or sports theme can have the whole package. And having a star in some letters will meet the needs of many people and can be used for football in many different countries whose flag has stars like America.
Price: Premium
Sportsball font is designed by Pixel kitchen. And in some letters, the upper half of the letters are higher than the lower half, which is more open. Sports fashion brands, puzzle game video posters, the animation will be different with this soccer font.
Price: Free
Family Spartan Font with this sports font, give a beautiful look to the designs that you are preparing. These designs can be Italian or bold, and for a spectacular competition, you need this font to design billboards, posters, and magazine covers.
Price: Premium
Sometimes designers are very creative, with a few simple lines they can make changes in general that are completely different from the previous font. ESP font is like this and has given a beautiful style to the letters with a chat line. You can use it in sports brands, competitions, science fiction titles, and superhero and space games.
Price: Free
With Enforcer Typhoon Font we can say that we are facing a new style or a combination of bold and italic style. It can be used to design logos and advertisements for sports brands, bodybuilding, racing cars, and anything else that has a small connection to speed.
Price: Premium
Stereofunk font uses the geometric shape of the circle and sharp lines, and each letter has a special and unique feature compared to the others. For example, in the letter 'H', only one of the strokes has a sharp edge. As a font, it is used in advertising and sports magazines such as skiing, hockey, golf, and football.
Price: Free
The Burial Type is a family font used in many areas that designers typically use for sports advertising posters, superhero video games, Lego, and jigsaw puzzles.
Price: Premium
Poggers font is suitable for many promotional designs, titles of sports genre movies, sports documentaries, flyers that are prepared for celebrations or sports competitions.
Price: Free
Scoreline Sports Font is a family font for designers who specialize in sports, military designs such as T-shirts, and many other logos and branding.
Price: Premium
FTY DELIRIUM NCV font With tall and condensed letters can be a winner in any design and can be suitable along with other sports elements such as basketball, sports tour, football field, volleyball, and even suitable sports images.
Price: Free
Redwing condensed font is for designs that require a bit of impact along with sports style and college. These designs can be used for college sports groups, military brands, and indoor or outdoor sports.
Price: Premium
Cold Warm is an icy and strong font. Usually used for banners, flyers, games that are used on snowy or icy terrains such as skiing, hockey, and popular football, baseball, and many other sports.
Price: Free
Diesel font that is seen in many T-shirts is accompanied by a very small and different effect. The end edges of the letters are designed with a very small angle similar to a triangle, not a square. This soccer font is used in sports equipment brands, magazines, and news sites.
Price: Premium
Aeronaves font conveys a sense of launch, whether it's a player throwing the ball in soccer or basketball or shooting a ball with weapons. In both areas, sports and aviation brands will overtake speed and be ahead of all plans.
Price: Free
TORONTO DISPLAY font will encourage players, it is necessary to use a large text that distances energy from distant distances. This font can provide such a purpose, and also, it is used in sports flyers, stadium billboards.
Price: Premium
Daily Mix 3 font is designed to differentiate some letters. The reason is to highlight and more open the strokes. This soccer font even shows simple sports texts very attractive to the audience.
Price: Free
Foray (Regular & Outline) font has two types, ordinary and outline, which show the normal type of bold font, and is used for an important sports title, and the outline type is used for sports titles and marginal texts.
Price: Premium
Equalize font is designed by Chequered. You can easily use this soccer font in war and sports posters and convey the feeling of being on the battlefield. In video games, it can also be used well in various parts of the game, such as guides and showing point billboards.
Price: Free
LLA MADNESS Sports Display font has a handwritten style and depending on how it is drawn, it can be used instead of signatures or personal texts in sports clubs, such as office letters and branding.
Price: Premium
Rawhide Raw 2016 font shows stubbornness and durability along with other design elements. You can use this soccer font in video games, sports, combat, football matches, boxing that need a proper ad to fill the stadiums.
Price: Free
Necked – Versatile Sport Typeface font is designed by FypeCo. You can provide an energetic design, along with other elements, by posting posters and advertising banners, sports club brands such as aerobic, football, and basketball, or printing these brands on the walls.
Price: Premium
Professor font has smooth letters that are more suitable for animations and video games for children and teenagers. You can download this font in several types of Italic, 3d and outlier.
Price: Free
Old School United font has a variety of normal Italian and outline types, some designers use all three types in posters and banners for advertising and sports information, and some choose one for the main title. Choosing each of them gives a special charm to the design.
Price: Premium
Tauro font speeds up the preparation of promotional designs, banners, and flyers that require bold letters. This soccer font is available in Italian, 3D, and white outline types.
Price: Free
Atrox font is suitable for people who are looking for an attractive element for poster design, sports brands. With this soccer font, you can have many options and it will be interesting to use in all sports and competitions.
Price: Free
Evogria font is created by 7Ntypes. The font has smooth edges and can communicate well with audiences and fans of sports such as basketball, soccer, and baseball. By downloading this font, you can have two types, Italian and regular.
Price: Free
Team Jersey 97 font has a gothic style and with numbers in addition to letters, it can be a good combination for the player's number on the T-shirt or league points in various sports such as hockey, volleyball football.
Price: Free
Team Jersey 96 Demo font is designed by Out Of Step Font Company. Its gothic style makes it great for promoting sports teams in the style of the '90s.
Price: Free
Conclusion
In this collection, we tried to include almost all the fonts that are interesting to many designers. We hope it is useful for you and you can refer to the collection of fonts such as basketball, boxing fonts to complete your work.