65+ Best Free and Premium Royal Fonts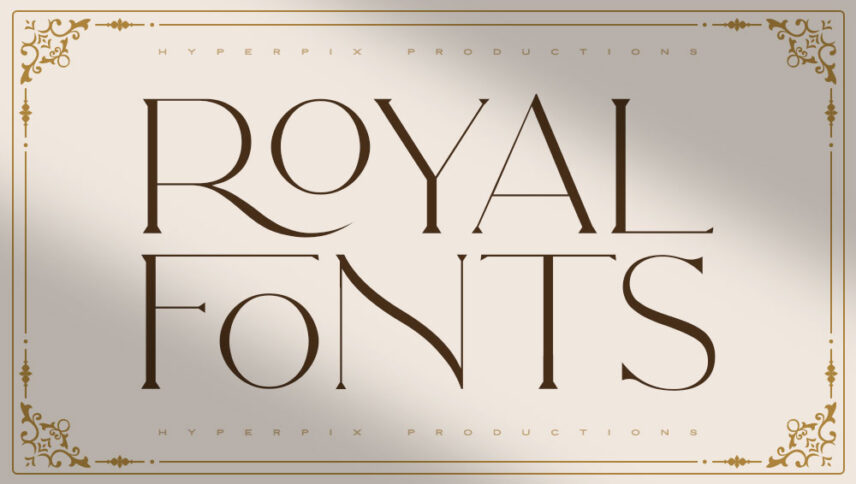 Characterized by a highly refined appearance, our recollection of royal fonts puts an end to your search for the ultimate stylish font. Despite their mostly lucid outline, they feature a unique sophistication without jeopardizing legibility.
Quite the opposite, using these fonts, you can rely on their compelling aura to hold the viewers spellbound while keeping things straight to the point. Moreover, with a note of elegance to showcase, there's no overlooking the high-end vibes they markedly express. It's like these fonts are just made for branding purposes, right? Their sleekness also fits the bill for things like nifty certificates, classic editorial designs, or maybe gripping social media content.
Best Royal Fonts
Choose any of the free or premium royal fonts that follow, and get off to a flying start in your next designs. Once you're properly equipped, the least effort can turn your every project into a feather in your hat.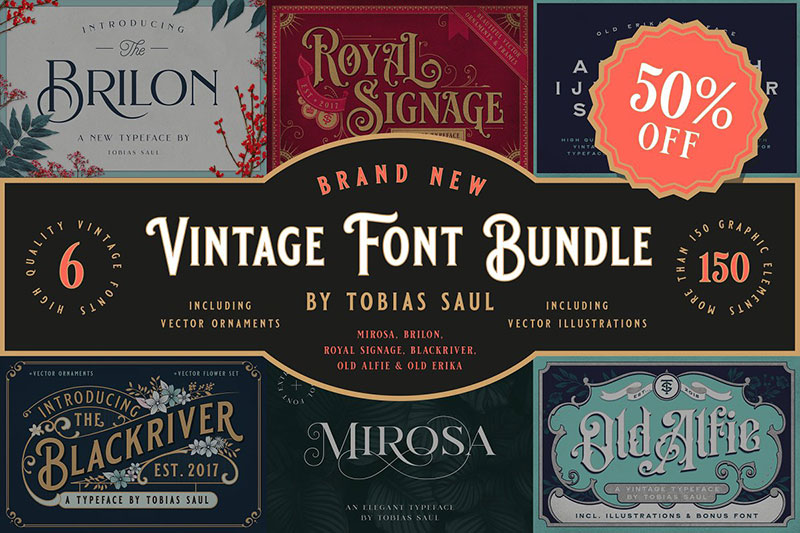 It is the first bundle in this series, and we would like to start our list with a beneficial bundle. This bundle has seven different vintage fonts. By buying it, you can have several fonts together and pay less.
Price: Premium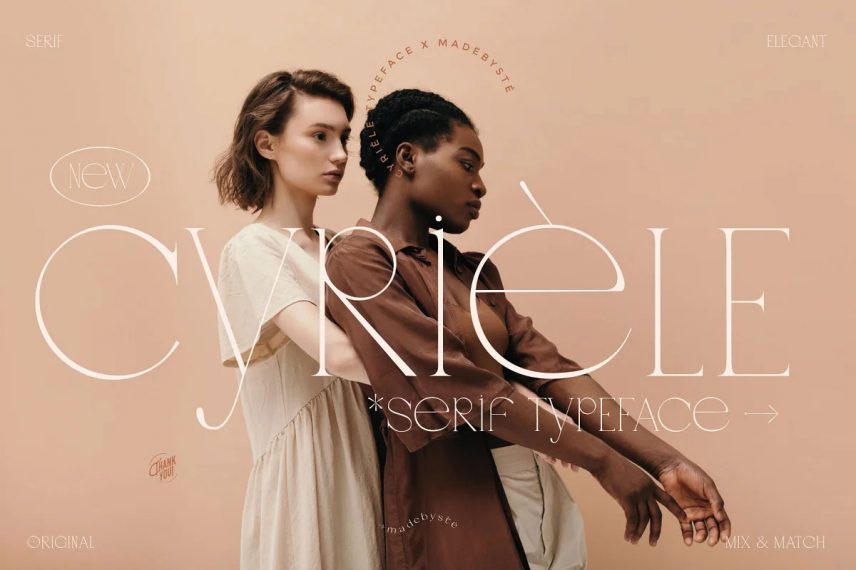 The Cyriele Fashion Serif Catchwords font can be implemented by the creative designer and has a modern style.
Price: Premium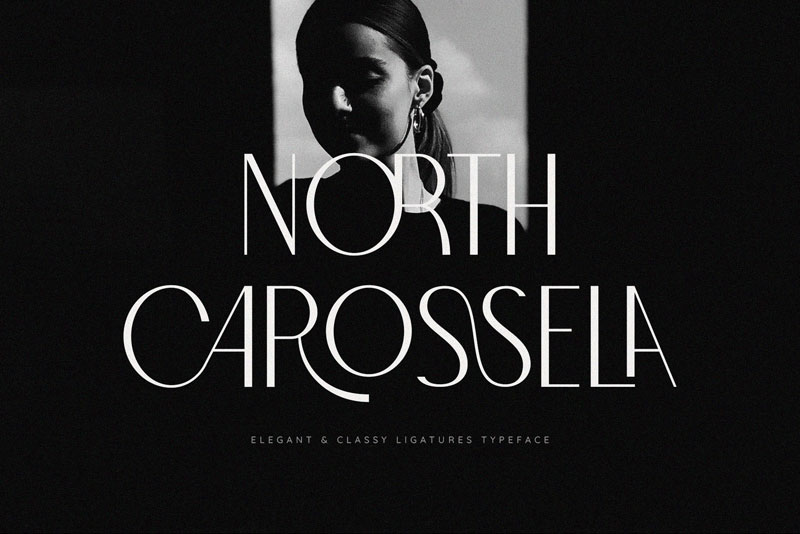 North Carossela font One of the interesting designs is that you can see some letters after typing that are stuck together, and this is a different style, especially for designing fashion brand logos that require a creative design and a creative designer.
Price: Free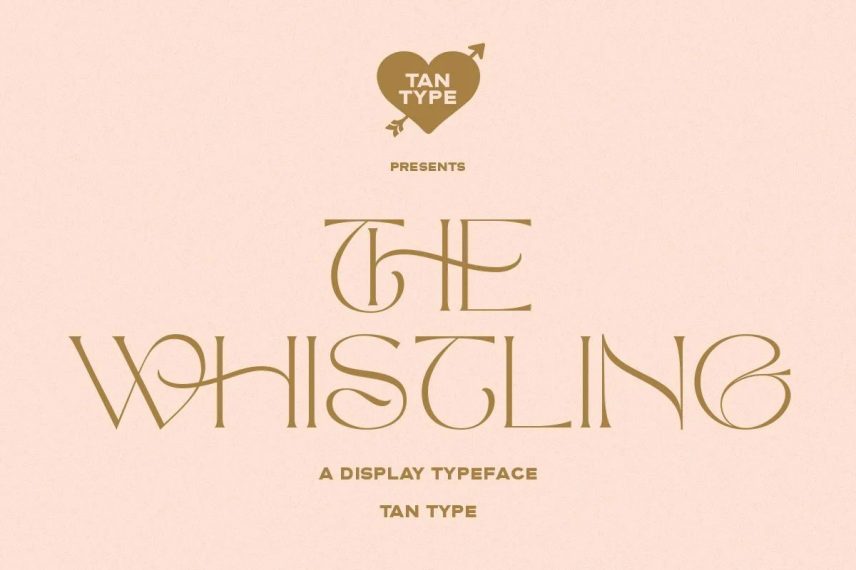 TAN The Whistling font is very interestingly designed. Its letters are like curved lines, and one of the priorities for designing your projects is to use it for Use invitation and birthday card design.
Price: Premium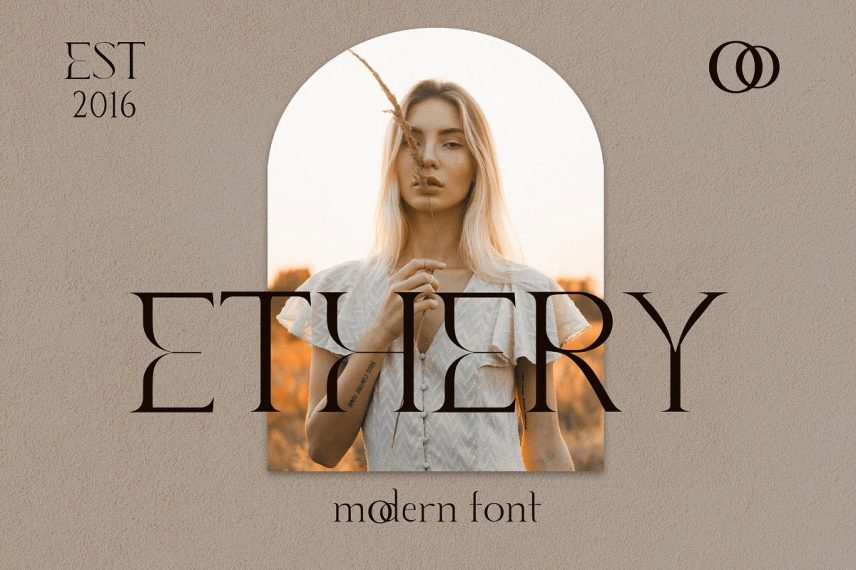 Ethery Modern Serif Font is creative, stylish, and feminine. In the letters, you can see that each has a curved and semicircular style, so it is great for many designs that need simplicity, including fashion themes, magazine covers.
Price: Premium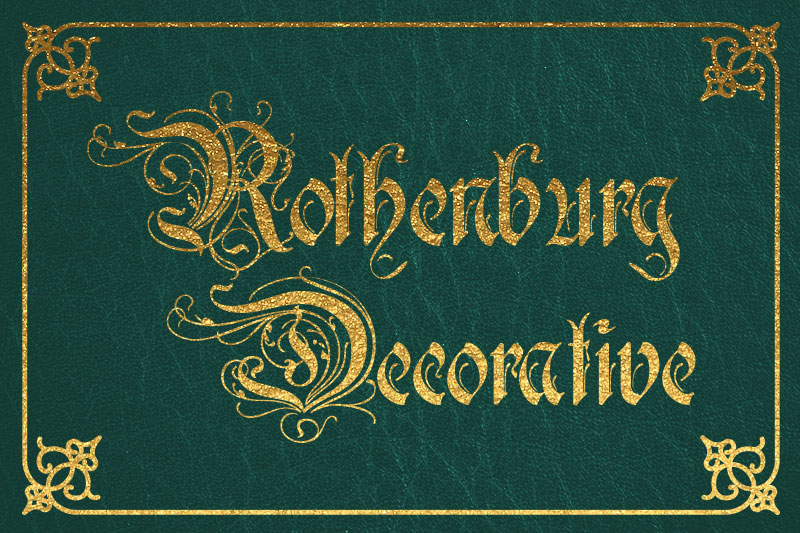 Rothenburg Decorative is a Creative and calligraphic font published by Typographer Mediengestaltung. The 194 characters in this royal font are beautifully decorated with uppercase letters and are more attractive than floral fonts. We recommend this font for designing invitation cards, menus, and titles of 5-star restaurants.
Price: Free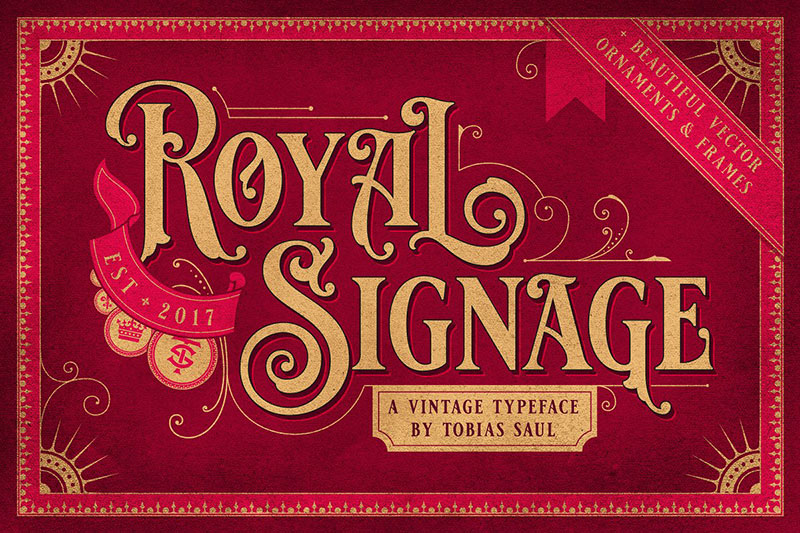 It is a retro font with decorative characters, hand-letter and elongated. For a beautiful and luxurious look, this font is the best choice, especially in poker cards, wedding invitation cards with happy colors, if used, will be unique.
Price: Premium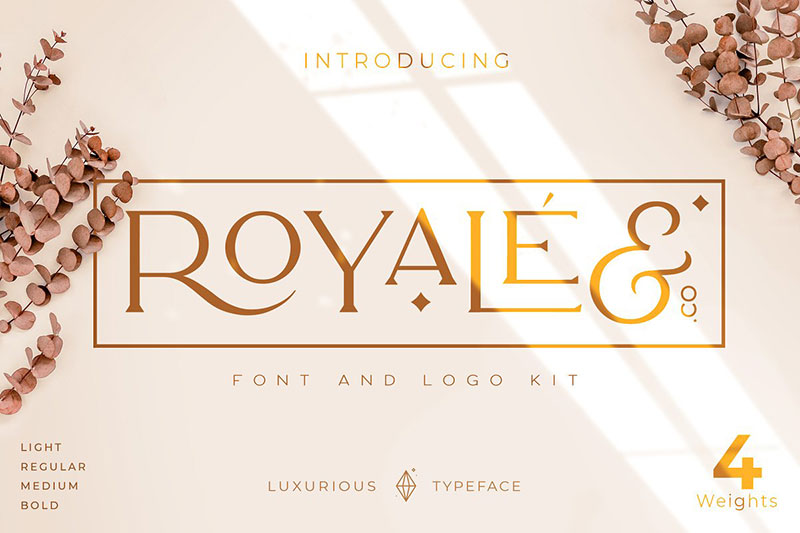 No matter how much it is described, the beauty and royalty of this font are still high. This luxurious and elegant royal font gives you a set of options to use in wedding projects, hotels, luxury brands of perfumes, and cosmetics.
Price: Premium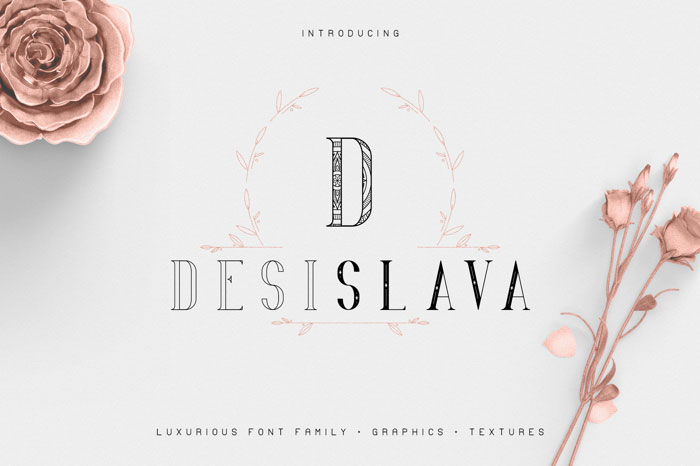 Desislava Ornament Font designed by VPcreativeshop. Each character is displayed with a tall size and a brilliant diamond. This minimal and royal font will be considered one of your best works in any luxury, fashion, florist, and many other brands.
Price: Free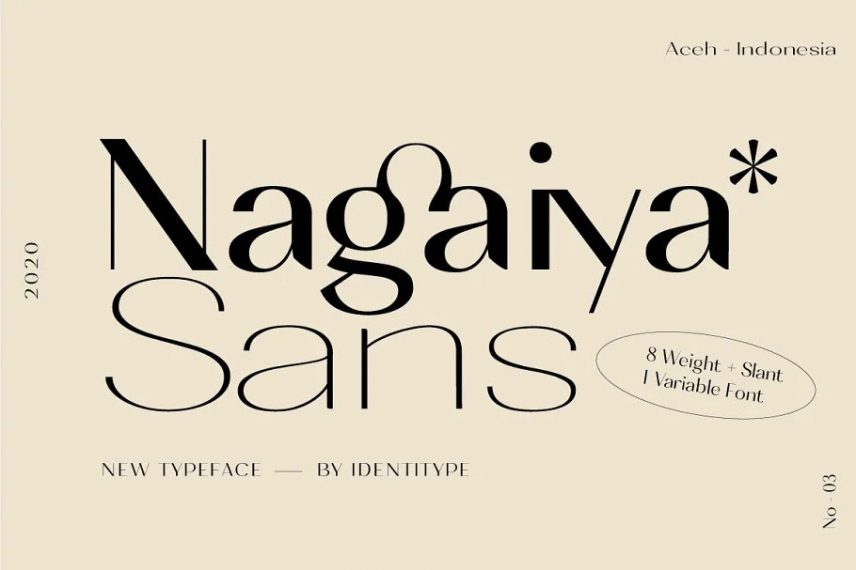 Nagaiya Font Family Font With Variable has a more handsome style. Considering that you can have this font in sixteen different types, so you do not need many fonts to download, and you can do different designs with the same font and variety.
Price: Premium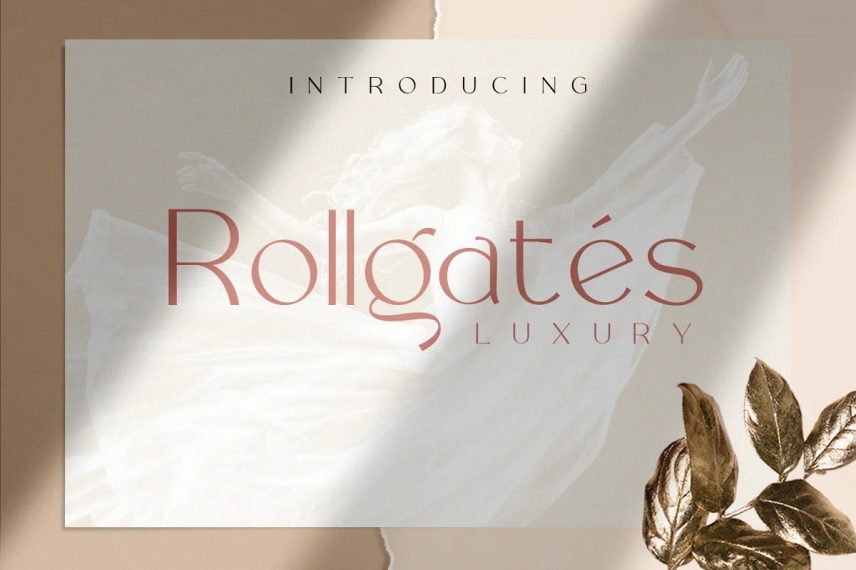 Rollgates Luxury font If you have not used it yet, we definitely recommend that you download it. This font, in addition to its vintage and retro design, can be a very attractive element for the backgrounds of wedding invitation cards and elegant themes.
Price: Premium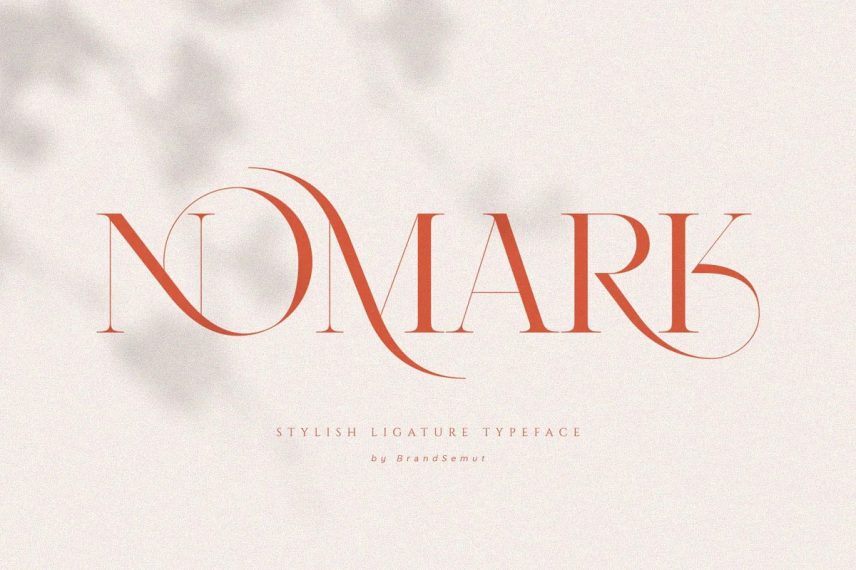 NOMARK Ligature Typeface font is a classic and modern typeface, and you can download this font in addition to letters to achieve forty-four to ligature. Among the things you can do with this font is to design brands of jewelry, make-up, or cosmetics.
Price: Premium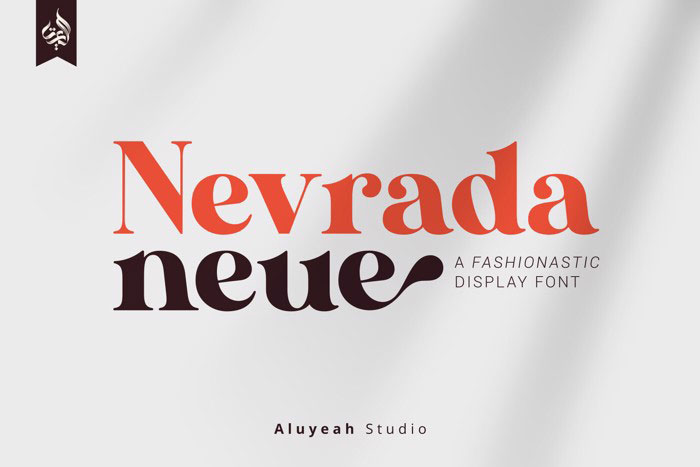 It is a fantasy royal font provided by Aluyeah Studio. The circular end of the actors makes it a unique feature. For this reason, our first suggestion is to use fashion and luxury straps.
Price: Free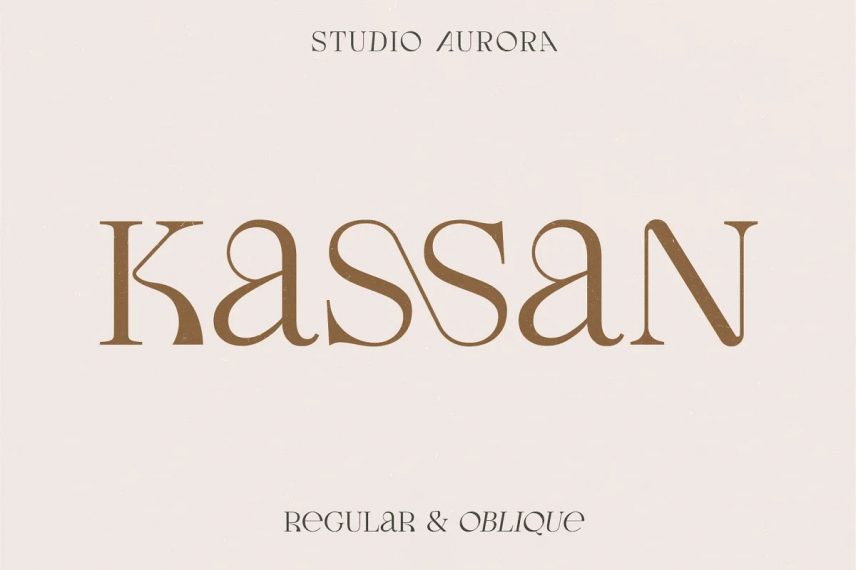 Kassan Luxury Display Serif font is one of the unique and luxury designs. If you are designing a logo for fashion projects, be sure to download this font, and in addition, you can use social network posts to design invitation cards.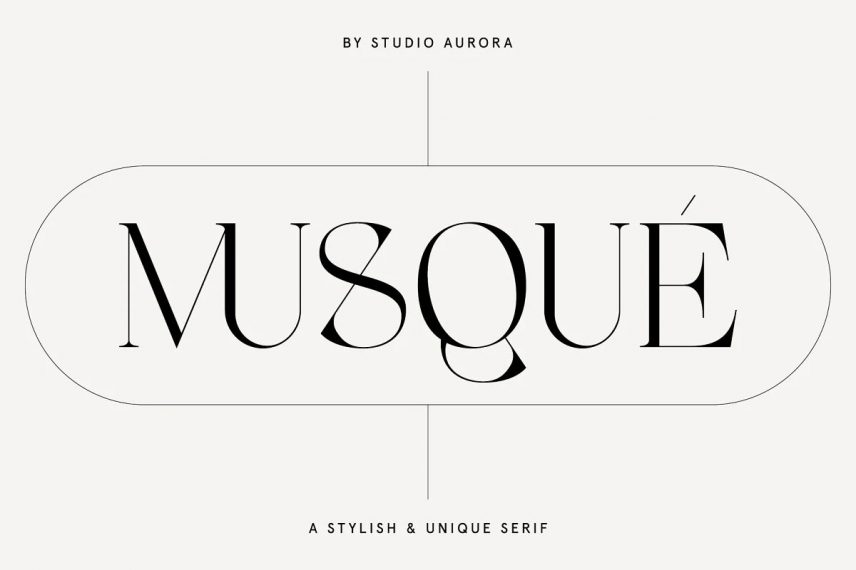 The Musque – Unique Elegant Display font has cohesive letters and some letters like the letter S look like an infinitely designed symbol. This uniqueness makes it one of the priorities for graphic and design projects. Among the features of this font, we can mention that it is also available in different languages, for example, English, French, German, and Italian.
Price: Premium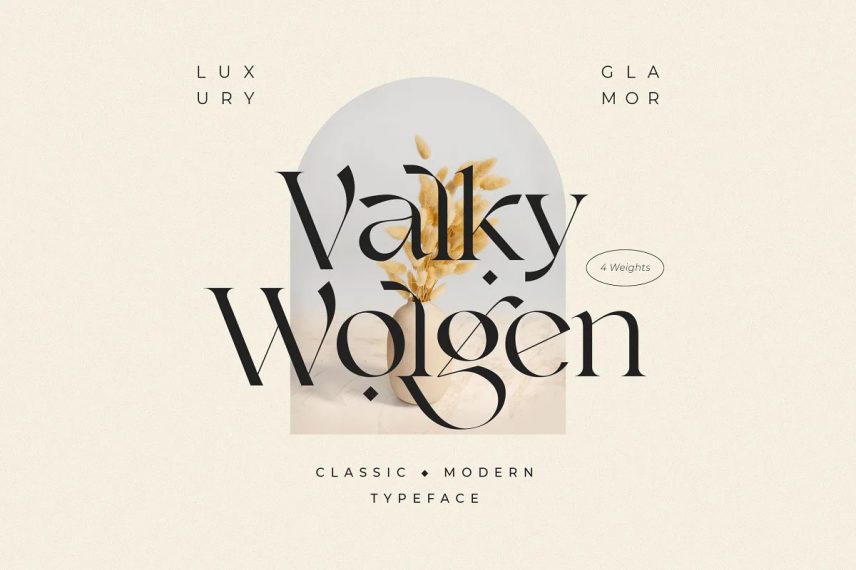 Valky Classic Modern Typeface font has a minimalist and feminine style. This font is similar to one of the titles of famous magazines, namely book. In addition to magazine titles, you can use them in book covers, catalogs, cosmetics, and luxury brands logos.
Price: Premium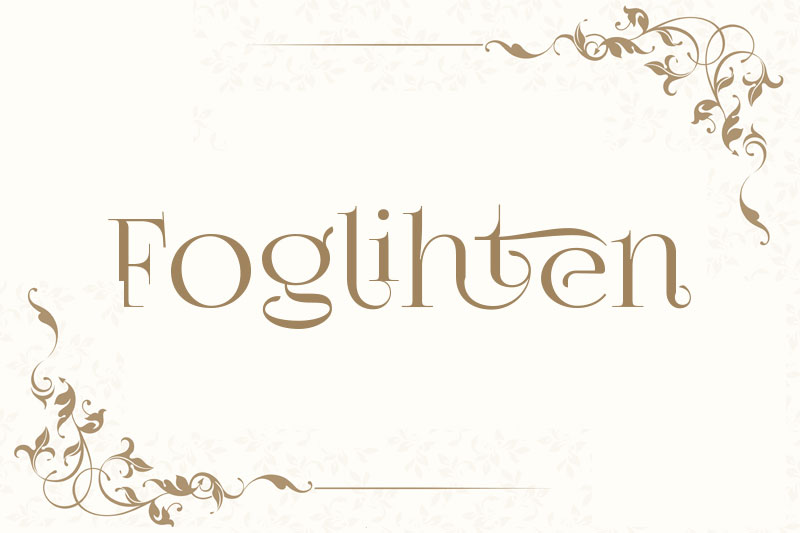 FoglihtenNo07 font has two styles, regular and calt, but these two styles have more than 1500 glyphs and characters, which means a unique set of luxurious furniture for luxury and magnificent projects. Be sure to try it.
Price: Free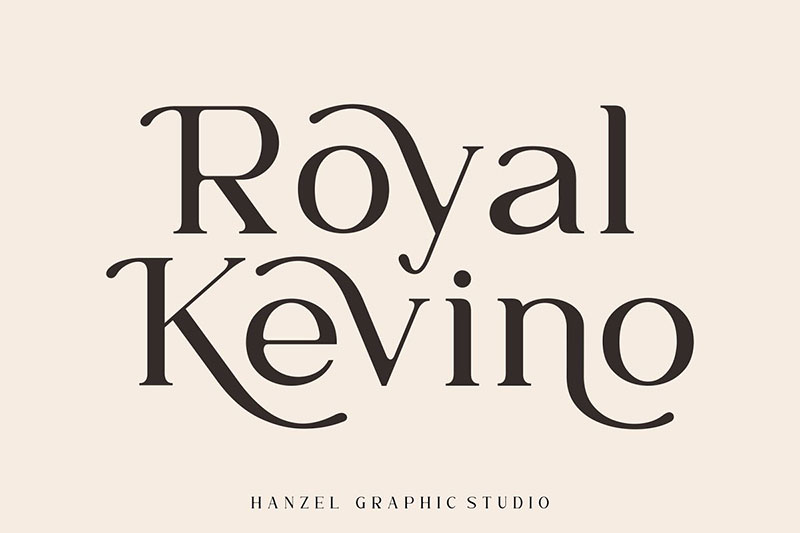 Minimal, cursive, and luxurious fonts that some characters are designed to be clean and straightforward. This combination can give a unique variety to future projects in the style of luxury applications. By combining them with other fonts and luxury elements, you will have a perfect design.
Price: Premium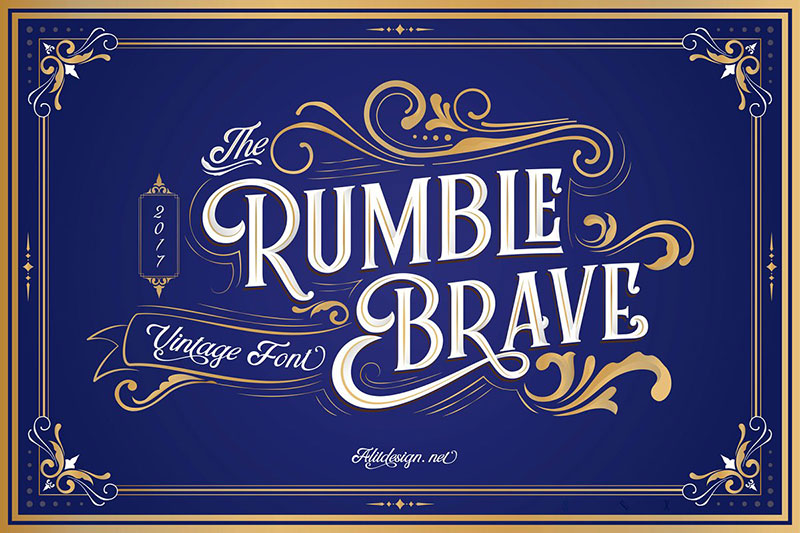 It is a decorative and royal font. Add beautiful designs and elements of deer and Christmas tree with this font, which is mostly seen in red, white, and green Christmas themes, and you will see the pleasure in the eyes of the audience.
Price: Premium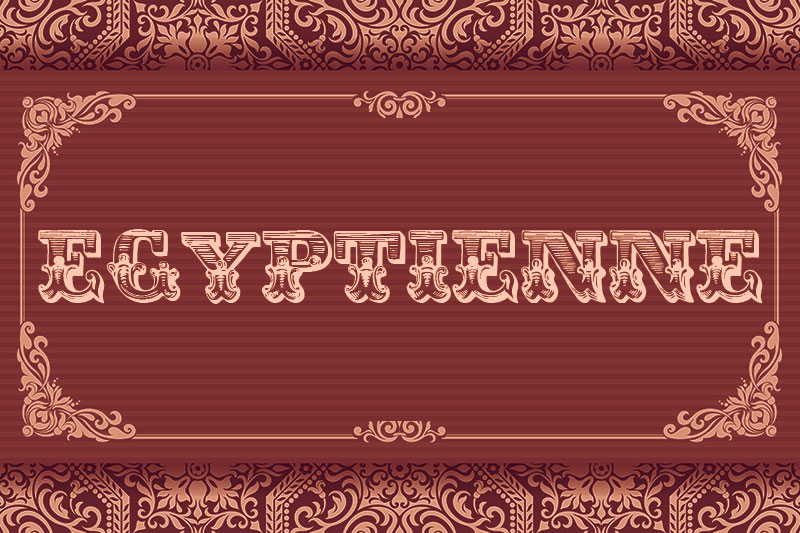 Dieter Steffmann created the font. This decorative royal font has a circus-style. This means that you can use it in circuses and happy celebration posters in addition to royal ceremonies and themes.
Price: Free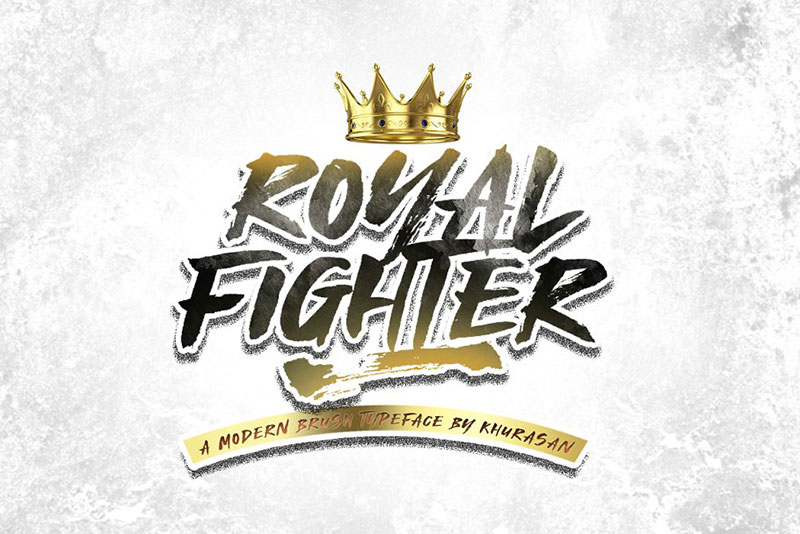 Royal Fighter Font has a brush style. But due to the shade and texture of vintage, if used in gold, silver, or beige colors, it will be very magnificent and elegant. In this font, you can have four file types: Royal Fighter.ttf, Royal Fighter.otf, Royal Fighter Swash.ttf, Royal Fighter Swash.otf.
Price: Premium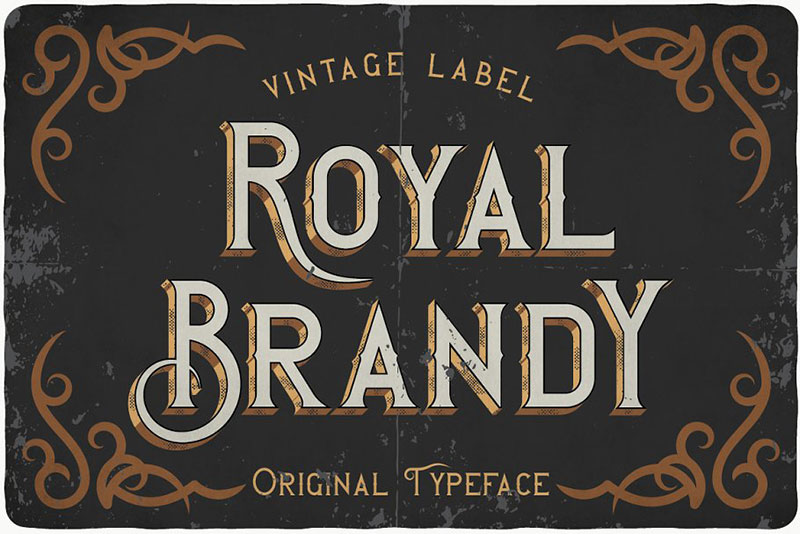 Royal Brandy typeface is Vintage font with a very light design of Irish texts. This font is trendy for beverage brands, especially whiskey and bourbon. However, it also looks great in any royal design.
Price: Premium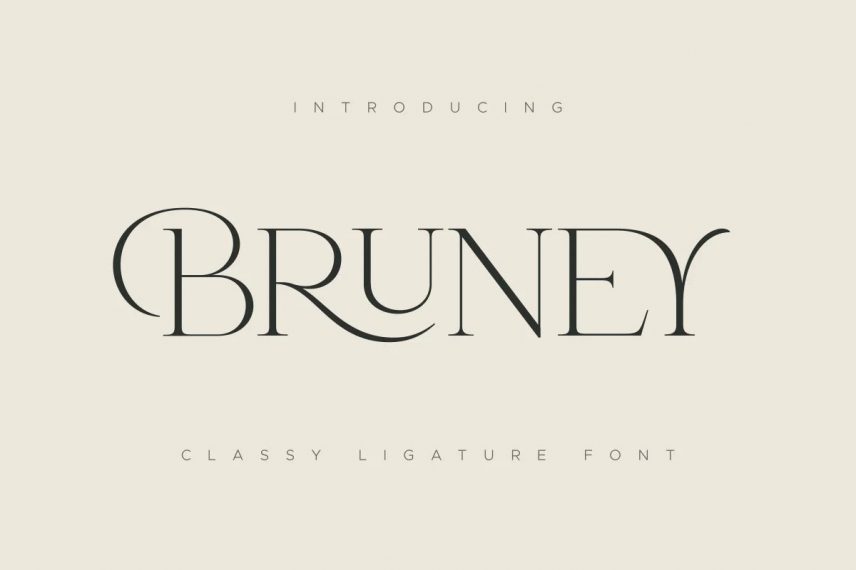 Bruney Classy Ligature font can be considered a classic and luxurious design. Some of the letters are designed in interesting curves that represent a different and creative design and are also suitable for designing invitation cards, weddings, and formal party cards.
Price: Premium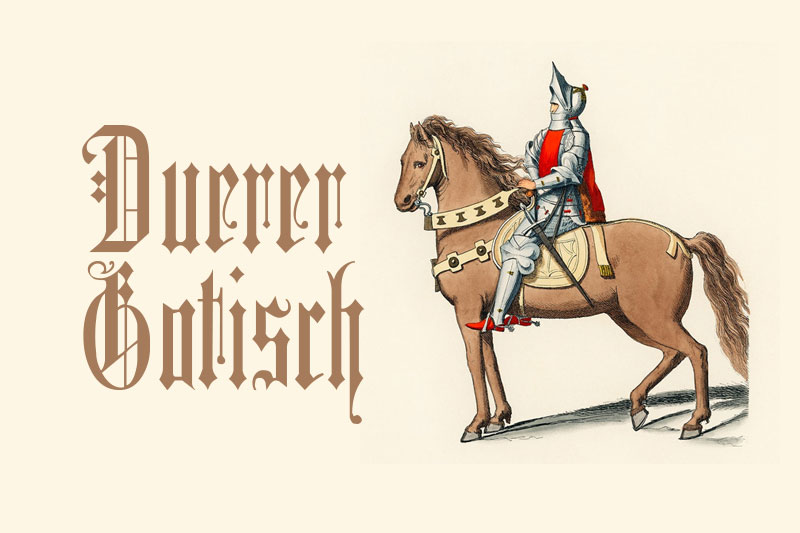 Duerer Gotisch Font is from different effects of Typographer Mediengestaltung. Each character is drawn in blackletter and floral. This royal gothic font is inspired by calligraphy in the 1400s. Due to its beauty and elegance, it can also be used in luxury and aristocratic brands and will have an excellent output.
Price: Free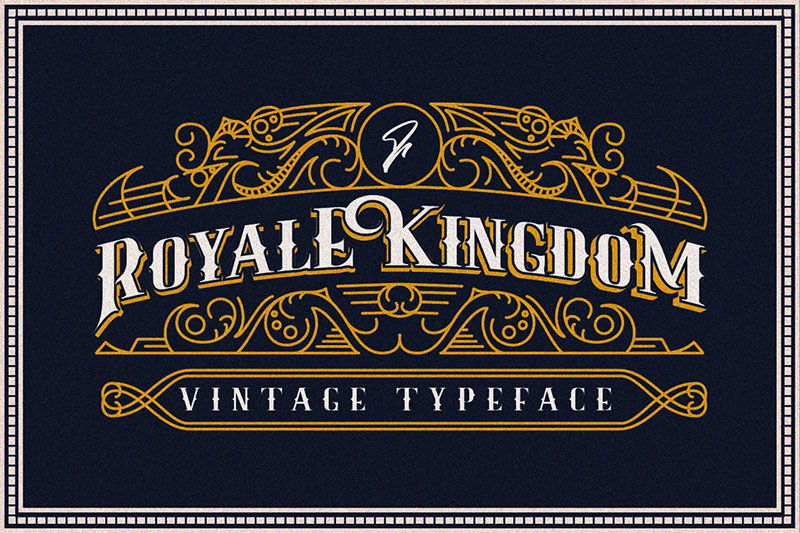 Royale Kingdom Vintage Typeface Font is the ornament, vintage and classic. With this font, which can be used in many projects, from luxurious and royal greeting cards to designs on T-shirts and beer brands, the pleasure of saving time can be realized.
Price: Premium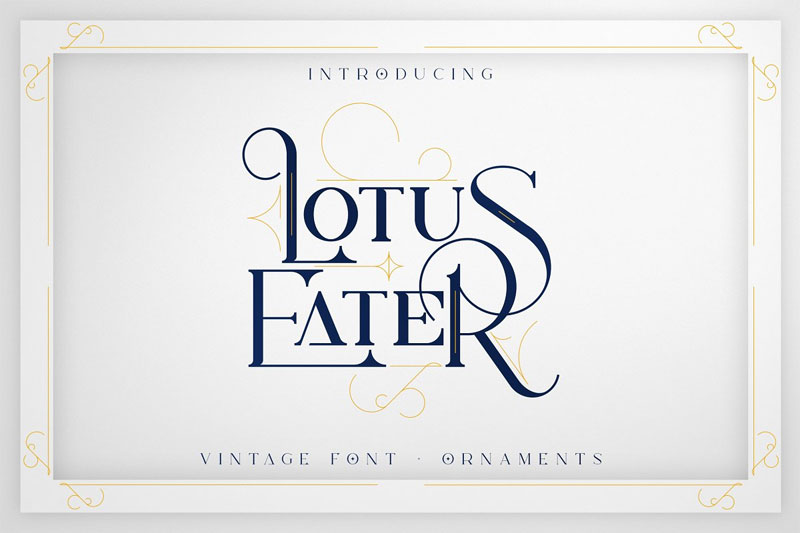 Lotus Eater Vintage is a Beautiful and handwritten font drawn with a pencil. This royal font is beautiful due to its swashes and is excellent and unique for personal projects, especially tattoos.
Price: Premium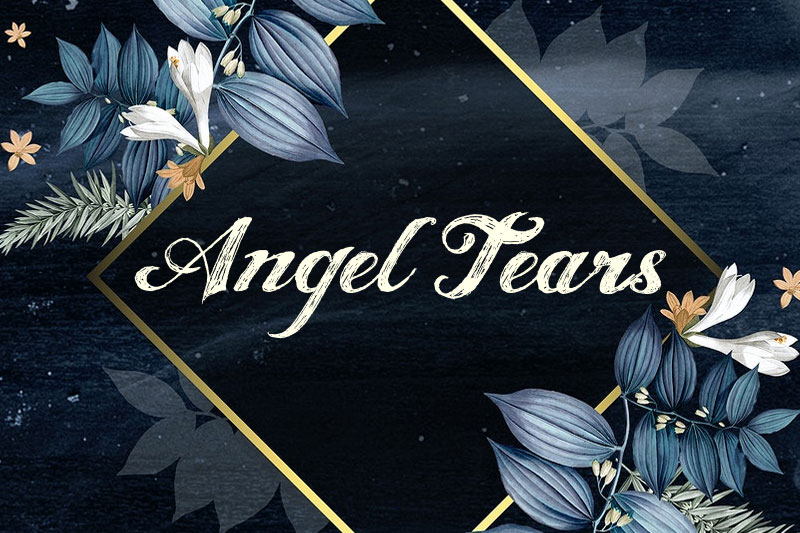 We are going to introduce letterhead and vintage fonts to you in the following. This all-caps font is a combination of od school badges and labels that is memorable for many. But now, it also has unlimited uses for packages and greeting cards.
Price: Free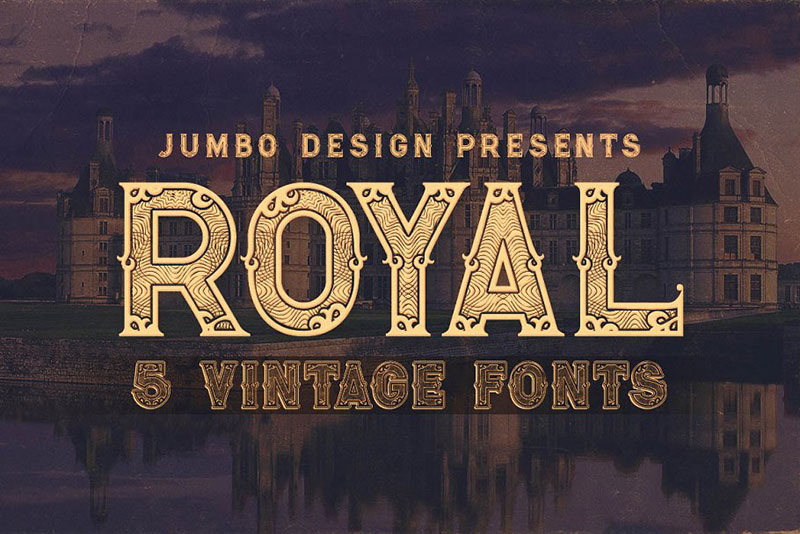 Royal Vintage Style Fonts is for those who are looking for a royal and decorative foot. Characters look beautiful and look like engraved gold leaf. If you like this vintage and shiny royal font in posters and luxury invitation cards, why not put it on your list?
Price: Premium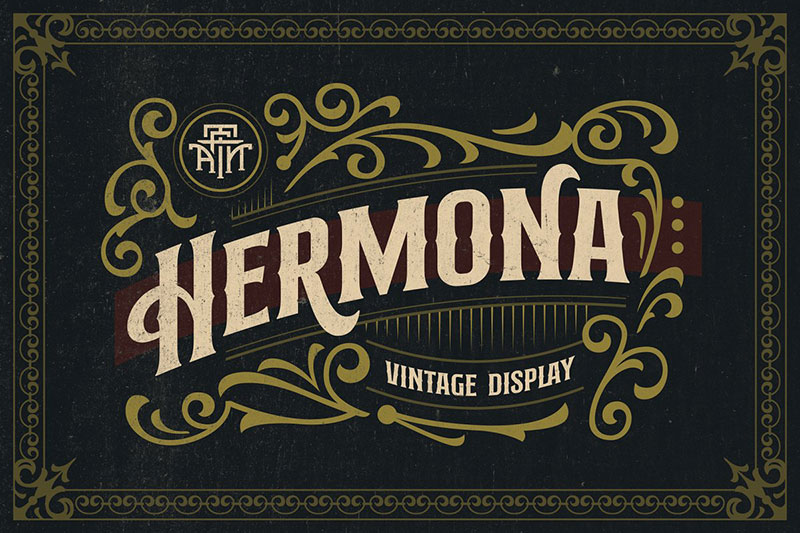 Regular, italic, outline, distressed are some of the font styles that help you choose a different theme. These font styles are great for decorative, royal designs, whether T-shirt design, invitation cards, packaging, and labels.
Price: Premium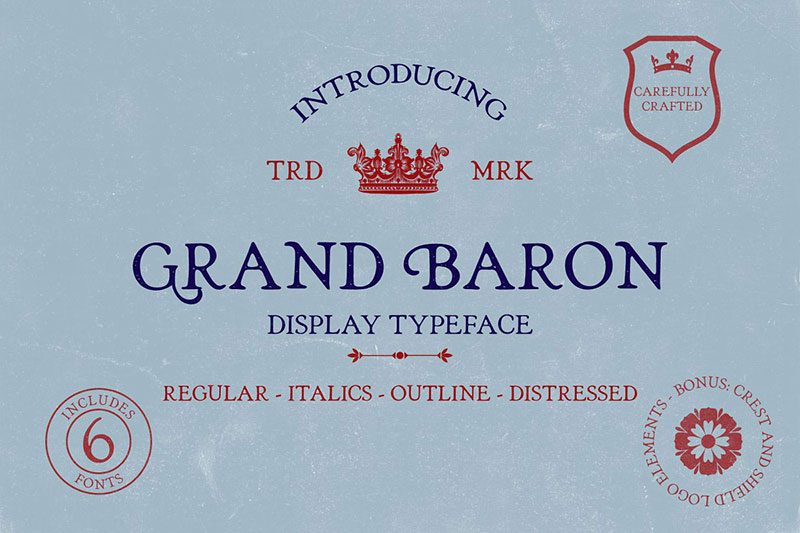 Billy Argel designed grand Baron A Vintage Typeface Font. This beautiful and floral font with sharp edges reflects both the sense of being royal and epic and powerful. If you have not yet selected the font list, this font is perfect.
Price: Premium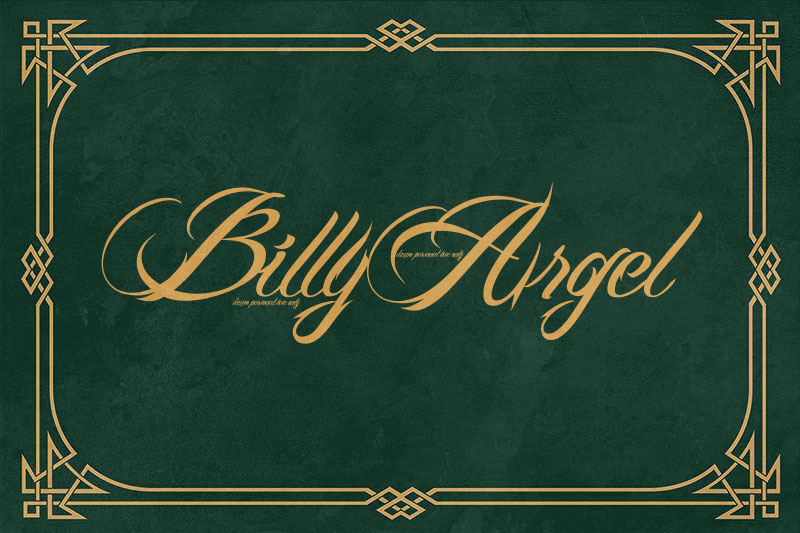 You can see the classy and fashionable font above. This font has a beautiful and well-proportioned swirl. We recommend this font for advertising fashion brands, magazine covers, books, logos, greeting cards, cosmetic brands, and many more.
Price: Free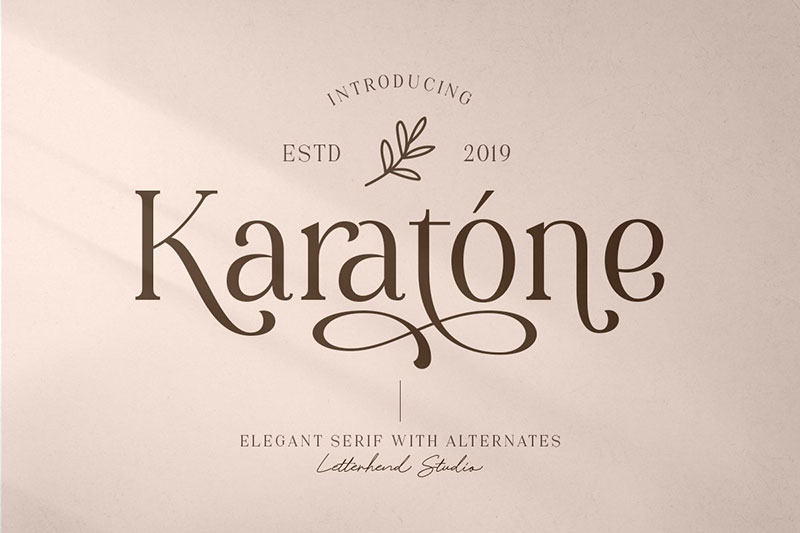 Karatone Elegant Serif Font has a blackletter style. With this royal font, your holiday greeting cards will be more beautiful and luxurious than anything else. We wish you a Merry Christmas with all the lovely memories and beautiful events with this font.
Price: Premium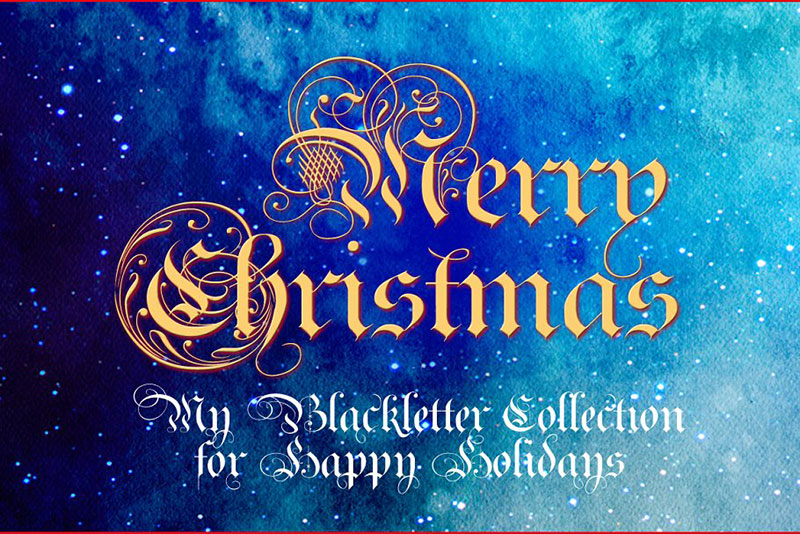 Royal Bavarian Christmas Packet Font is different with unique details such as floral lines. There are three different styles: regular, shadow and inset in the download section of this font for many purposes. If you like, design other logos, titles, and labels with it.
Price: Premium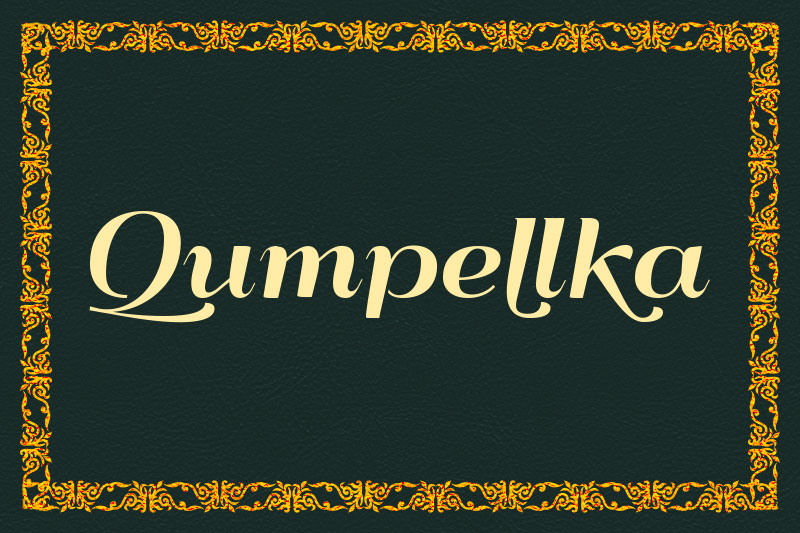 One of the royal fonts that have a bold and vintage style is the QumpellkaNo12 font. You need such a font to decorate your designs and luxurious backgrounds to complete your presentation.
Price: Free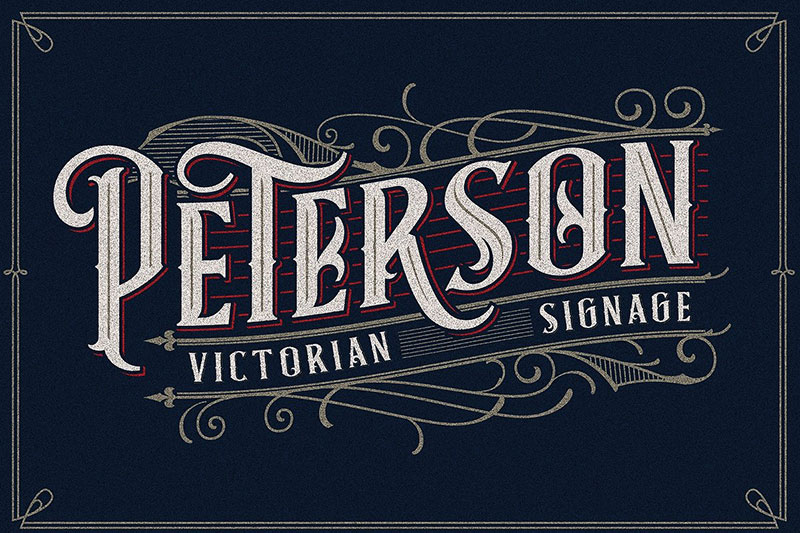 Bulges Layered Ornament font has used a particular skill for design because this font has the style of Gothic royal and floral at the same time. And it is suitable for many luxury and stylish brands such as invitation cards, beer, logos, and posters.
Price: Premium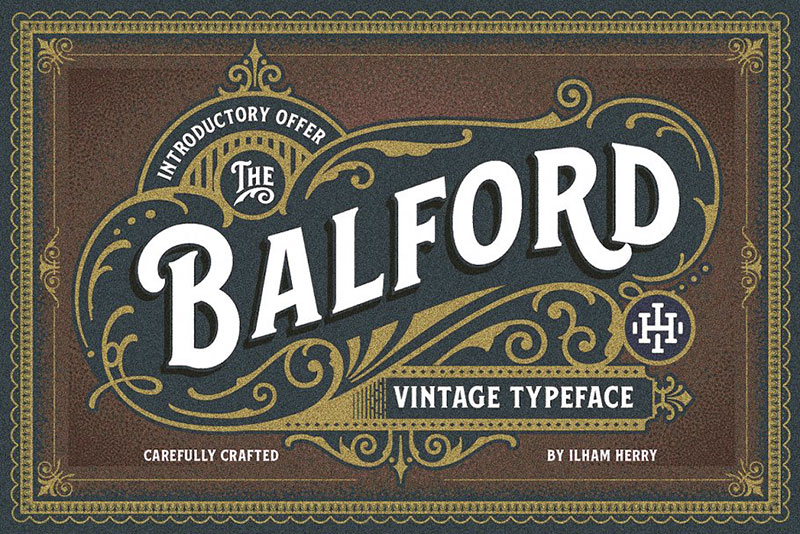 It is for those who do a lot of decorative designs. This package offers many decorative elements and frames that are extremely practical and suitable for invitation cards and posters.
Price: Premium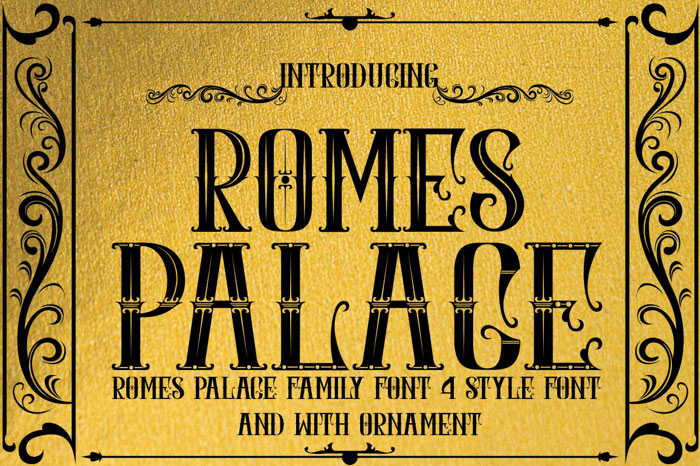 ROMES PALACE2 Font is a decoration in which the characters are designed in great detail. There are slab, floral, and two-pronged lines in each character, which are very lukewarm and pleasant for drawing on wood or gold leaf.
Price: Free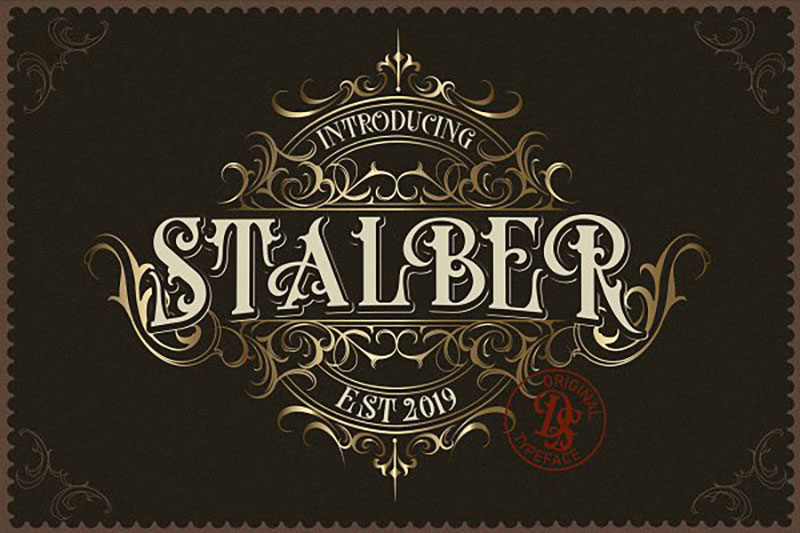 Vintage font with tattoo style will be examined below. The packaging of beer bottles inspires this royal font. But it is not limited to this design and can also be used in packaging, love design, fashion brands, and wedding invitation cards.
Price: Premium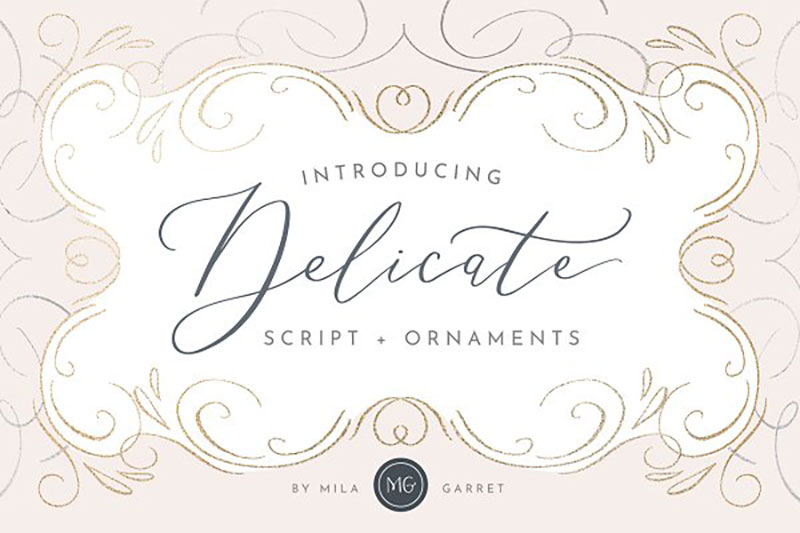 Delicate Elegant Script Ornaments is a font for those who dream of fantasy in their luxury designs. With this font, you can find many modern methods, wedding invitation cards, birthday cards, social network posts.
Price: Premium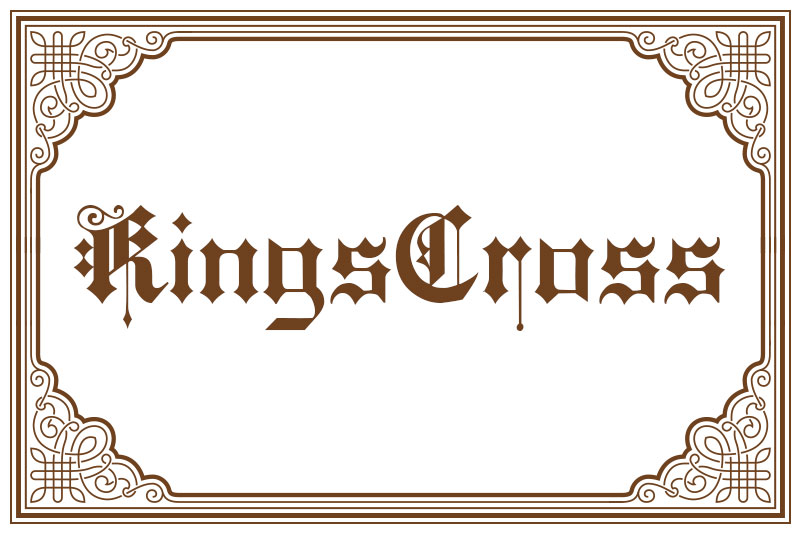 KingsCross font is a blackletter and decoration. Calligraphy style and small ruffles that are drawn regularly and square are admirable. This font has more than 200 characters that can be effective in promoting your projects.
Price: Free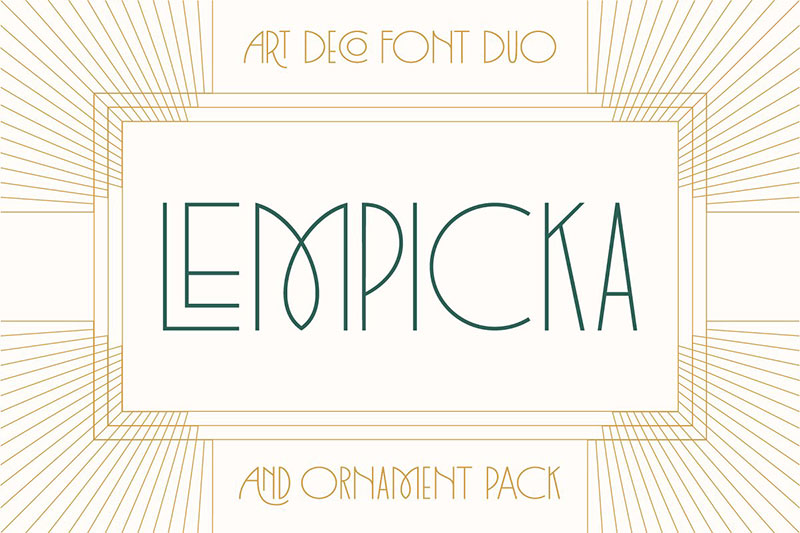 Lempicka Font Duo Vector Ornaments The font was designed by Molly Suber Thorpe. This minimal and modern font is in the art deco group, but due to the very stylish and created characters, we decided to include it in royal fonts. Do not miss the T-shirt and logo to design the packaging.
Looking for similar fonts? Ok, I suggest you look at the list of the best Art Deco fonts right now
Price: Premium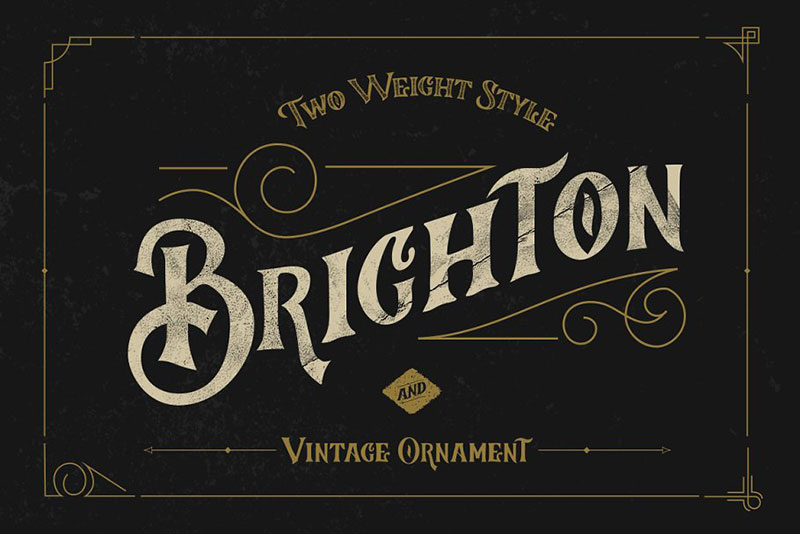 It is a bold font and a decoration with a classic style with two weights and types. This font is suitable for titles, magazine covers, websites, clothing brands, T-shirts, and anything that feels royal.
Price: Premium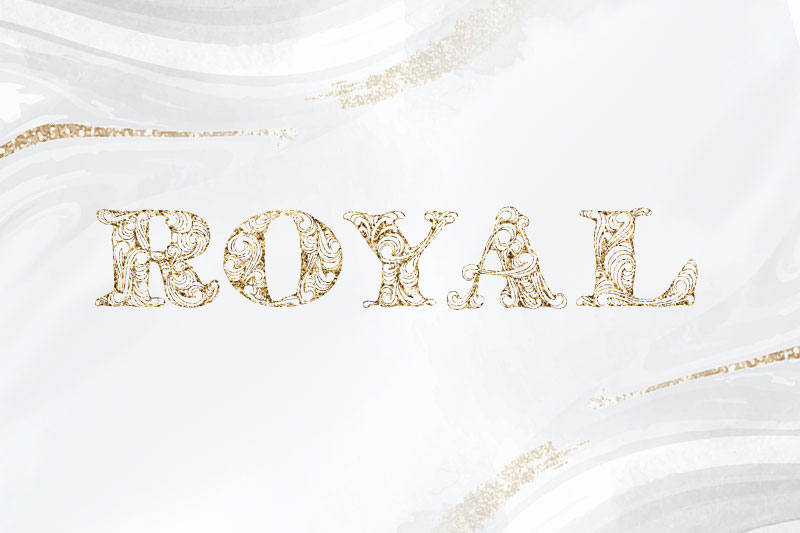 Magnificent is the only word and description that can be written for this royal font. The engraving of flower petals in the texture of the characters is unique. Also, if used in glossy sheets, the beauty of this font will be reflected many times.
Price: Free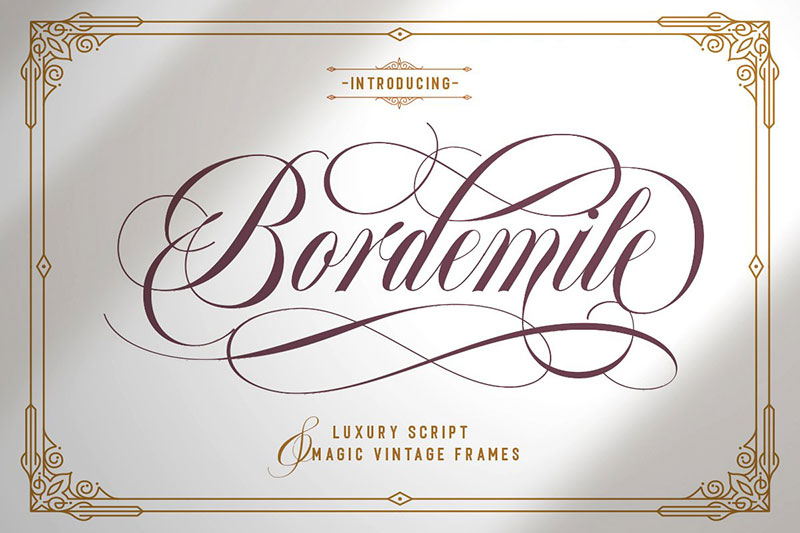 Bordemile Luxury Script Font is cursive and super glamorous. If I had this font, the first thing I would do with it was a stylish wedding invitation card. Now, what do you do according to your needs for future projects?
Price: Premium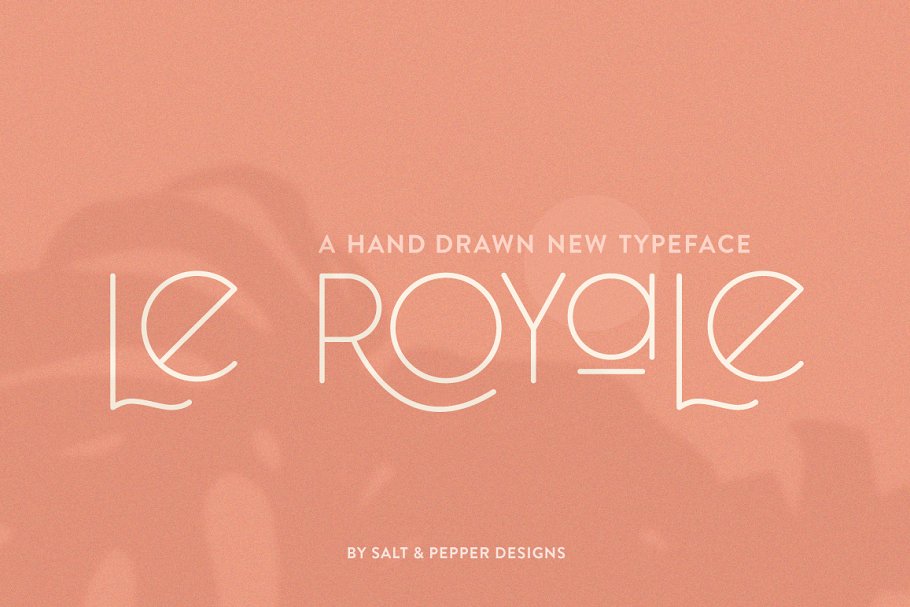 Le Royale font was designed by Salt & Pepper Designs. This font with a unique swirl and minimalist style is popular with many audiences. Just use the logos, posters, and covers of fashion magazines to see exceptional feedback.
Price: Premium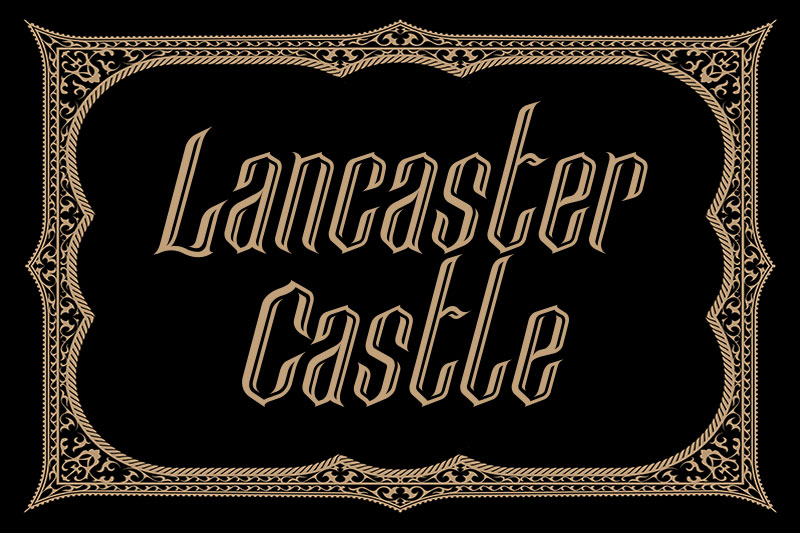 For those who need royal themes, what better way than to choose this font. This font with 200 characters, numbers, uppercase, and lowercase letters will be among the best in the group of royal fonts.
Price: Free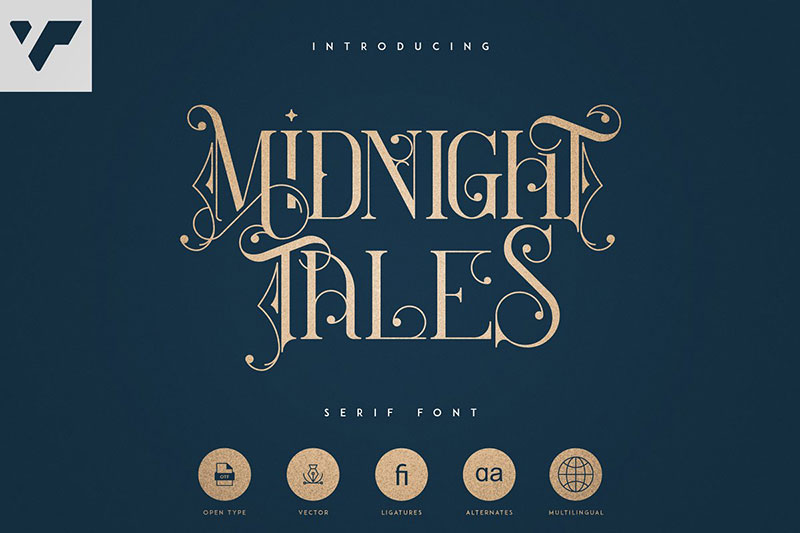 How much better to spend a memorable night with your loved ones and unique customers by presenting a luxury invitation card. This impressive and audience-friendly design of elegant characters is seen along with the stars' shining in some of the characters. Uppercase, lowercase, numeral, punctuation & Symbol are among the contents of this font.
Price: Premium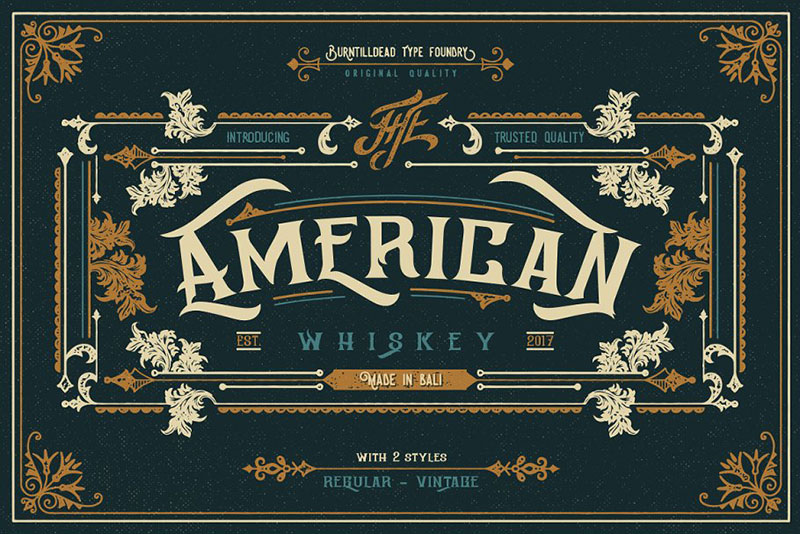 If you pay adequate attention to the characters and styles, you will notice that this royal font has been used a lot in beer labeling. With a little creativity and using modern backgrounds, the same font becomes a beautiful and royal design.
Price: Premium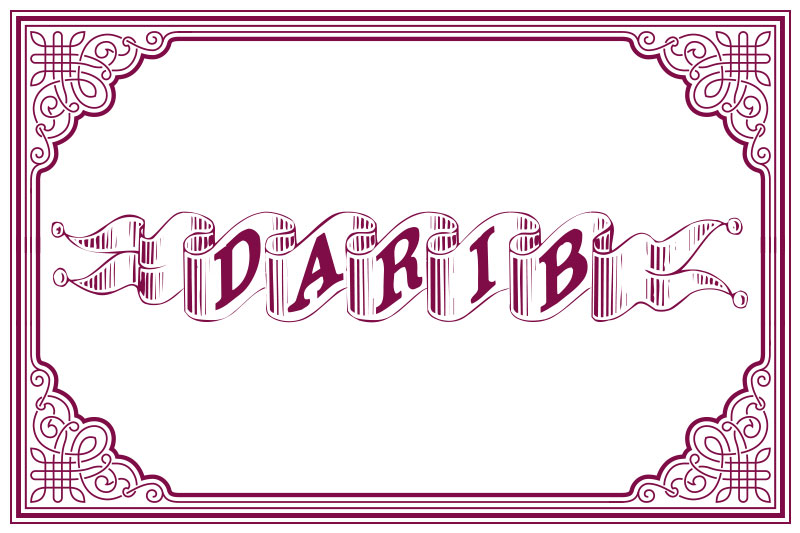 DaRib Font is an outstanding artwork. With this font, the characters are embossed on the flag, reflecting the royal and imperial families' regal nature. Which text do you find suitable for this font?
Price: Free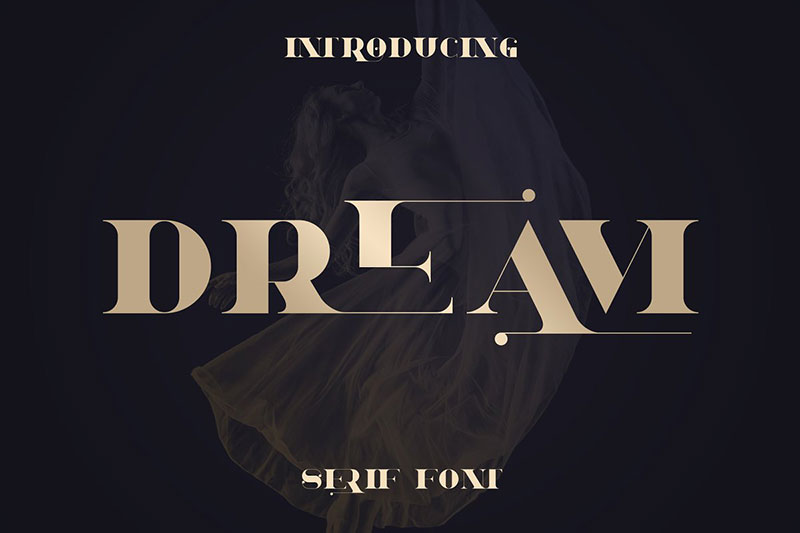 Dream Magical Serif is a magical font. That is, each character is magically designed with a narrow and different end. If you long for the dream of packaging, logos, and posters, now is the time.
Price: Premium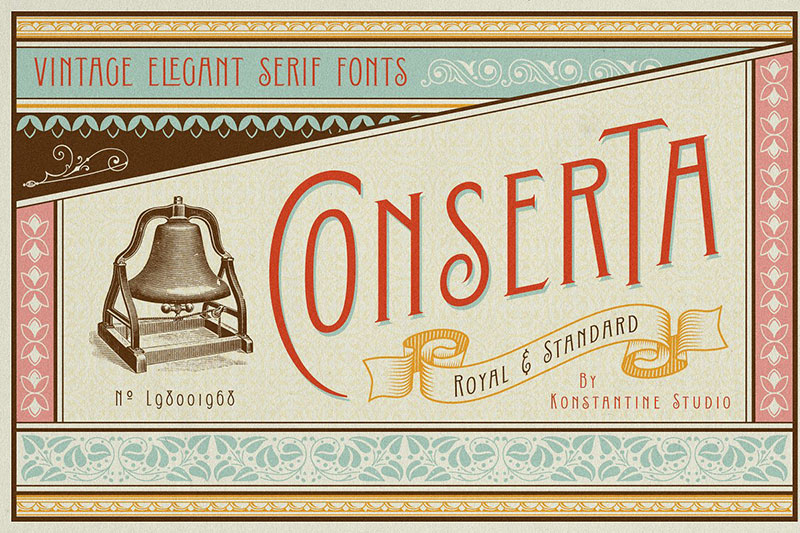 It is an old and classic font in many boards and packages. Each of the characters is uniquely drawn. If you want to have a beautiful font in your packaging, this font will blink from a distance and would like to play a role in your design.
Price: Premium
With all the mysterious beauty and style of this royal font, even the best designs can be obtained. Each character's springy end is used for animation posters, dream cards, birthday greeting cards, and much more.
Price: Free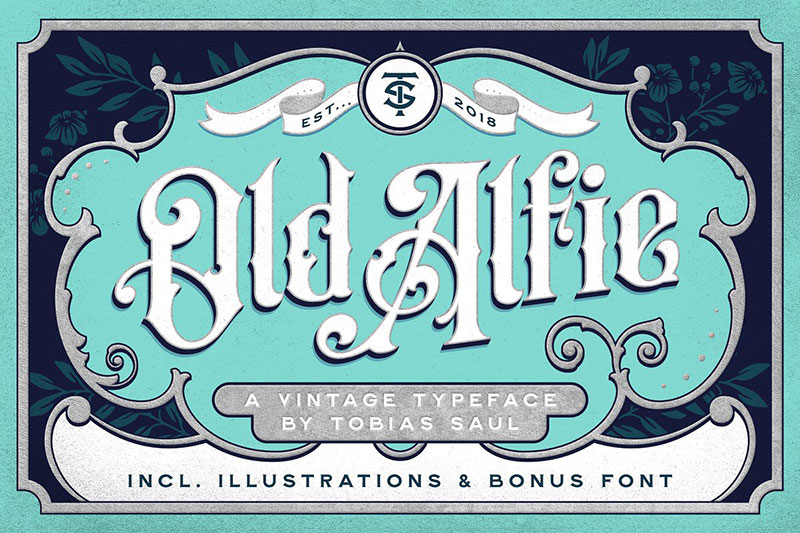 Old Alfie Font Extras is a lettering and floral font that is more complex than the serif font. In this package and the characters, 40 elements and a collection of 20 floral illustrations are provided, which can become your assistant for the better.
Price: Premium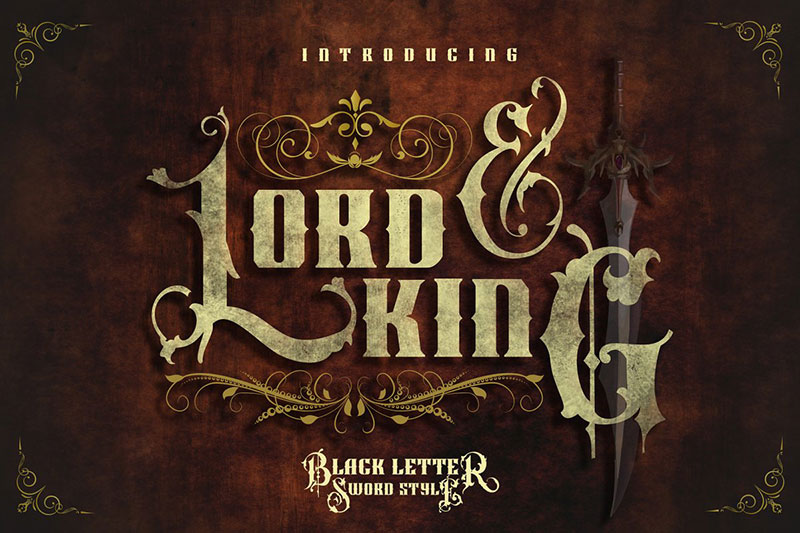 Lord King Ornament font used for posters of Glory movies that Royal King's fight. This font is suitable for many themes such as tattoos, video games, invitation cards, beer brands that need vintage and decorative styles.
Price: Premium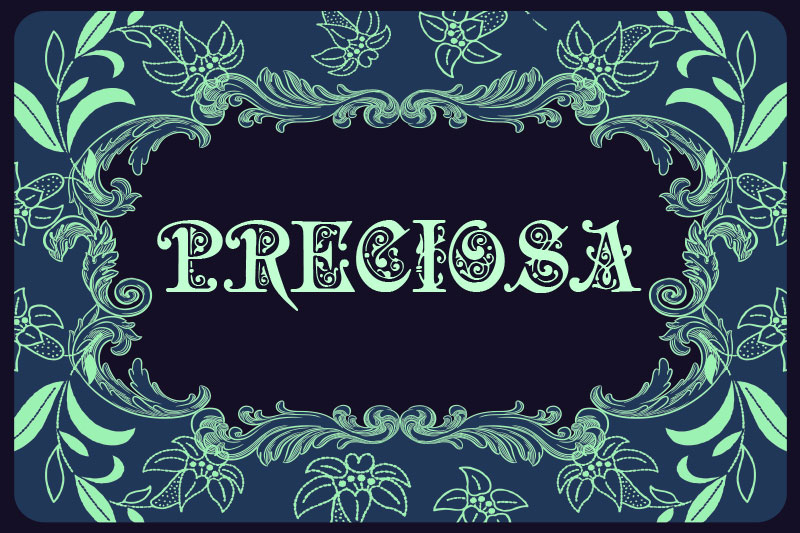 Listemageren designed Preciosa font. Each character of this font is decorated with foliage of plants and flowers. If you want to change your home's wallpaper and interior decoration, you can use and advertise it in different parts of the house or the internal design logo with this royal font.
Price: Free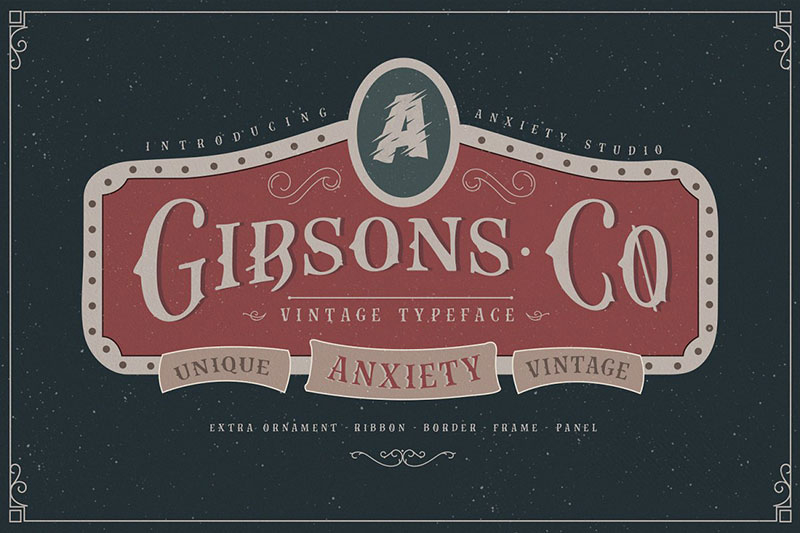 We want to introduce stamped and handmade fonts, which are unique. A classic font that can play a significant role in many brands. Also in book covers, invitation cards, Logo typing, website heading, movie posters, and animations are among the most popular.
Price: Premium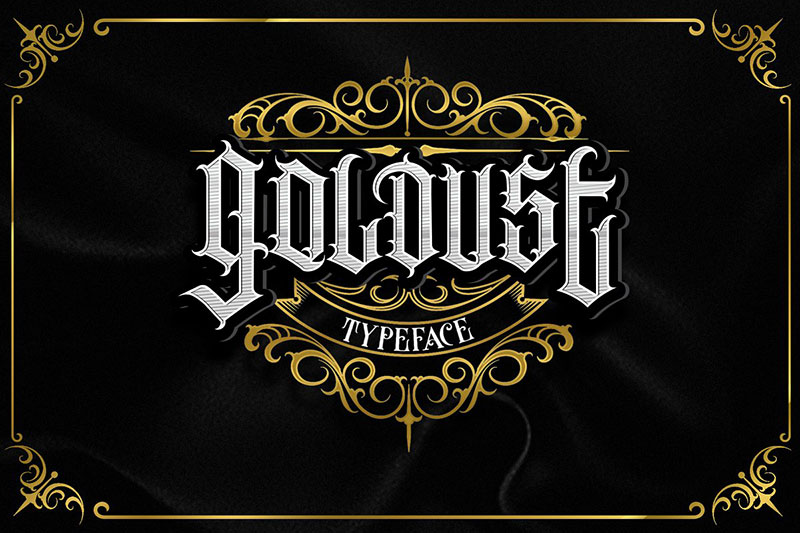 GOLDUST FONT Extra Ornament Font is a blackletter that is used in many cases to decorate cards. If you want to have an attractive brand, logo, poster in future projects for the audience, use this royal font in combination with other fonts.
Price: Premium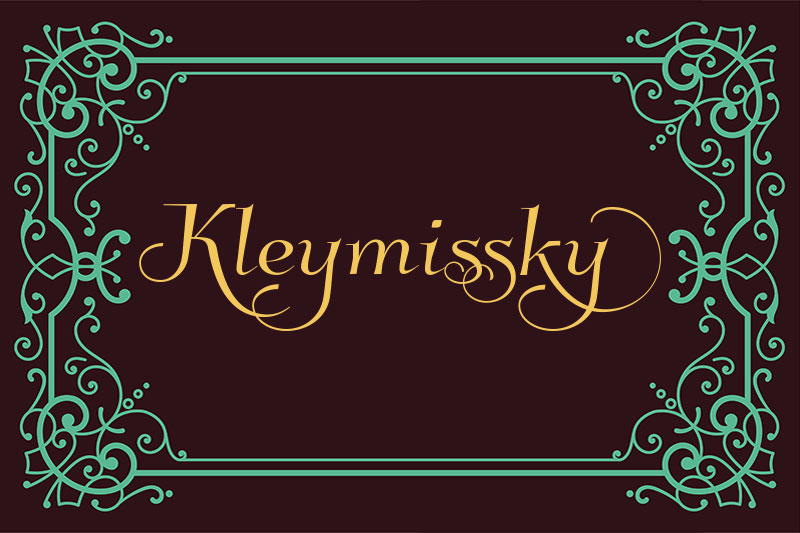 The letters S, Y, K are among the letters drawn in this font with extraordinary beauty and swirl. This font has more than 900 characters. For this reason, you can use the cuff in any language and place where you are working and designing.
Price: Free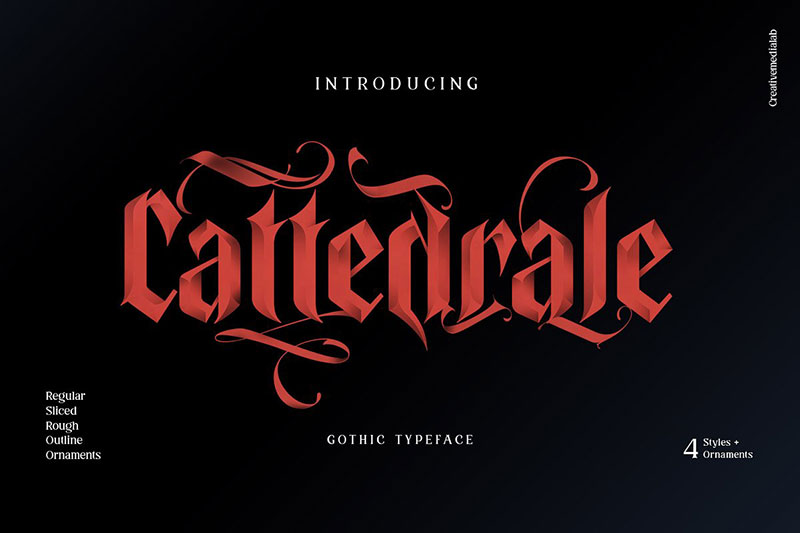 Cattedrale Gothic Blackletter is a unique font that has several styles for those interested in blackletter themes. Have the best royal-themes with these rough, outline, sliced ​​, and ornament fonts and styles.
Price: Premium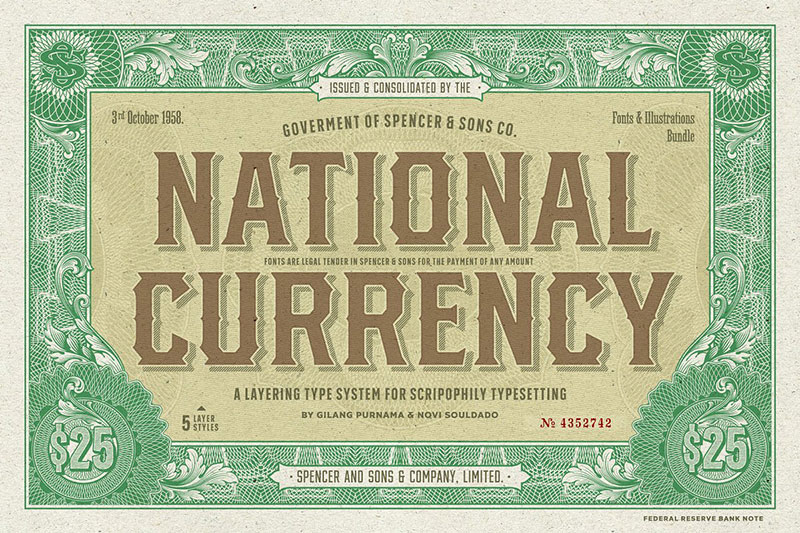 Bundles of fonts give the audience a good opportunity. This bundle font is also offered at a reasonable price with five styles in one package. This font is best for packaging design, money design, vintage themes, old-school posters.
If you are interested in this font, you might also like to see similar fonts. So I suggest you look at the list of the best Money fonts.
Price: Premium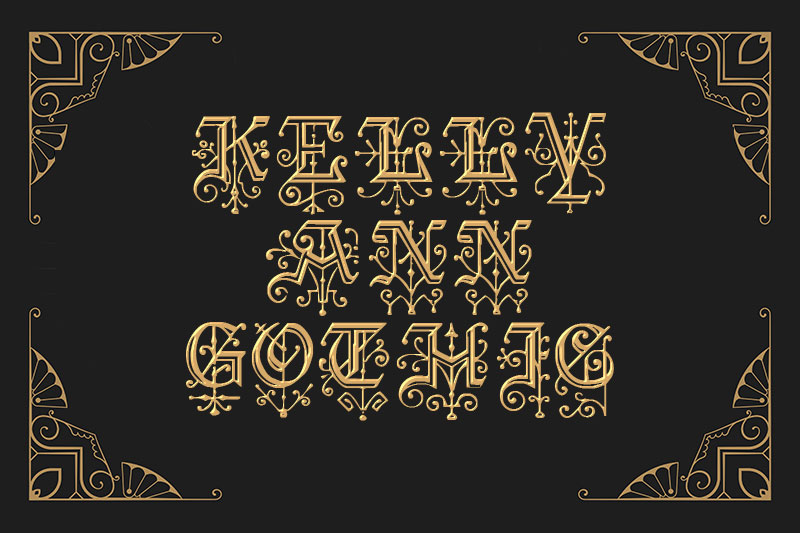 It is a Gothic font inspired by decorative styles from the '90s. This font can be used for many designs, tattoos, packaging, labels, and tattoos and provide the best theme to the audience.
Price: Free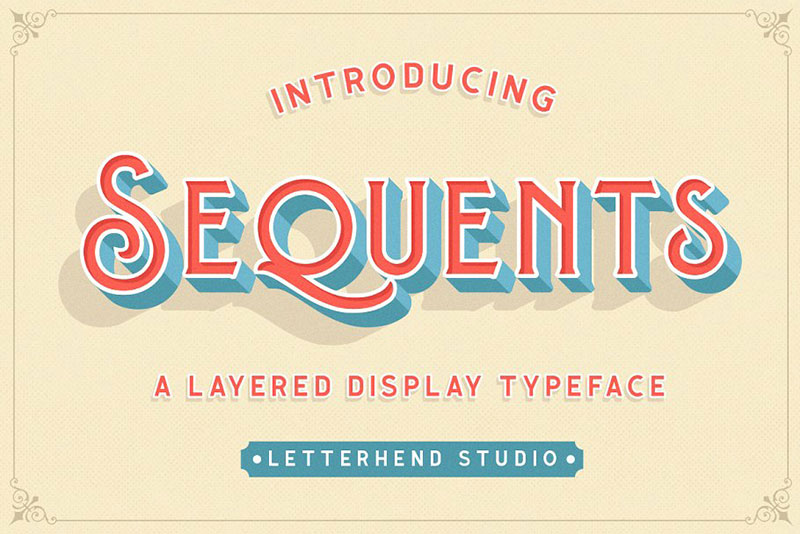 This is a layered font that you can change in any part of its retro style. Its bold and legibility is excellent for designing flyer posters, movie titles, and restaurants.
Price: Premium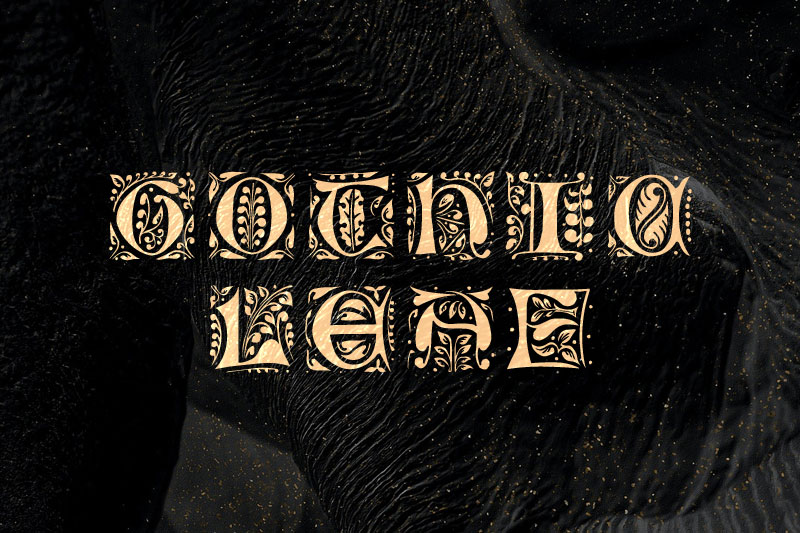 Lord Kyl MacKay created the gothic Leaf font. This font is suitable for many decorative designs. Each character is like an Iranian ornamental tile drawn with a combination of tropical themes.
Price: Free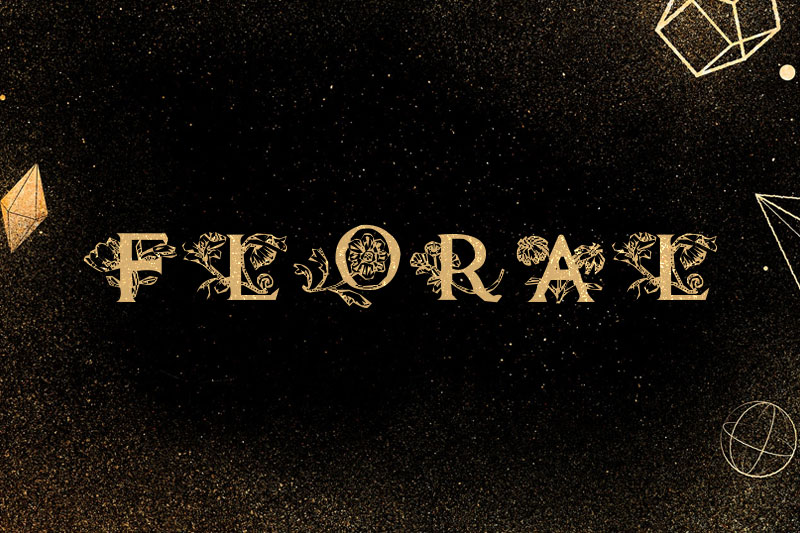 Flora1 font displays exactly the floral style. Each font is created with a beautiful floral sketch design. All you have to do is type in your text on the keyboard and have a unique logo, poster, and invitation card.
Price: Free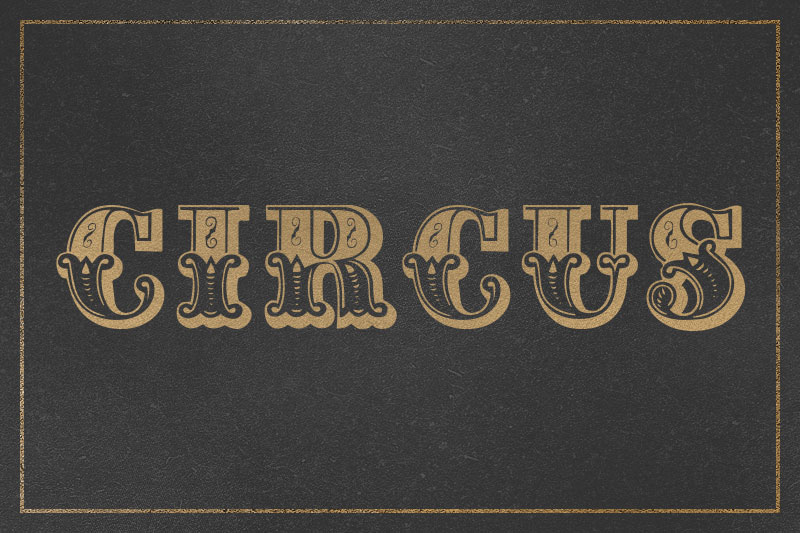 In the royal fonts collection, this font can be a perfect example and a suitable solution for your countless searches. Half of the characters are filled with white and half with black, and decorative elements can be seen in the character's texture in this decorative font. Use to design royal themes, circus posters, celebration flyers.
Price: Free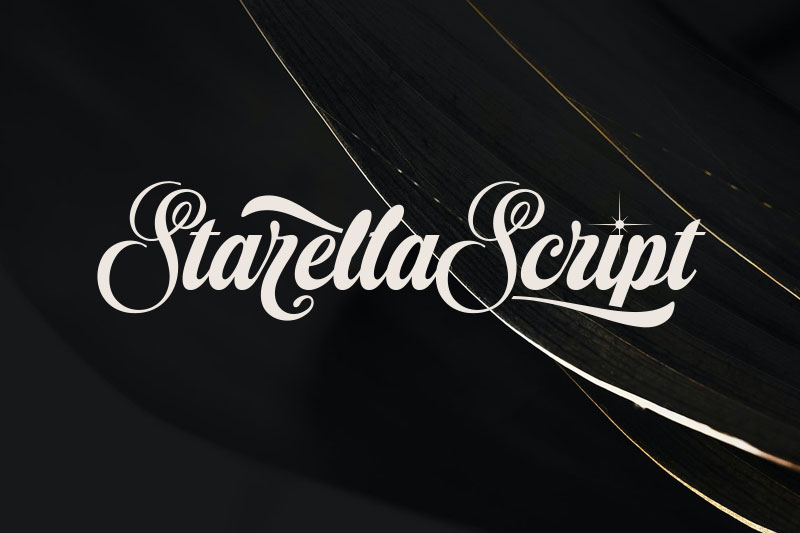 Starella Script font is one of those style fonts that designers can download hundreds of times a day. Cursive and intricate lines convey a sense of luxury to the audience.
Price: Free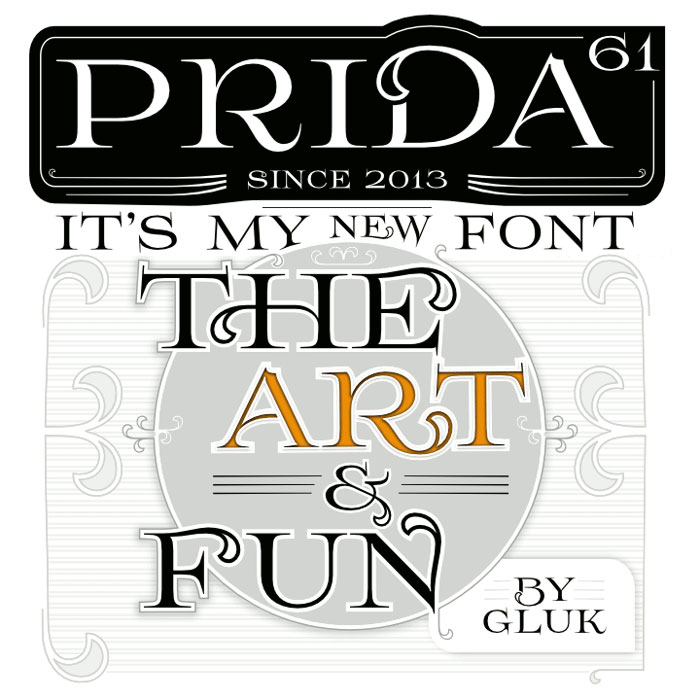 Prida61 font is one of the versions of pride, which has updated a new version with different numbers at the end of each. In this version, uppercase letters have a non-fill section that is designed to be cursive. We invite you to present your designs with this font proudly.
Price: Free
The next version of Prida is the last update in 2019 by gluk. The Gothic and floral style difference is suitable for greeting cards, stickers, and packaging.
Price: Free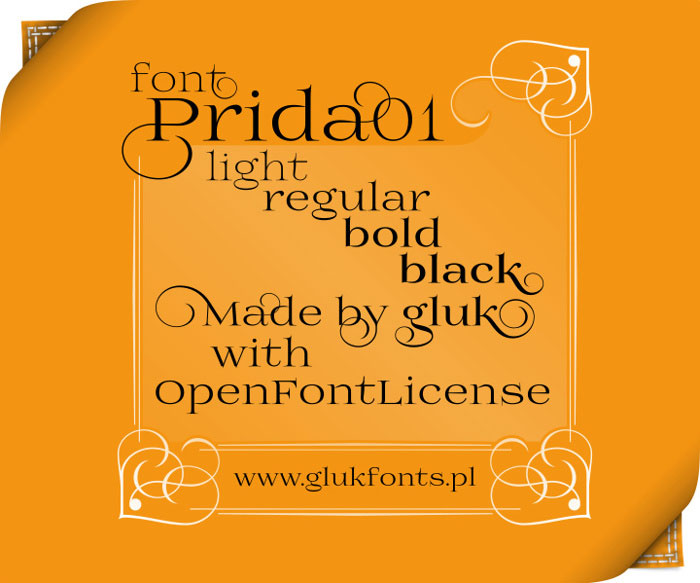 Maybe this pride version is the first. Latin font, with floral letters used for many royal themes. By downloading it, you can have four versions of this font: Black, Bold, Light, and regular.
Price: Free
Conclusion
Royal fonts are handy, especially if the designs you make are for luxury brands. These fonts make it easy for you to limit your choices on the Internet, where thousands of fonts are published every day and choose the best ones.