40+ Best Free and Premium 90s Fonts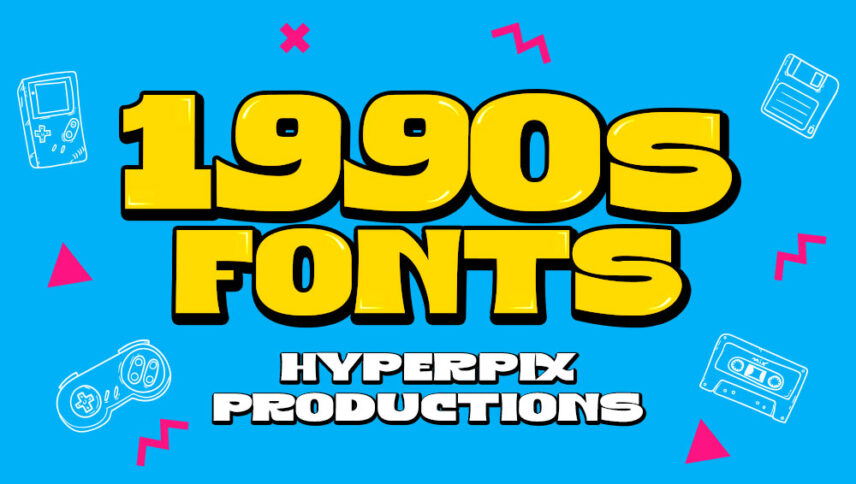 I was born in the mid-1990s, just as graphic tools like Photoshop were updating and making new developments in the graphic and art world.
This was the decade when many beautiful sitcoms were made, such as 'friends', 'everybody loves Raymond' or' married with children', and if you look at the titles of these serials you will find that the fonts are like the classic and retro style.
It was a decade when many good things-happened on communications and television. These fonts can be used for kid-inspired works, headlines, logos, labels, prints, posters, icons, social media, branding, packaging designs, your sci-fi, modern, or vintage projects for that captivating vibe, futuristic or retro concepts.
Best 90s Fonts
I don't have much memory of that decade, but given the developments, I guess it's been a good decade for everyone. Let's go back to the good 90s and revive the 90's fonts.
Also, if you want to look back to the 80s, I suggest you do not miss the list of the best fonts of the 80s.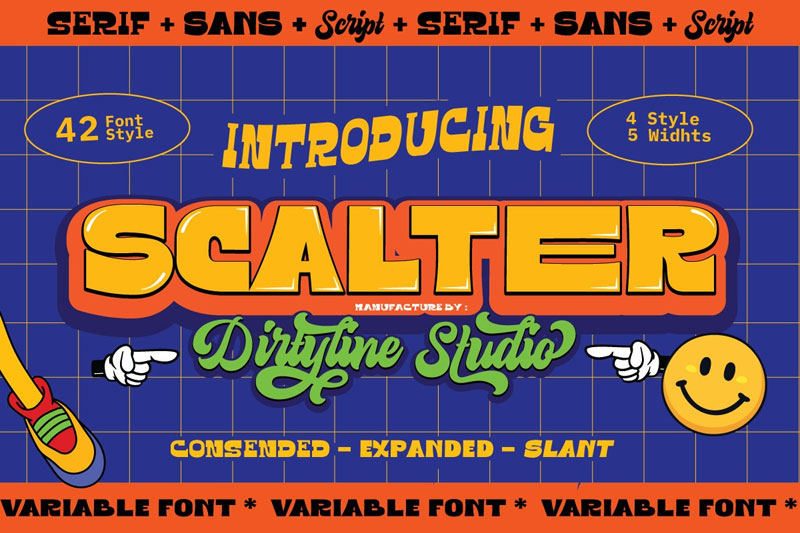 Don't let its brightness scare you! SCALTER may be uneven, but it will bring back feelings of nostalgia for the 90s babies. The font is dramatic and a bit grotesque, just like everything during that decade!
Price: Premium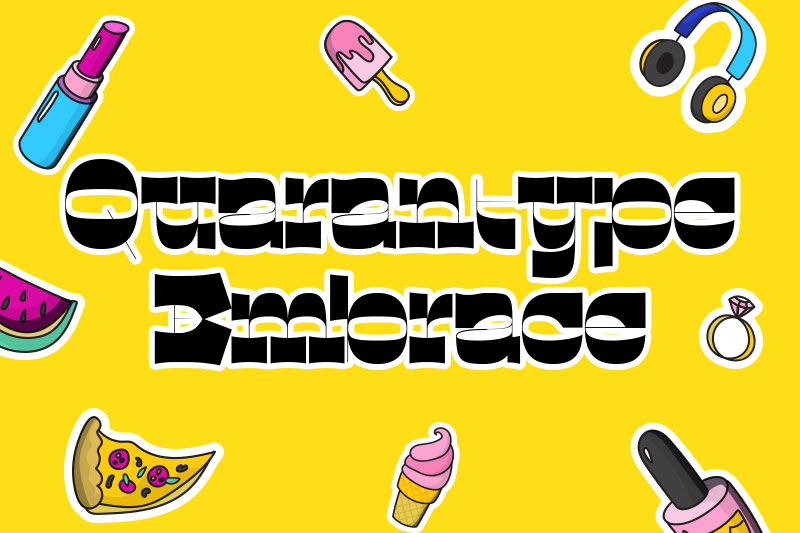 Not every 90s font has to be over the top and exaggerated, though those are the best kinds. Some, like Displayed, show off the more mysterious styles that were popular at the time. It captures the cleaner, bolder looks of the 90s while still working as a modern headline font.
Price: Free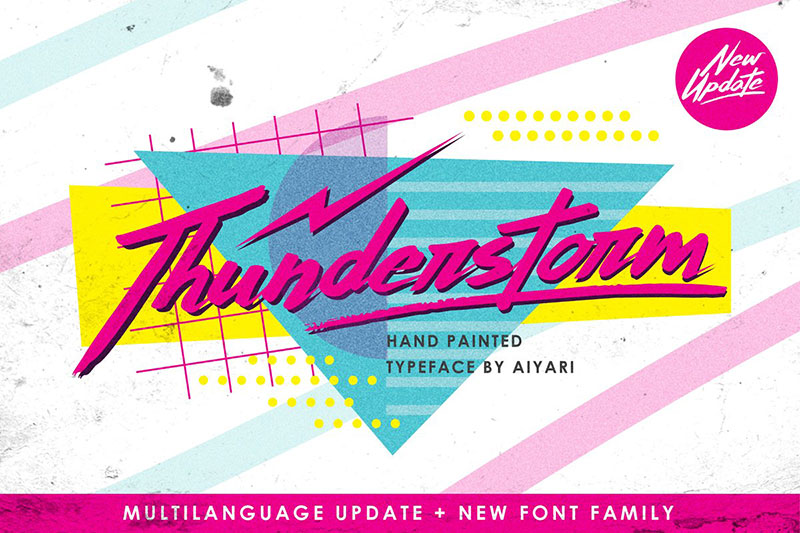 Thunderstorm Extras inspired by those flashing words seen at the beginning of our favorite TV shows from the 80s and 90s, Flashback is truly a font of the past. You can use this vibrant, loud font to bring a punch of color and creativity.
Price: Premium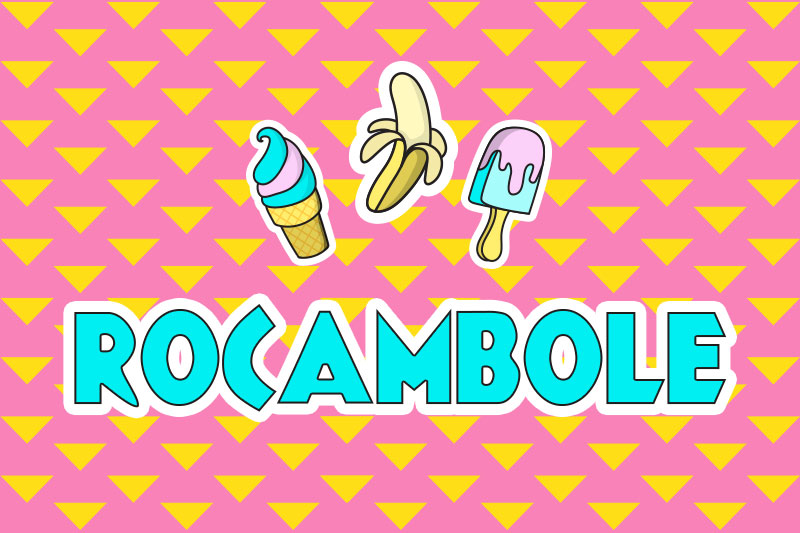 With its geometric and stunning retro script, JMH Rocambole is a hybrid of multiple font styles. The result of this combination is a font that can be used for a range of designs. JMH Rocambole comes with two different styles, alternate stylistic characters, and support for multiple languages.
Price: Free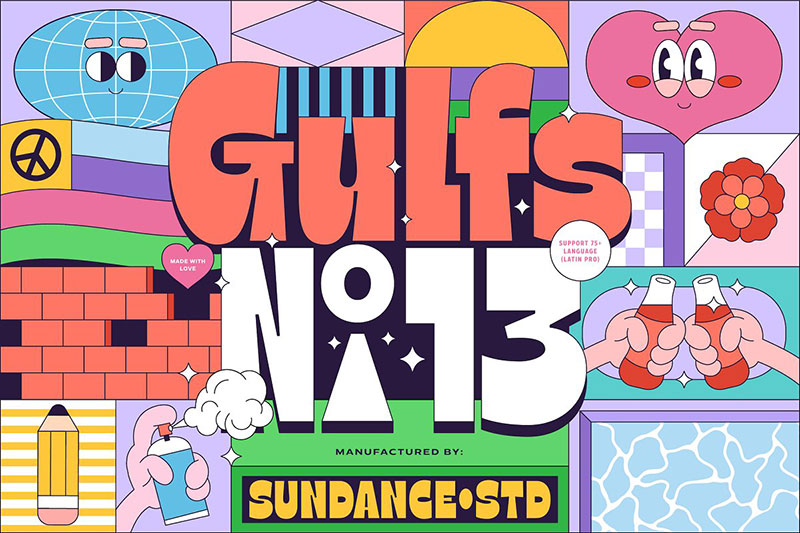 A little different, a little grotesque, and extremely loud. The playful font is ideal for clothing, branding, and web design. This font also can use for packaging and fun designs.
Price: Premium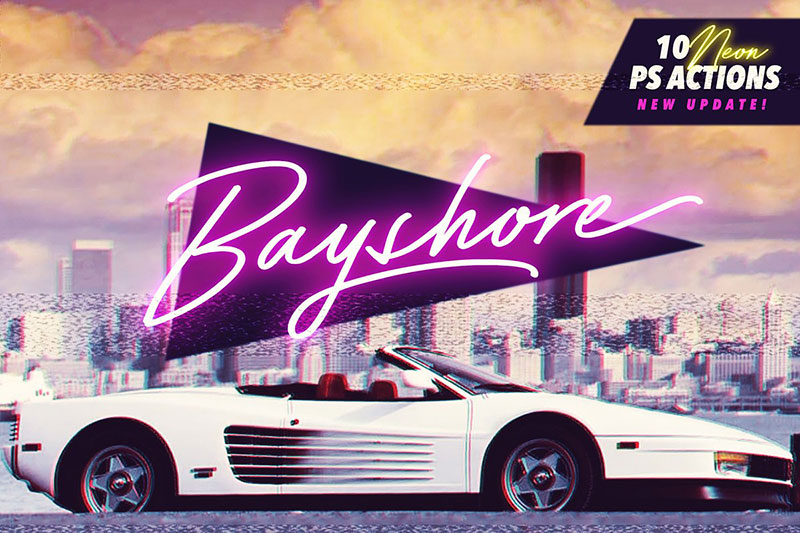 This ready-to-use download includes different layer styles for Photoshop that will make neon sign styling as simple as could be. Once installed, you just need to select the layer you want to apply the effect and click on the desired neon style. With tons of colors and styles, you'll be sure to find something for any project.
Price: Premium
One of the 1990s fonts that we think you should give a check is the Ultraquick. It has a bold typeface that works great with logos and advertising materials. You can also take advantage of it whenever you have a sports-related project. Just give it a try and see how it is going to look at your software.
Price: Free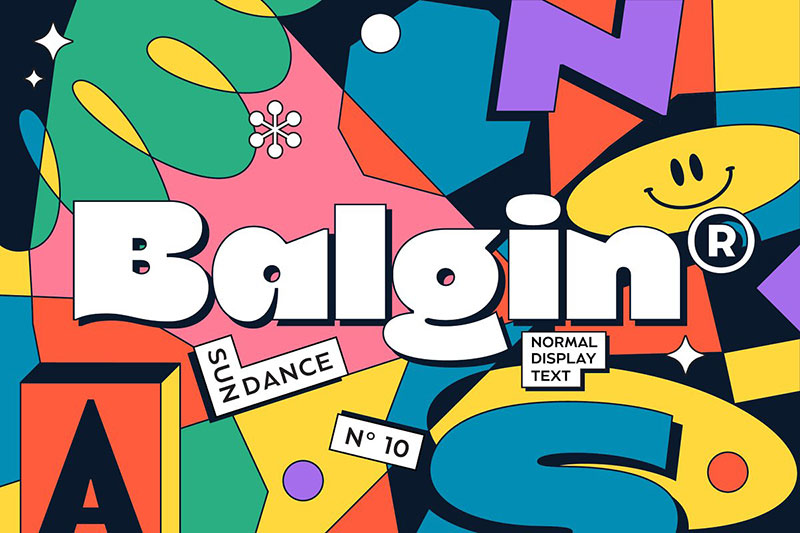 The designer that made it is Balgin and we can see his funk channels being used. We really liked this 90s fonts option because it brings both modernism and a video game effect.
Price: Premium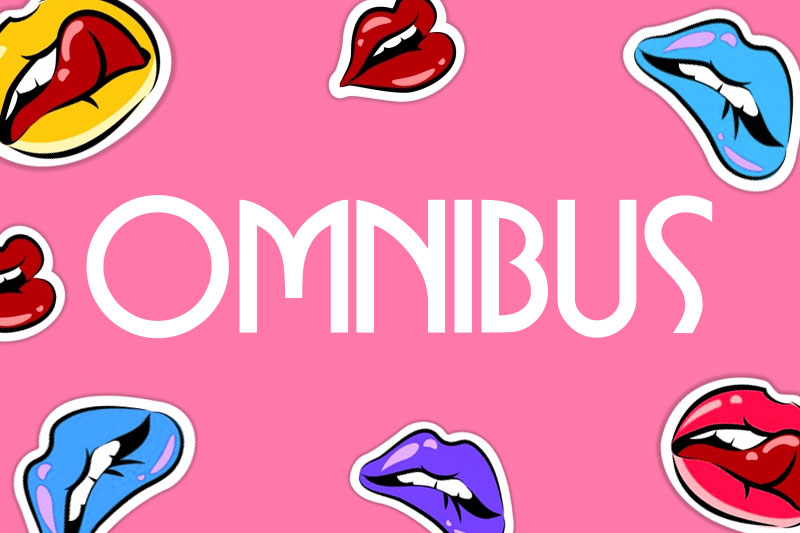 One of the foundations of Alan Carr designs is their minimalism, which is why retro script fonts inspired by that style are still so popular and stylish. Omnibus makes a big impression when used on invitations, branding, or social media posts.
Price: Free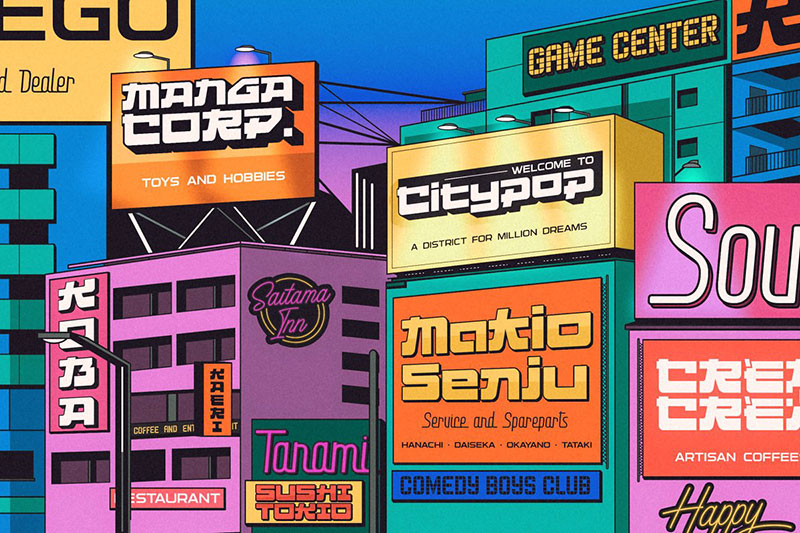 Go trip on CITYPOP! The font isn't exactly stunning, but it is surely an authentic example of the many 'serious' fonts used throughout the 90s. The retro font is all business, but can still be used for some fun projects!
Price: Premium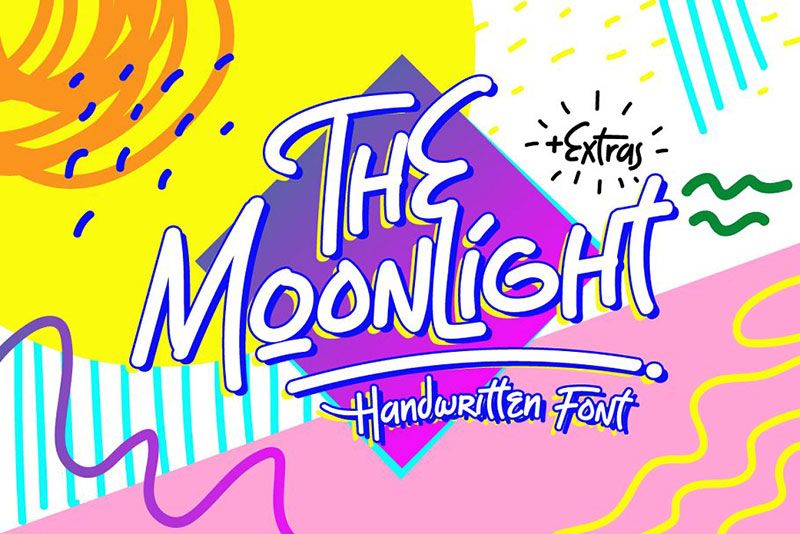 This cursive script version of Neon Tubes is a fantastically retro, beautifully styled sign font that has an enormous amount of personality. The Moonlight manages to have both a wonderfully flowing script style and excellent readability: giving both form and function to your work.
Price: Premium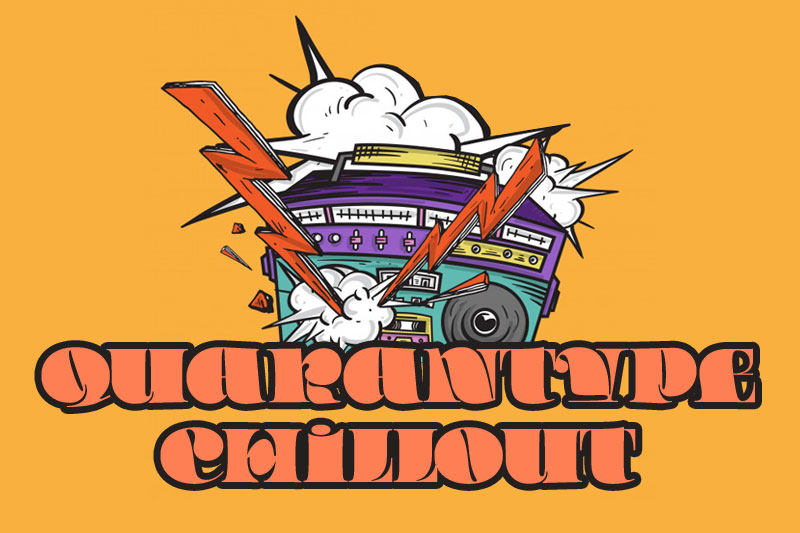 Quarantype Chillout is a retro font that is big and bold enough to be used for several designs. The font comes with basic letters and numbers, as well as multilingual options. The bold lines of Quotes Vintage make it great for children's designs.
Price: Free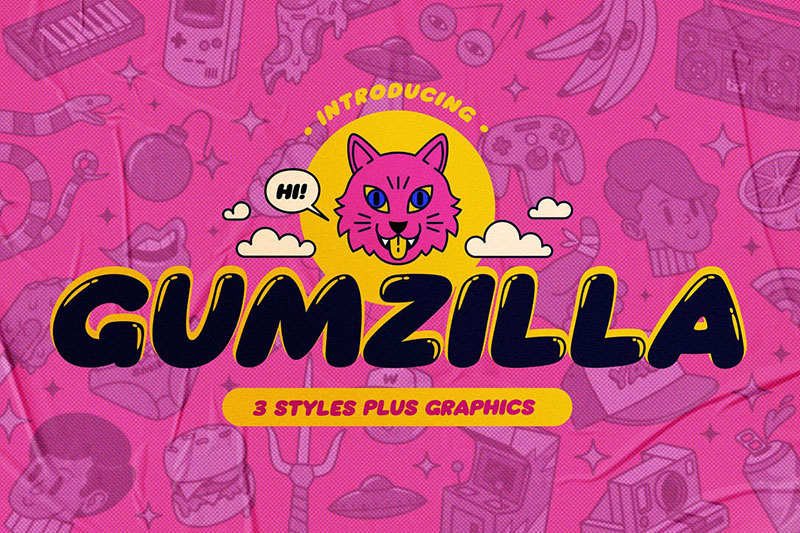 What do you get when you mix bubble letters with floating shadows? Gumzilla! Straight out of a 90s kids 'school notebook, this free font is fun and light. The retro nostalgia of Gumzilla makes it a distinct balance for social media and posters.
Price: Premium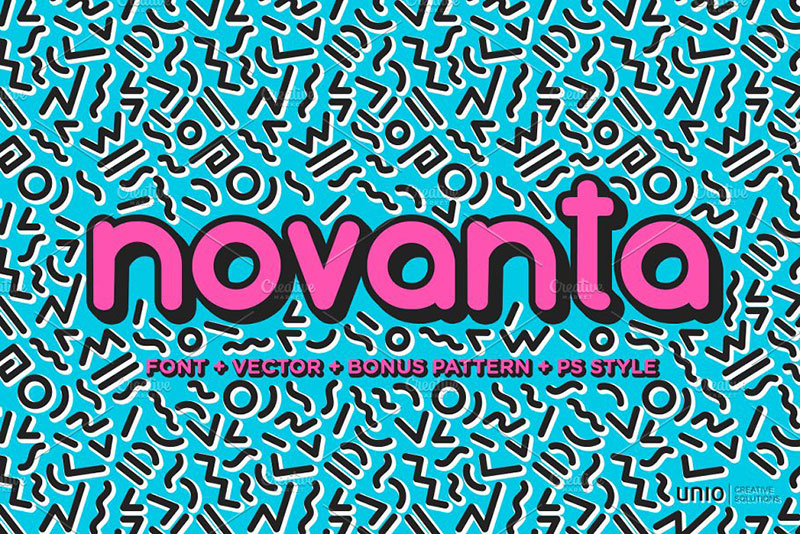 Novanta Font created by Unio | Creative Solutions. With all the amazing options, you'll have more than enough variety to create truly unique designs. We'd love to see Novanta on apparel, as well as in branding.
Price: Premium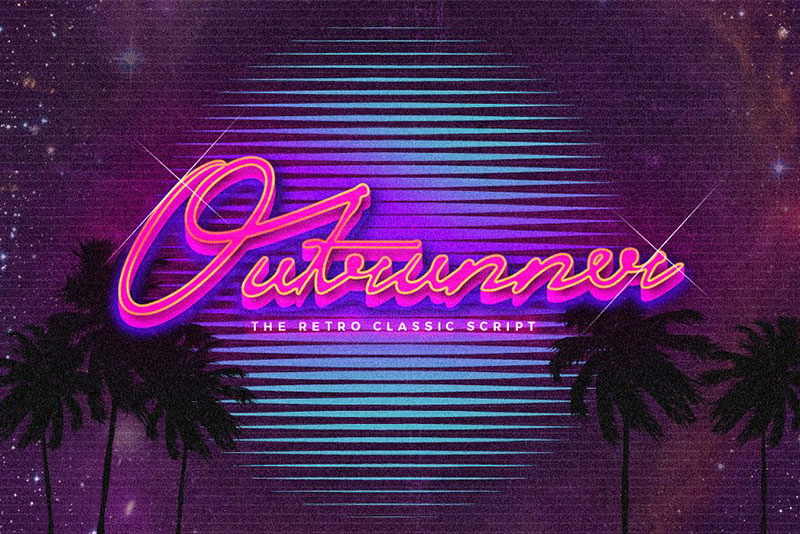 This list would not be complete without a classic retro tubes font. this is designed by TSV Creative. This font created with hand-drawn letterforms. If you're looking for a vivid sign effect or need your font to have accurate 90s styling, this is the way to go.
Price: Premium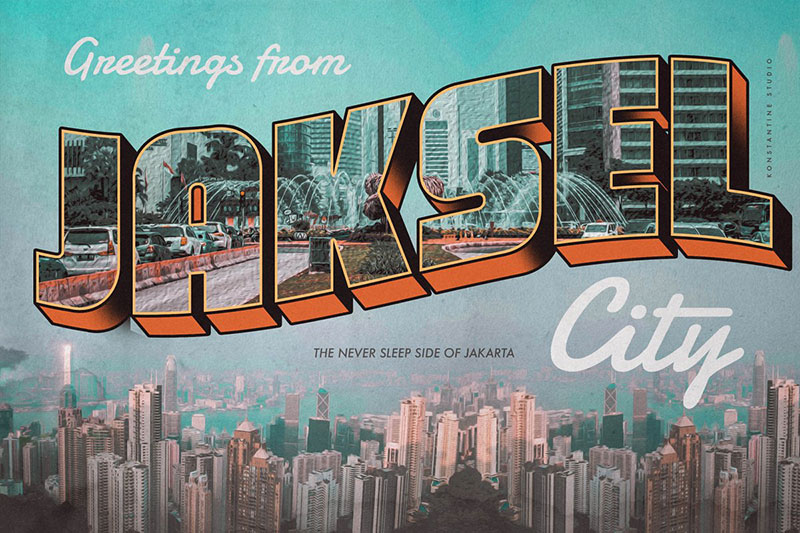 You'll have plenty of options when you use Jaksel to bring your 90s dreams to life! The script font comes with two font options, Script and Sans Serif. Besides, you'll get different weights, ligatures, and the option to layer the letters in various colors.
Price: Premium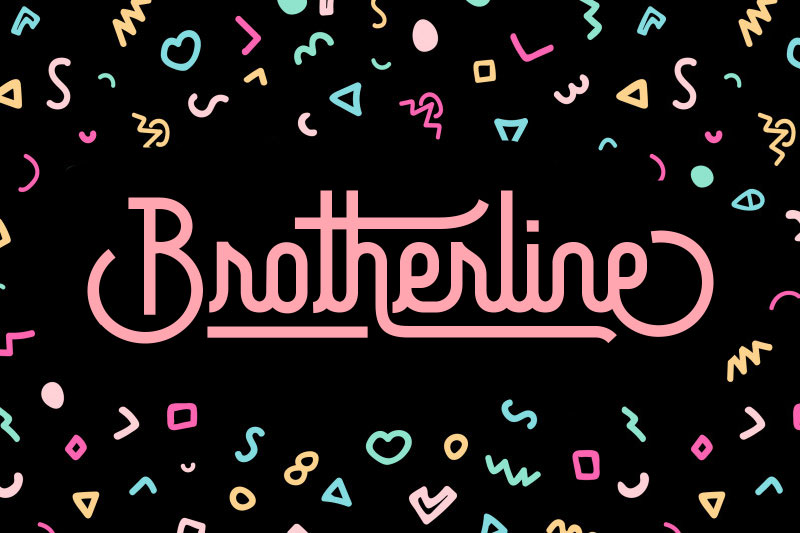 A super mid-century, retro font, Brotherline inspired by postcards, matchbook covers, and theme bars of that era. Palm Canyon manages to bring the elegance and chill of 80s travel, but with the modernity of more modern fonts.
Price: Free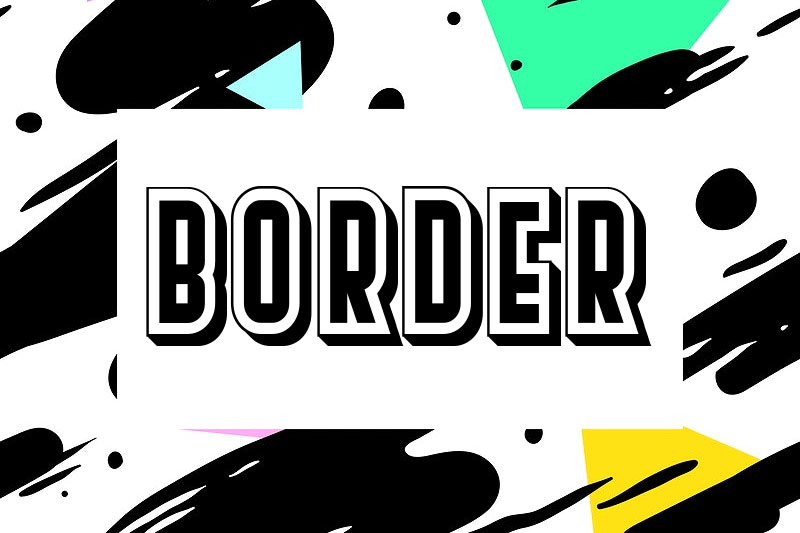 Border offers a lot of versatility, which is why we love it so much. Used as is, the script font can be used for high-end branding and social media.
Price: Free
A display font that flirts with the rigid, computerized styling of 90s fonts, RENIN is still cool and simple enough to be used as a display font. The freebie combines lower and uppercase letters, numbers, and glyphs to give you a toned-down version of retro fonts.
Price: Premium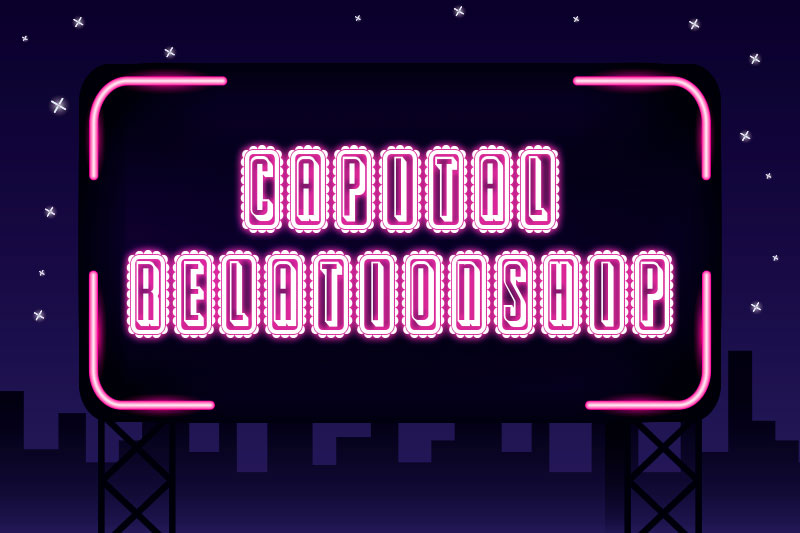 Capital Relationship is an exaggerated script font. The retro feeling of the font makes it a perfect way to bring a hint of vintage and glamorous without going too overboard. It is a good choice for designing logos and posters of the 90s movies.
Price: Free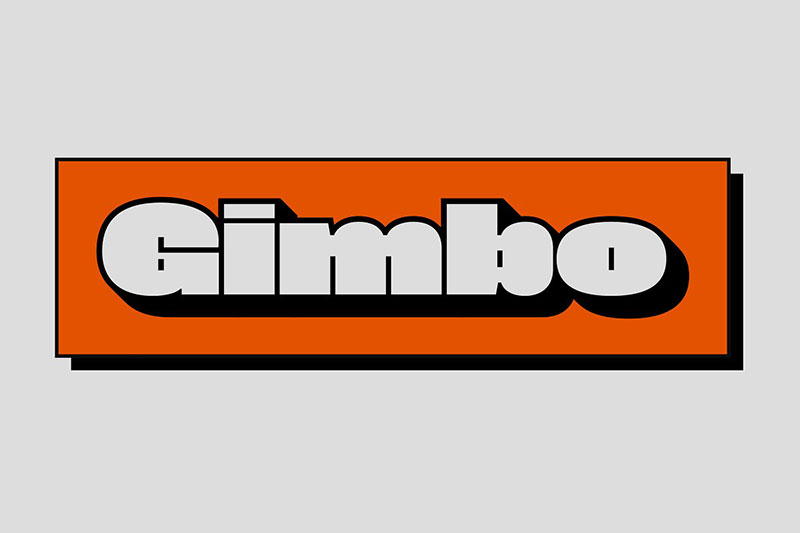 Another great retro script, Gimbo has a big personality and style. The graffiti-inspired font is evocative of fonts from the 90s and we're here for that.
Price: Premium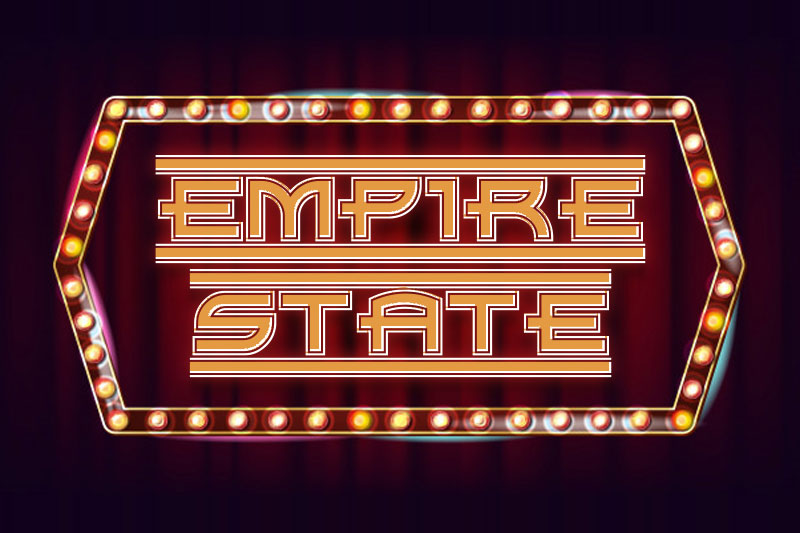 Empire State has everything you could want in a 90s retro nostalgic font. The decorative, pop-culture inspired font is loud and vivacious, perfect for posters and apparel. You can make a statement with this fun 90s font!
Price: Free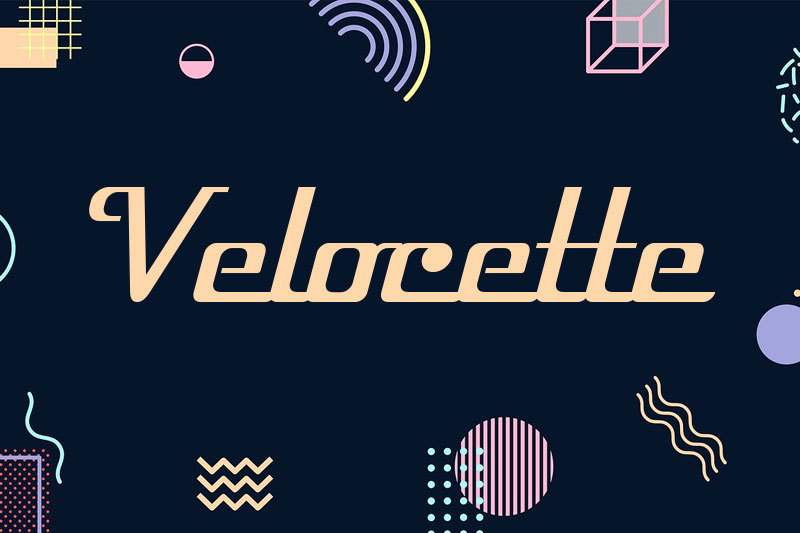 Velocette is a wonderful typeface that can be used for multiple reasons. It inspired by an old Euro American advertising. Get it free if you download it as a demo and switch to the full version if you really like it.
Price: Free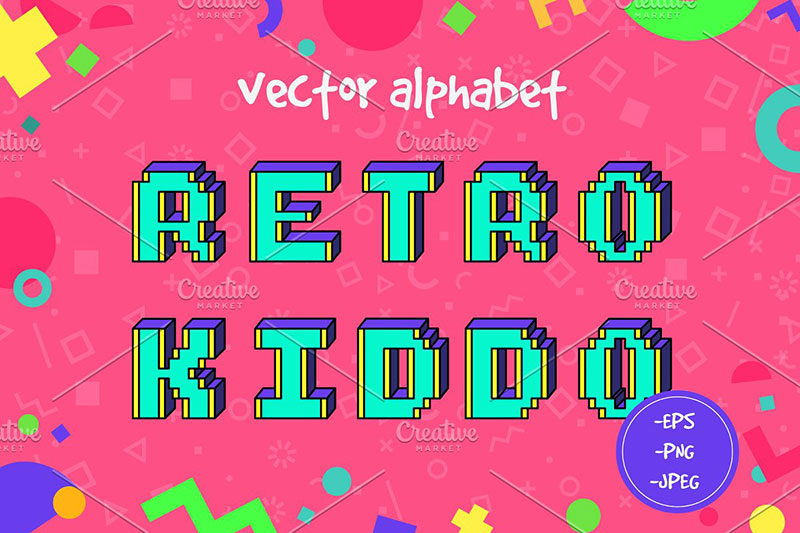 Want a pixel font that is still legible? Then you'll love Retro kiddo! The arcade-like font has very specific pixelated letters, balanced by thicker, uneven lines to make a nerdy, cartoony font unlike any other. Retro kiddo would be perfect on retro t-shirts or other apparel designs.
Price: Premium
Another example of how 90s fonts were all about contrast, Retrow Mentho shows you don't always have to pick between thin lines and cursive font. The rounded aspects of Retrow Mentho give it a fun look, while the thinner lines make it bold and memorable.
Price: Free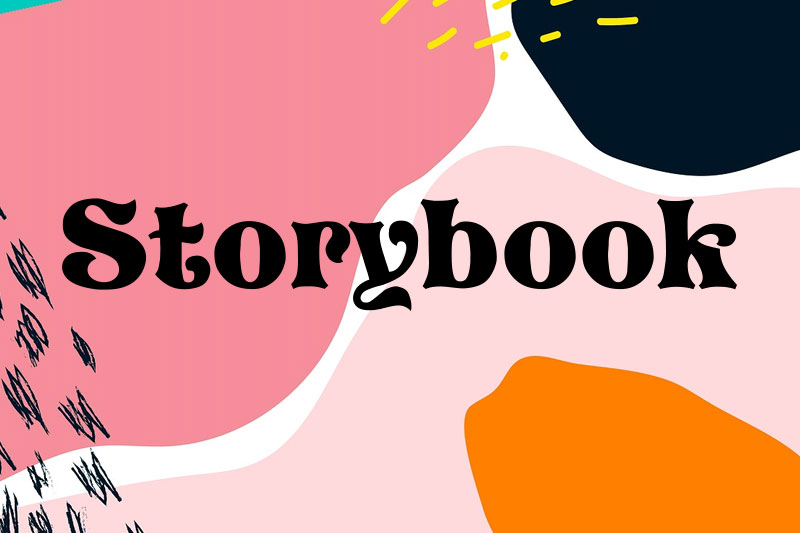 With over for different style options, Storybook brings variety. When you add the set of ornaments that you can purchase for this font, you'll really be able to create a retro feeling for your storybook designs.
Price: Free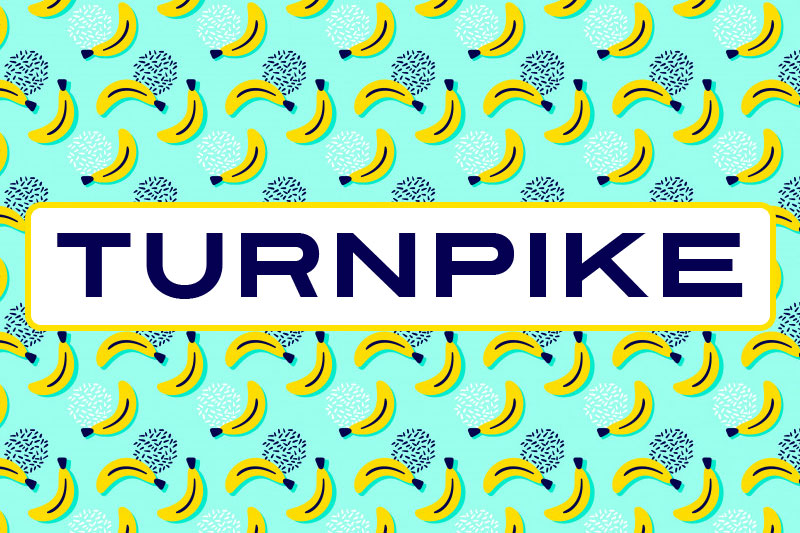 This is more of a minimalist 90s fonts. If you want to bring some machine vibes this is the perfect typeface to use. Just make sure you give it a try first as its personal use license is free.
Price: Free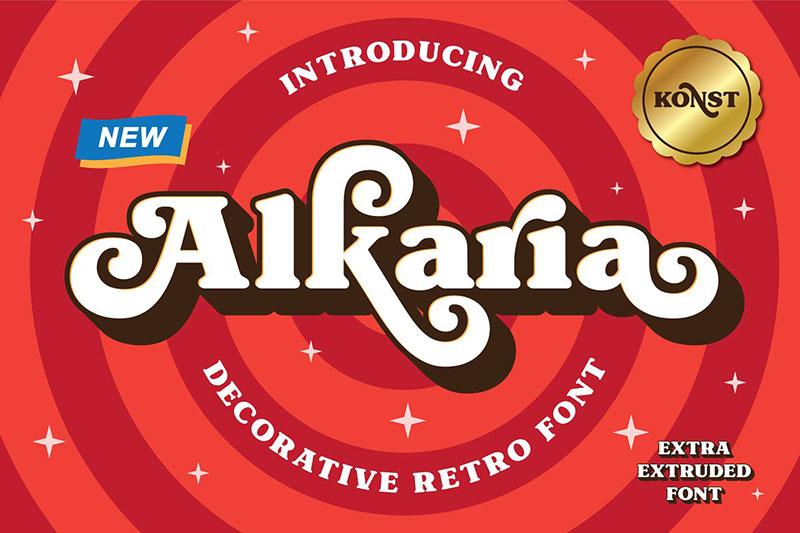 Alkaria Vintage Retro Decorative is a handmade font designed after the disco and grunge movement in the 80s and 90s. The retro font comes with all the extras you need to make a big impression. We think it's perfect for flyers, logos, and textiles.
Price: Premium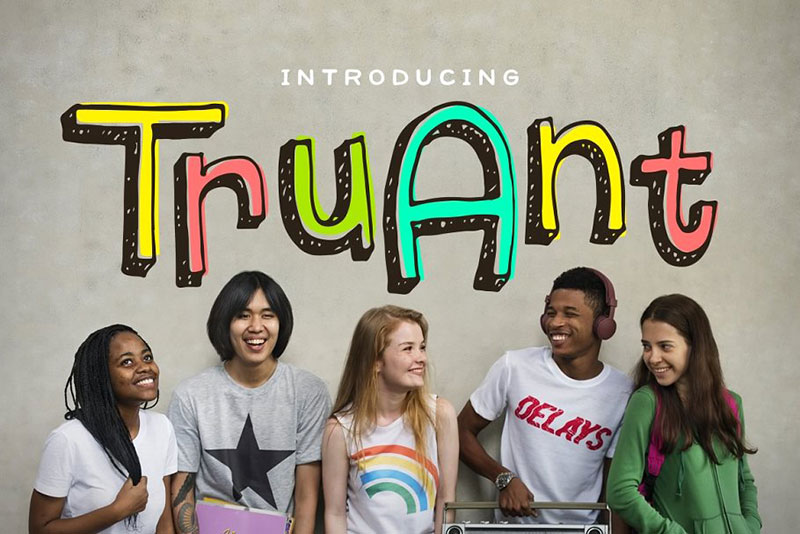 Perfect for posters, clothing, or social media quotes, Truant is fun around the edges font with thick lines. The uneven, grungy feeling the font brings a wave of nostalgia for those who were in school back in the 90s.
Price: Premium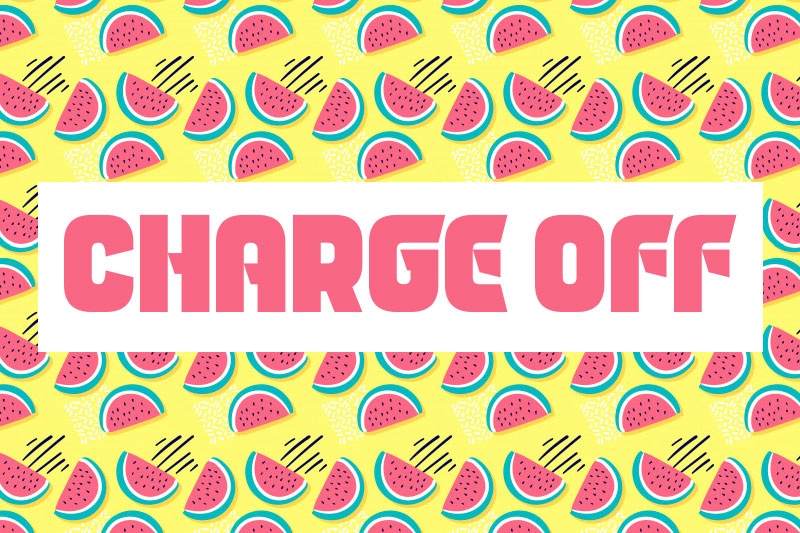 If you want free retro fonts that also look nice and can be used for multiple projects, Charge Off is great. It is for sure a retro-style font that can work with different ideas that you have. Although it is free for your personal use if you want to use it commercially you need the licensed version.
Price: Free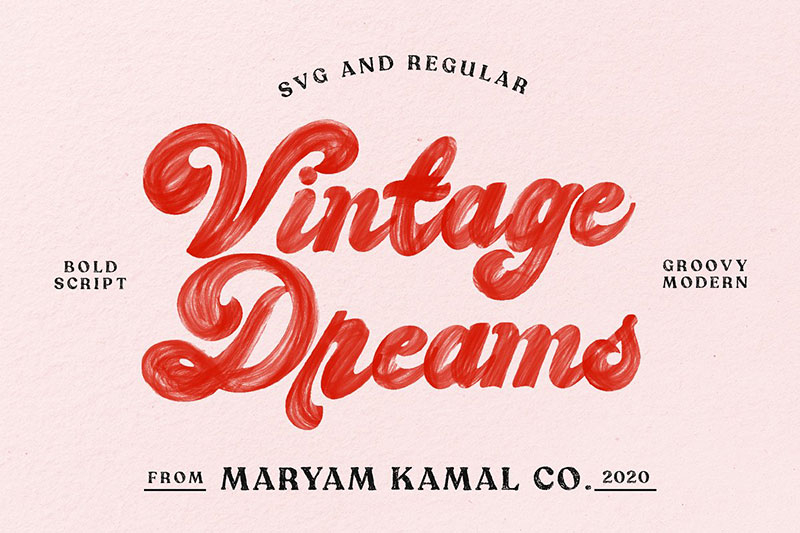 This brush cursive 90s font will bring all the happy feels, with its distinctive exaggerated thickness and shorter lines. The full pack comes with all the basics, as well as multilingual support. Lisa would look great on apparel, branding material, and social media posts.
Price: Premium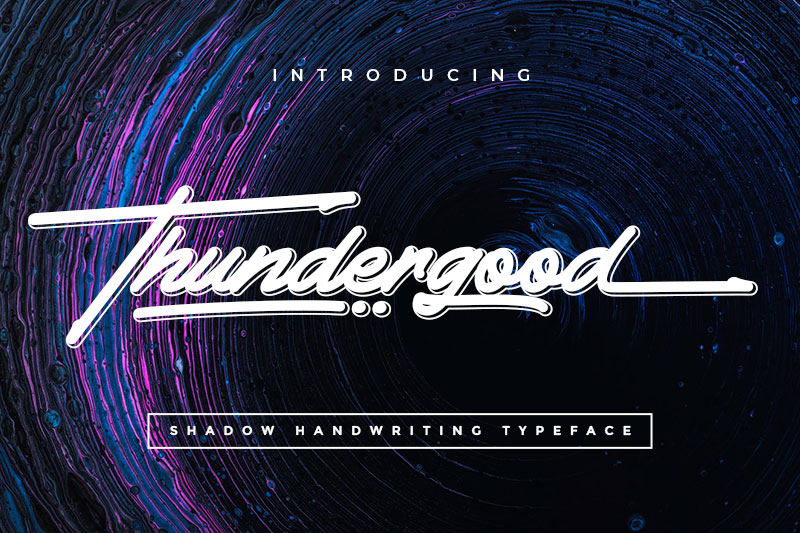 If Thundergood looks familiar to you, it might be because the irregular, otherworldly font is reminiscent of all the popular space travel shows that rose in popularity in the 90s. I wasn't permitted to watch such shows, but the font still brings a pang of nostalgia.
Price: Free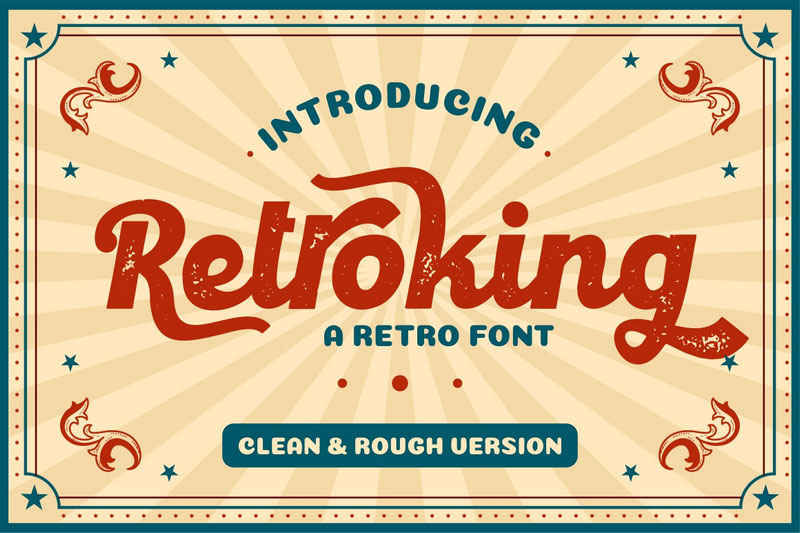 Every person who lived through the 90s knows of someone who went through a grunge phase. If you don't, then you were the person. Helps you to design retro posters, logos, and themes.
Price: Free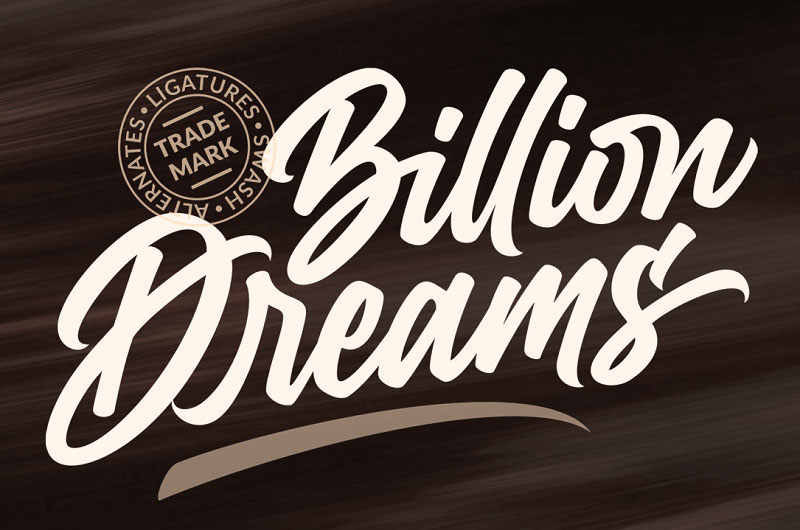 Måns Grebäck, one of the top designers, creates this gorgeous, retro font. Billion Dreams includes all the lettering and numbers you need. It even comes with kerning and extra ligatures!
Price: Free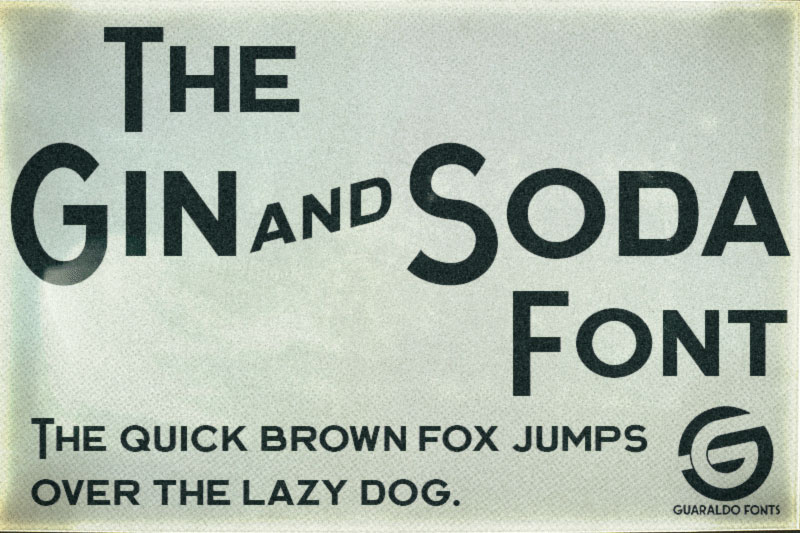 If you want to get the same effect of the 1990s publishing's Gin and Soda should be considered. Similar 90s fonts like this one will always bring a nice vibe in your work. You will see it comes in regular and italic. It can also be used with no problems in commercial projects.
Price: Free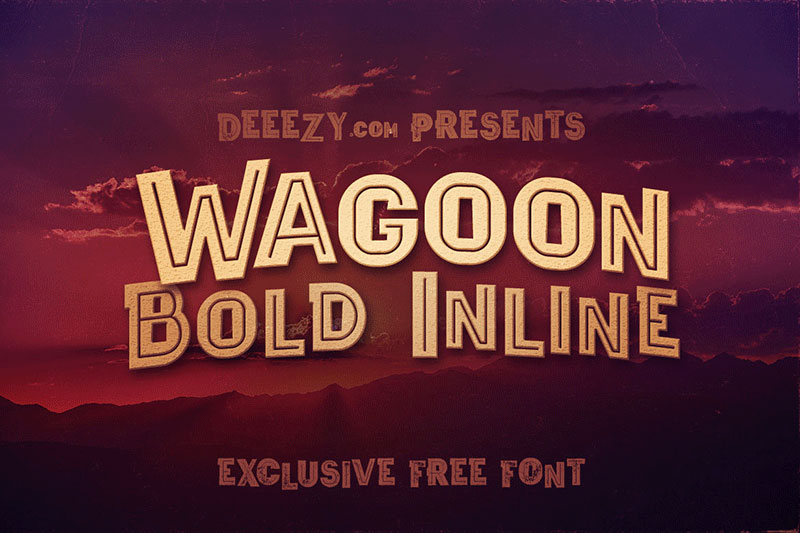 Wagoon font has two styles, regular and grunge. As it was designed for headlines you should use this font option in large displays.
Price: Free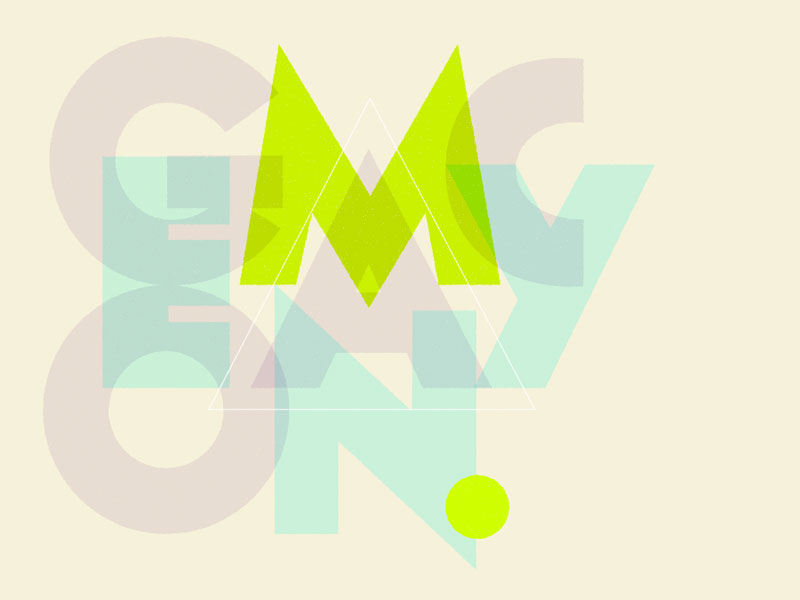 Who says retro can't be minimalistic? Not us! Geomancy, which is reminiscent of 90s fonts, is clean and contemporary. However, the imperfect lines and shapes of the font add a natural element, which makes it ideal for apparel and branding.
Price: Free
Goodbees combines the nostalgic aspects of several decades, including the 80s, 90s, and early 2000s. The result is an ode to childhood but in a modernized form. The retro, weird letters are perfect for branding, social media, and print media.
Price: Free
Get this pack if you needed 90s fonts that can be used in multiple projects. You will have four fonts that fit both fun and serious ideas. Another advantage of this kind of retro font generator pack is that you can use it in commercial or personal projects.
Price: Free
Bodacious is a super-clean and modern font that somehow manages to look awesome in both futuristic and high-tech uses. Geometric Neon seems to be one of the most popular styles in 2018, and this font will absolutely make your designs stand out beautifully.
Price: Free
Conclusion
One of the best ways to bring a little 90s into a design is by using a font that has a more vintage feel. We've put together a list of our favorite 90s script fonts for you to keep in your toolbox the next time you want to blend some old and new.